Overview
San Francisco's downtown area is currently going through an unprecedented, skyline redefining transformation. So many incredible developers and architects are in the process of leaving their mark on this city and it's all happening or will be happening within roughly one square mile south of Market St in the downtown areas known as the Transbay District, Rincon Hill, and Central SOMA shown in the map below.
Welcome to www.BuildingSF.com, a website dedicated to tracking and documenting the impressive development activity happening all around downtown San Francisco.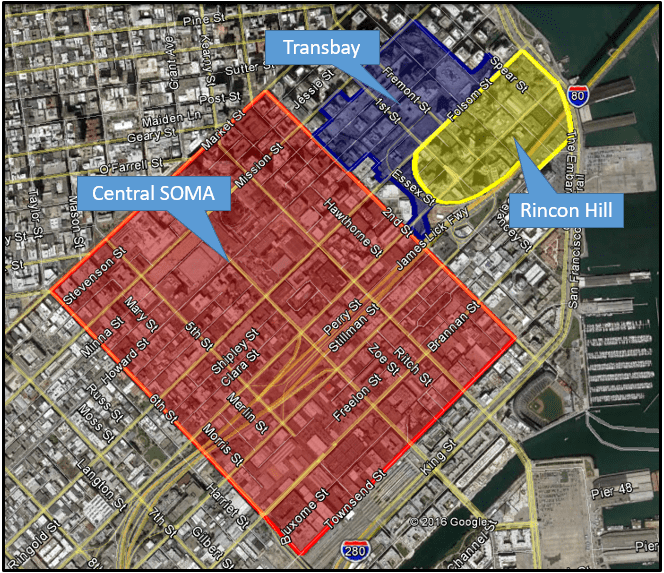 To get a better idea of what is and will be happening, check out this video created by SteelBlue that highlights just the activity in the Transbay Redevelopment District:
---
 Website Goals
Over the next few months/years, www.BuildingSF.com aims to become a complete directory of all the major new projects that have happened and will be happening in San Francisco's downtown area since the turn of the millennium.
The website will primarily function as the home of an interactive Google map that will track all the projects in downtown San Francisco. The map, which is still under construction, is shown and explained in more detail below. You can also click the 'SF Interactive Map' link in the menu at the top.
Additionally, thsi website will have occasional updates about projects posted periodically, which may span from developer/architect interviews, construction updates, or photo montages of current construction. If you'd like to be kept informed via email about the latest updates, please sign up below.
Sign Up for To Receive Email Updates From Building SF
Downtown Development Interactive Map
Below is the interactive map that will be continually built upon over the next few months and will soon show all the major developments that have happened post 2000, are happening currently, and will be happening in the area. This is an ongoing work in progress, but I thought it was at a good point to share with our readers and that it would be interesting to watch as it slowly expands and becomes more comprehensive.
Map Overview
To use the map simply click on any of the shapes and you will be able to view high level information as well as renderings/photos from the projects. Once you have clicked on a shape, the project's information plus an image of the selected project will be to the left of the map. You can scroll down to see the project information and also click on the image you see in the top left to view a mini image album of renderings and / or photos.
Map Legend
  –  Completed Projects
  –  Projects Currently Under Construction
  –  Projects Yet to Break Ground
  –  Future Proposed Park