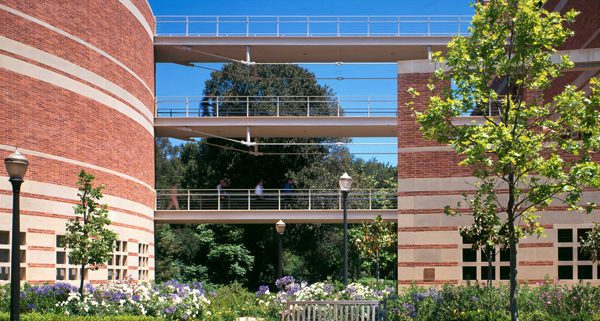 Note from Michael: This profile is part of The A.CRE MBA Real Estate Series highlighting some of the world's top MBA programs with concentrations in real estate. Each profile has been written by a current or former student of the program and is written from their unique perspective on the school and its real estate offerings. A huge thanks to Laurel Casey, Class of 2018, for taking the time to write this profile of Anderson. Laurel's bio is provided at the end of the post.
Before coming to UCLA Anderson to pursue my MBA, I was working in the commercial real estate debt group at a major bank in Los Angeles. I chose to come to Anderson in order to continue to develop my network within the Southern California Real Estate population, supplement my liberal arts undergraduate degree with a more finance-focused curriculum, and to take advantage of the resources available to UCLA students through The Ziman Center for Real Estate.  I had also hoped to use business school as an opportunity to transition from debt to an equity-based role.
Real Estate Opportunities and Exposure
My experience at UCLA Anderson has exceeded my expectations and helped me achieve my primary professional goal of pivoting into an equity role.  The core classes, especially the finance courses, have enabled me to focus on this subject and increase my understanding of the financial markets that I had been working in for 4 years.  The ability to participate in the UT Austin case competition provided me with an opportunity to get to work closely with five of my classmates, meet and interact with real estate students from across the country, and give a thirty-minute presentation (including follow-up Q&A) in front of 20+ real estate professionals in Austin.  Although I have only taken two real estate elective courses at this point, I have been exposed to both Paul Habibi and Eric Sussman, the primary real estate professors at Anderson, and felt their passion, excitement, and encouragement for our real estate class.
The Anderson Real Estate Association
AREA is the professional club for real estate students on campus, but it is much more than that! Most likely due to Real Estate's status as one of the smaller specializations on campus (usually between 15-30 interested students), the core group of students recruiting for real estate become very close through our ACT (Anderson Career Teams) experience, and carry that forward into an active club. We have weekly meetings, and host events including Dinner for 8's (where 8 students get to have a meal with a local real estate professional), Real Estate 101 Presentations (where an alum or other local professional gives a presentation on their career or a topic of their choosing), Industry Night, Networking Happy Hours, Days on the Job Recruiting Events, Corporate Presentations, Mentorship Programs, Admissions Events, and weekly learning sessions where a student from within the club gives a brief presentation on their previous real estate position (if any) or another topic that they are interested in.
The Anderson Real Estate Association has been an excellent resource, providing a wide variety of programming and networking opportunities as well as a committed group of fellow students who are passionate about helping each other succeed.  I felt as if I had a complete support community from my first day on campus, as second-years worked to help first-years manage course schedules, recruiting priorities, and target companies.
Ziman Center For Real Estate
The Ziman Center, a joint center of UCLA Anderson School of Management and UCLA School of Law, was formed in 2001 with a directive to create and steward UCLA's activities surrounding the topic of real estate. Ziman is an invaluable, on-site, resource which coordinates networking and learning opportunities for real estate students across UCLA's undergraduate and graduate schools. Because Ziman also serves as a research center, it hosts frequent panels and speakers. The staff at Ziman (especially Tim Kawahara and Theresa Cisneros) are always available to students for networking and career advice and also help to plan and coordinate attendance for AREA events.
Real Estate ACT (Anderson Career Teams)
Our Real Estate ACT (Anderson Career Teams) Group, taught by second-year students and aimed at preparing the core group of real estate students for the recruiting season, was a great learning experience but also served to bring our smaller group of real estate students even closer together.  Although the official ACT classes ended in the fall, our group decided to keep the meetings going for the rest of the year as an opportunity for us to get together and learn about various topics.  Each session is taught by a fellow student, with each person taking an opportunity to give a presentation on their individual expertise from their previous roles (for instance, we had everything from an architect to a REIT trader).  This is entirely emblematic of how Anderson students naturally "share success", and indeed some of my most important relationships in business school are with my fellow real estate students.
Anderson Professional Resources and Internship Procurement
With the help of various Anderson resources and local networking, I was able to secure a part-time internship at Hines, an international real estate investment company, in downtown Los Angeles.  This was my dream job coming into school, and I could not be happier to be working there now and through the summer.  As an acquisitions and development intern, I split my time between underwriting new projects, working on development plans for existing investments, and contributing to the asset management and leasing processes for existing assets.  My resources at Anderson, from both a networking and educational perspective, have definitely made me a better, more connected, employee and I look forward to giving back to future classes after my graduation next year.
---
Entrepreneurial Real Estate Development
This class takes a deeper dive into the development process, starting with how to find and purchase high-potential sites, the entitlement process, construction financing & management, and stabilization. This is one of the most popular courses at Anderson.
Professor: Paul Habibi
Urban Real Estate Financing and Investing
The introductory real estate course for students specializing in Real Estate, Urban RE Investing starts with a brief overview of the various Property types, and continues (on a fairly high level) to review various elements of the development, construction, financing (both equity and debt), and management of real estate.
Professor: Paul Habibi
Real Estate Securitization – Debt
This class will explore securitization with the goal of providing an understanding of the underlying economic incentives and how securitization is transforming the means by which firms raise capital in today's financial markets. While approximately ninety percent of the collateral underlying securitization is mortgage related, both residential as well as commercial, securitization is also increasingly affecting financing decisions in a variety of other industries, ranging from insurance to entertainment.  We conclude by considering applications to project finance.
Professor: Walter Torous
Cases in Real Estate Investment
The primary goal of the course is to develop an understanding of the principal issues involved in real estate investment and finance. Topics covered will include: real estate financial analysis and valuation in a variety of contexts (single and multi-family residential, commercial/industrial, shopping center, and hotel properties); diversification of real estate assets in a portfolio; real estate taxation, including 1031 transactions; real estate law; the development process; securitization of real estate (including REITs) and other means of financing real property ownership and investment; leasing; work-outs of troubled properties.
Professor: Eric Sussman
Real Estate Economics, Capital Markets & Securitization
Exploration of linkages between real estate, macroeconomy, and capital markets. New insights as to structure and practice of macroeconomic regulation, crisis policy formulation, and related capital markets and real estate outcomes.
Professor: Stuart A. Gabriel
Real Estate Law and Taxation
This practically oriented course will familiarize students with important legal and tax issues in real estate.  The course will cover basic legal concepts in title & ownership, contracts & land acquisition, financing, possessory and non-possessory interests, involuntary liens, eminent domain, commercial & residential leasing, landowner liability, litigation and real estate agency.  In the area of taxation, the concepts will include business structure, acquisition & debt, capitalization, depreciation, leasing & tenant improvements, passive and at-risk loss restrictions, capital gain treatment, Section 1231 and 1250, like kind exchanges and deductions on hybrid-use property.  The course will cover basic laws and regulations, but also weave in issues of planning and policy.  Students will analyze case studies and problems.  They will learn how to conduct tax and legal research, and will be responsible for preparing a research memorandum on the tax and legal issues related to a real estate issue. Through the research assignment, students will develop analytical and research skills in a legal and tax context.
Professor: Gonzalo Freixes
At a Glance
Location: Los Angeles, CA
Class of 2019 Size: 360
Alumni Count: 37,000+
Alumni Countries: 100
---
About Laurel Casey: My name is Laurel and I am a first-year student at UCLA Anderson School of Management specializing in Real Estate.  I am originally from San Diego, CA, and graduated from Yale University in 2012 with a double major in History and Economics.  After Yale, I spent two years working as a legal analyst in the Merchant Banking Legal Division of Goldman Sachs in New York City.  In this role, I found myself increasingly drawn to the transactions that the Real Estate Principal Investment Area was working on and decided to pursue a career on the business side of the industry.   I took a position as a Financial Analyst in the Commercial Real Estate Debt Group of Wells Fargo in Los Angeles.  This was a great first role in real estate, providing exposure to all of the different property types (from office and multifamily to self-storage and industrial), various borrower types (from one-guy shops to major institutional investors), and projects (from ground-up construction to stabilized properties).
https://www.adventuresincre.com/wp-content/uploads/2017/07/ss_bridges.jpg
400
600
A.CRE
https://www.adventuresincre.com/wp-content/uploads/2018/04/black-logo-with-top-2-e1523391010256.png
A.CRE
2017-07-02 15:51:34
2020-10-13 10:10:42
Anderson School of Business – University of California, Los Angeles – MBA Real Estate Profile