Graduate Real Estate Series: University at Buffalo MSRED
The Master of Science in Real Estate Development (MSRED) at the University at Buffalo is a three-semester program that teaches real estate development and investment to aspiring and advancing professionals, with the resurgent City of Buffalo as its classroom.  It is the only place to learn about real estate development and investment in the affordable State University of New York (SUNY) system, and the only program of its type at a state university in the Northeast. UB's MSRED has been recognized by Commercial Property Executive as being among the nation's top programs offering a specialized master's degree in real estate development
In this post, I'll explore in-depth the University at Buffalo MSRED, its students, its curriculum, its admissions process, and whether this graduate real estate program is right for you.
Note from Michael: This profile is part of The A.CRE Master's in Real Estate Series highlighting some of the top graduate programs with robust opportunities to study and secure work in commercial real estate. Each profile has been written by a current or former student of the program and is written from their unique perspective on the school and its real estate offerings. A huge thanks to Mythea Mazzola for taking the time to write this profile of the University at Buffalo.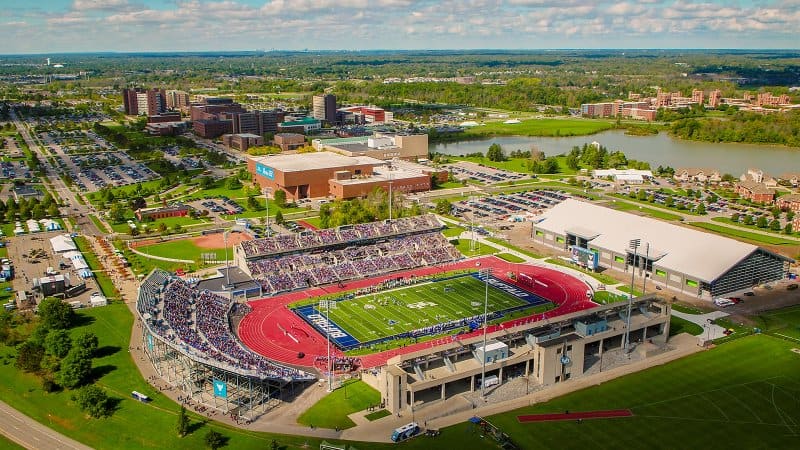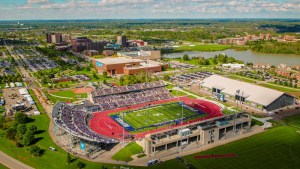 ---
University at Buffalo Student Interview Deep Dive

The Program is housed within UB's School of Architecture and Planning, where project-based learning is part of the School's DNA. MSRED students take courses not only in real estate development and investment but also in allied disciplines such as urban planning, architecture, historic preservation, economic development, law, and business management. Courses are taught by experienced industry professionals and top scholars that tap the multidisciplinary depth of UB. In addition to the core MSRED curriculum are electives in historic preservation documentation, inclusive design, urban design, the built environment and public health, and transportation planning.
The MSRED Program culminates in a semester-long "Capstone Project" that organizes multidisciplinary teams to develop collaborative proposals for real-life clients, in real time. In recent years, student teams have worked on financial feasibility and design studies for large CBD mixed-use, flex industrial, tech incubator, and transit-oriented developments, as well as the adaptive reuse of an abandoned public housing project and other historic properties.
Capstone Projects inform public debate on key development issues facing the Buffalo region. For example, student teams developed proposals to redevelop Eastern Hills Mall, a dying suburban regional mall, into Western New York's 21st-century first town center. Students collaborated with the design and development team throughout the project and presented their final proposals at a press conference that drew local TV, radio and print news media.
Each MSRED cohort is intentionally small with 15-20 students, allowing students to develop close relationships within the cohort and with faculty. Although only recently established in 2015, the Program has already established deep ties with many alumni and organizations, both regionally and nationally, providing students with opportunities to engage with professionals interested in cultivating the next generation of talent.
UB's MSRED degree prepares students to be versatile, with practical skills for a wide range of real estate career paths. Graduates have secured internships and employment in real estate development and investment firms, banks and financial institutions, community development organizations, and architecture and planning firms in markets including Western New York, New York City, Charlotte, Dallas, Miami, Minneapolis, and Philadelphia, among others.
Opportunities Beyond Coursework
Mentorship Program and Career Advisors
Each student is paired with two mentors working in the real estate industry, one a "seasoned executive" and the other a "trailblazer" or early-stage professional making a big impact in the industry. Mentors, including UB alumni, local professionals and members of the Program's Advisory Committee, provide one-on-one career coaching, lead group workshops, and connect students to internships and employment opportunities. Students also have access to the expansive resources of the university's Career Services office.
Real Estate Development Program Advisory Committee
In addition to student mentorship, the Program's 30-member Advisory Committee provides advice on the courses offered to ensure the Program aligns with trends in our changing industry. Several members serve as adjunct professors and guest lecturers for the Program.
Summer and In-Semester Internships
Some students are advancing professionals, work full-time in real estate positions, and attend the program on a part-time basis.  Others are new to the field, with no prior real estate experience, and are encouraged to pursue internships and part-time positions in real estate. The three-semester configuration was specifically designed to accommodate a summer internship, to allow students to make further connections in the industry and confirm their career path. Career advisors work closely with students to identify and pursue these opportunities, along with mentors, alumni, and other industry connections.
Industry Associations
UB MSRED students are encouraged to join industry trade associations. The Program has a close working relationship with the Urban Land Institute, through its Western New York Chapter.  ULI WNY hosts many seminars/webinars on trending topics, and networking events. Students also join the active NYS chapters of organizations like NAIOP, ICSC, and NYSCAR.  UB is a CCIM University Alliance Partner; taking MSRED courses puts students on a "fast track" to achieve CCIM status, a highly-recognized industry credential.
Case Competitions
Students in the MSRED program have participated in case study competitions, allowing them to apply skills taught in the classroom to real-world scenarios.
University of Maryland Colvin Case Study Challenge
UB MSRED students have participated in University of Maryland's Colvin Case Study Challenge, starting in 2016.  All of our participating teams have made it to the finals, with the 2017 competition team placing first for their analysis of The Delaware North Building, a 12-story, glass-walled, mixed-use complex in the heart of downtown Buffalo.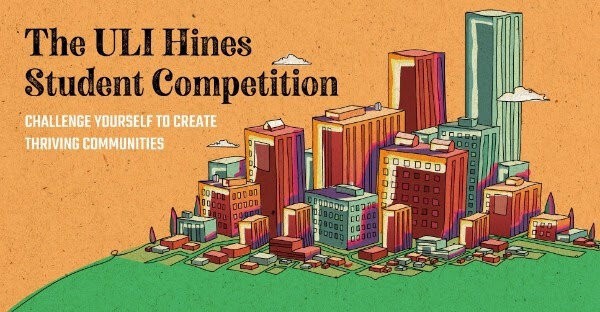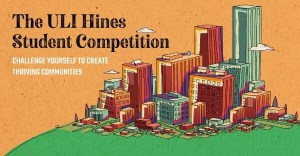 ULI Hines Student Competition
UB students participated in the prestigious ULI Hines Competition in 2019, 2020, and 2021. The Hines Competition offers graduate students the opportunity to form multi-disciplinary teams to tackle an exercise in responsible land use. UB's teams have engaged MSRED along with MArch and MUP students, all from UB's School of Architecture and Planning, exemplifying the need for a multi-disciplinary approach to real estate development education.
Conferences
Students frequently attend the ULI's annual Fall Meeting and other industry association conferences. Additional learning opportunities are provided by conferences held at or sponsored by UB, such as UB's Affordable Housing Symposium in 2018 and the "UB Innovation Exchange," a series of workshops in NYC that pair students with industry professionals to explore critical industry trends through collaborative problem-solving.
Real Estate Development Club
A student-run real estate club is in its early phases of development. The goals of the club will be to further strengthen student connections with the ULI WNY chapter and other professional associations and organize networking events, guest lectures, and treks that provide opportunities to dive deeper into niche topics, and help students connect and establish relationships with professionals and one another outside of the classroom.
Courses
| | | |
| --- | --- | --- |
| Course Title | Brief Description | Professor |
| END 500: Processes of Real Estate Development | Introduces the student to the principles and processes of real estate development including history; participants; due diligence; financial analysis and feasibility; appraisals and market research; property, asset and portfolio management; types of real estate products; and emerging and future trends in development. The course is intended to provide an overview of development from the perspective of a real estate developer and an understanding of the myriad fields of expertise involved in a real estate development project. | Matthew Roland |
| END 525: Financing Development Projects I | The purpose of the course if to familiarize future planning, design, and development practitioners with the complex process by which projects are actually brought into being. | James Gottstine |
| END 543: Construction Management | Construction management is a multi-disciplinary field that requires a broad perspective for real estate development projects. Students will understand the scope of construction projects through implementation and knowledge of effective practices in design, development, budgeting, contracts, and supervision. Introduces students to management principles and practices across the construction industry. Involves lectures, discussions, and fieldwork. | Christopher Hogan |
| END 526: Financing Development Projects II | This course expands upon the topics covered in Financing Development Project I. In this course, students will expand on their modeling skills, pro forma analysis, feasibility analysis, fundamentals of commercial leases, and understanding the risks and opportunities of real estate development. | Marguerite McAfee |
| END 536: Market Feasibility and Analysis | Provides students with an understanding of and the tools necessary to perform a market analysis and assess the feasibility of potential real estate projects. The course also provides practical information on using this critical thinking when negotiating to buy, sell or hold a commercial real estate asset. | V. Jeffrey LiPuma |
| END 521: Technology Colloquium | A two-day long bootcamp in financial modeling which allows students to increase their proficiency in Excel. | Marguerite McAfee |
| END 504: Structuring Deals and Transactions | This course will examine how a commercial real estate deal is structured, the steps taken to implement that structure and complete the deal and the principles of business law that apply | John P. Amershadian |
| END 515: Design for Development | Course will examine selected topics in real estate development. Where appropriate, the course will incorporate guest speakers with expertise in real estate development, urban planning, architecture, environmental design, law, and community development, among other subjects. To solidly ground the classroom component of the course in a real-world context, the course will also require students to visit and analyze several development sites. | Michael Tunkey |
| END 593: Capstone Practicum | A studio in which real estate development, architecture, and planning students come together to tackle a proposal for a real project in the Buffalo area. By the end of the semester, each team will have a vision for the development that they will present to the client. | V. Jeffrey LiPuma; Kerry Traynor; Ernest Sternberg; Hiroaki Hata |
| ARC 524: Building Systems and Technology | Provides students with a concise overview of the range of building systems that are encountered in professional commercial real estate development practice in the USA. Focuses on the relationship between real estate product types, building systems, and the factors that real estate development professionals must consider when evaluating these products and systems for a specific development project. Surveys and analyzes commercial building technology. Includes lectures, discussion, and fieldwork. | Paul Battaglia |
| END 546: City and Environment in Real Estate Development | Meant for graduate students who intend to attain positions of professional responsibility or to become active proponents in urban planning, real estate development, and urban and regional affairs, this course introduces physical planning ideas and principles. | Ernest Sternberg |
| ARC 521: Special Topics in Design | This course will be taught as two parallel narratives regarding Global Practices in Design. The first narrative will be a class-by-class overview of important movements in art, architecture and design over the past century. Key movements will be examined in relationship to the social, political and economic factors which either played a role in its formation or which was reacted against. The intent of this approach is to provide students with a framework by which to recognize the societal forces which have an impact on the production of art, architecture and design. The second narrative of the course will survey small, cutting-edge architecture firms across the globe. | Kenneth MacKay |
| ARC 526:  Site Planning and Design | Examine the integration of requirements in site planning and design. Topics may include pedestrian movement and circulation; public transit; provisions for the handicapped; services and utilities; site assessment (including zoning, climate, topography, water and soil drainage, exploration, and testing); site work (including site preparation, earthwork, and foundations); site improvements (including landscaping); and sustainable design principles and standards. | Mark McGovern |
| ARC 531:  Architectural History I | Introduces the development of urban and architectural form in a cultural context from the first settlements of Neolithic times to the consolidation of architecture as a discipline in the 1450s. | Charles L. Davis II |
| ARC 534:  Architectural History II | Introduces the fundamentals of architectural design from the theory and practice of the 1450's to the built and written manifestos of modern times. Situates the evolution of the architectural discipline within the context of social, cognitive and technological transformation. | Hadas Steiner |
| ARC 558: Design for Inclusive Environments | This course provides an overview of inclusive design. Inclusive design empowers the people who use products, buildings and communities by taking their perspective and making it the central focus of the design process.  Rooted in a critique of designer-centric practice and embracing an ethic of social responsibility, this new paradigm focuses on developing form from function to increase the usefulness and responsiveness of our physical world for a wider and more diverse range of people. | Jordana Maisel |
| ARC 565: Urban Design: Understanding Form | Urban Design 1: Understanding Urban Form is a multidisciplinary course with its roots in architecture, urban planning, and environmental design. Intended to be an introduction to urban design, the course is open to students who are interested in neighborhoods, cities, and larger metropolitan regions. Investigates the question of urbanism in general, and how the urban designer could be effective in improving the quality of life of cities through facilitating urban reinvestment and encouraging urban sustainability. By improving visual and physical quality of the built environment, urban design attempts all to make neighborhoods and cities beautiful, livable, as well as socioeconomically and culturally stronger. | Hiroaki Hata |
| ARC 566:  Urban Design:  Theory of Urban Settlement Patterns | Urban Design: Case Studies examines how American cities are so thinly spread out compared with many other nations. What is density and what does it mean? What are the relations between density and sustainability? This graduate seminar is intended to examine density as a most profound indicator of human settlement pattern especially in urbanized areas. One of the hypotheses that the class addresses is this: Is the denser the city, the greener it is or is it? Through the use of provocative readings and comparative analysis and mapping techniques, we compare major cities around the world to understand the relation between urban density and urbanism, its economic and environmental robustness: placemaking, good urban form and great streets — all contributing to making cities great and robust ecologically, economically and socially. | Hiroaki Hata |
| END 501:  Evolution of Urban Structure | Focuses on the spatial structure and function of cities and regions and the roles that urban planners play in analyzing and shaping the urban and built environments. Objectives include a critical understanding of the cultural, environmental, and historical processes and urban planning actions and policies that have influenced cities and regions. Students will gain both a theoretical and practical understanding of urban and environmental planning processes as we explore problems and challenges currently facing communities in Western New York, the United States, and the world. Prerequisite: graduate standing. | Daniel Hess |
| END 503:  Strategies of Property Management | Introduces strategies and methods of property management, including creating financial reports, knowledge of property marketing, understanding leasing contracts, awareness of emerging practices in energy management, evolving security and emergency procedures, and enhancing tenant relations. May be offered on an intermittent basis. Includes lectures, discussion, and fieldwork. This course is dual-listed with END 403. | Stephen Fitzmaurice |
| END 528:  Foundations of Historic Preservation | Historic preservation theory related to planning and design, emphasizing preservation practice, including tools of effective preservation, legislation, community planning roles, economics, adaptive use, and management. Involves lectures, discussions, and fieldwork. | Kerry Traynor |
| END 529:  Historic Preservation, Documentation, and Methods | Addresses research methods and documentation techniques used in preservation planning to identify and record historic structures and sites. Research techniques include the development of site descriptions, historical narratives, reviewing existing scholarly and/or professional literature, collecting primary and secondary data, skills in architectural photography, and measured drawings. Involves lectures, discussions, and fieldwork. | Kerry Traynor |
| END 544:  Strategic Urban Transportation | Examines goals of strategic urban transportation planning to develop sustainable transportation systems for an urban area to promote desirable patterns of human activities. Using case studies, introduces methods for the sustainable development of urban transportation system through a strategic perspective. Investigates how technology is used to produce estimates of future travel demand and utilization of urban transportation facilities. Considers how strategic urban transportation planning evolves in response to changes in environmental sustainability, energy, development patterns, and intergovernmental coordination at the state, local, and federal levels. Includes lectures, discussions, site visits, and fieldwork. | Stephen Still and Lisa Kenney |
| END 545: Internship | An opportunity for students to receive elective credit for participating in an unpaid internship. | David Stebbins and Ernest Sternberg |
| END 578: Environmental Planning Methods | This course explores environmental planning and is designed to provide students with an understanding of how the potential environmental impacts of proposed actions are identified, analyzed, and mitigated.  Particular emphasis will be placed on environmental planning related to project development including stormwater handling and management, wetland protection, redevelopment of contaminated properties, and protection of threatened and endangered species.  We will also explore environmental planning associated with analyzing and mitigating potential impacts to the human environment including stormwater management, traffic, brownfields, and community character.  This course utilizes the New York State Environmental Quality Review Act ("SEQR") and, to a more limited extent, the National Environmental Policy Act ("NEPA"), as a framework for understanding planning to address the impacts of human activity on the natural and built environment. | Adam Walters |
| END 599:  Independent Study | Designed to add depth and breadth to a student's degree program. Students electing this course must be accepted for work on a specific topic by a member of the faculty, and must have the approval of the department's chair. Includes fieldwork, and may be offered on an intermittent basis. Permission of department required for registration. | Ernest Sternberg |
| END 605: Built Environment and Health | This graduate seminar explores the ways in which planning practice can influence public health and health equity. Health equity is a condition where every person in a community has the opportunity to attain their full health potential, and that no one in a community experiences an adverse health outcome due to their racial and/or gender identity, or their membership in a group of any other social or economic characteristic. This particular course pays attention to how the discourse on built environment and health affects marginalized communities, especially Black and refugee communities. Throughout the course, students will critically examine the possibilities and limits of planning and designing communities to promote health equity. | Samina Raja |
| URP 522: Economic Development Planning | This course introduces students to the diverse ideas, roles and impact of policies in the practice of economic development planning through practical examples drawn primarily from New York State and the Western NY region.  Students should be prepared to deal with sometimes ambiguous information and contradictory points of view.  Students will come to realize that economic development planning is as much an art as a science. | Brian Conley |
| URP 562: Transportation Land Use and Urban Form | This course will focus on the intrinsic relationship between transportation, land use and urban form. Students will have a firm understanding of the transportation land use cycle – of how transportation systems and travel decisions impact development and how land use patterns impact transportation systems. Students will understand how this connection or disconnect results in the visible urban form. The class will examine the history of this connection; theories of sound transportation and land use planning; national trends and emerging uncertainties transportation planners face today | Maloney Joyner |
| URP 567: Legal Issues in Planning | Explores historical and legal foundations of planning and development. Provides a legal perspective on land use, zoning policies, environmental regulations, housing, and other areas of interested related to urban planning and development. Reviews political, legal, and administrative institutions related to the planning and development process. May be offered on an intermittent basis. This course is equivalent to END 567 | Wiliam Murray |
| URP 568: Environmental Planning and Policy | Environmental resources are managed by governments, organizations, community residents, and other stakeholders through a broad range of policy and planning mechanisms. This course provides an introduction to the regulatory structures of environmental policy and the vision-oriented processes of environmental planning. Through case studies and policy analysis writing exercises, we explore ways in which these approaches are used to address key environmental problems such as climate change, habitat loss, hazardous waste, and urban sprawl. In particular, we emphasize ways in which these environmental problems have a disproportionate impact on the poor, people of color, and people living in the global south. | Zoé Hamstead |
| URP 606: Housing and Community Development | Studies theories, concepts, and practices of housing and community development, emphasizing neighborhood planning and design in urban environments. Involves lectures, discussions, and fieldwork. May be offered on an intermittent basis. This course is equivalent to URP 606. | Robert M. Silverman |
Browse Other Master In Real Estate Profiles
Read Other Profiles
Columbia MSRED | Cornell MPSRE | MIT MSRED | NYU MSRED & MSRE | Johns Hopkins MSREI | USC MRED | Harvard REBE | Texas A&M's MRE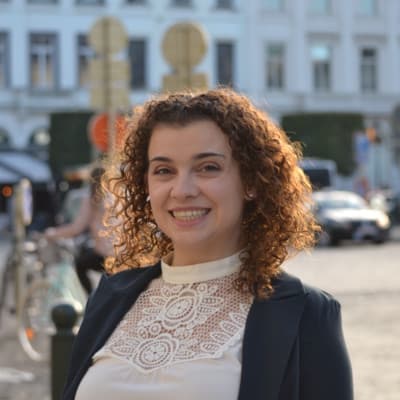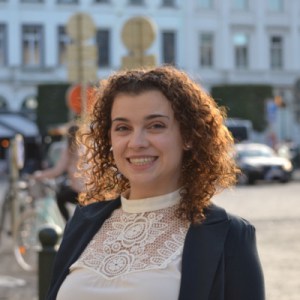 About the Author: Mythea Mazzola is a Master of Science in Real Estate Development Candidate at the University at Buffalo. She graduated from the University of Rochester with a B.A. in Business and Political Science in 2020 and began her career in real estate development at Home Leasing, a Rochester, NY-based firm that specializes in affordable and senior housing development, property management, and construction. She is the founder of UB's Real Estate Development Club and a ULI member. Mythea is passionate about diversity in real estate, creating an inclusive built environment, and developing entrepreneurial and forward-thinking projects.
https://www.adventuresincre.com/wp-content/uploads/2021/03/UOB.jpg
600
900
A.CRE
https://www.adventuresincre.com/wp-content/uploads/2022/04/logo-transparent-black-e1649023554691.png
A.CRE
2021-09-26 06:00:11
2023-04-14 17:29:39
Graduate Real Estate Series: University at Buffalo MSRED