A.CRE on the Road – University Speaking Schedule (Updated Mar 2023)
Michael and Spencer continue to take time every semester to engage with top real estate programs across the country to share their experience with students pursuing careers in commercial real estate. The Spring 2023 university speaking schedule continues that trend as the guys engage with aspiring professionals (both in person and virtually) from coast to coast and enjoy connecting with bright students looking to forge their own path into the industry. These opportunities energize both the work we do at Adventures in CRE and the academic studies of those that participate.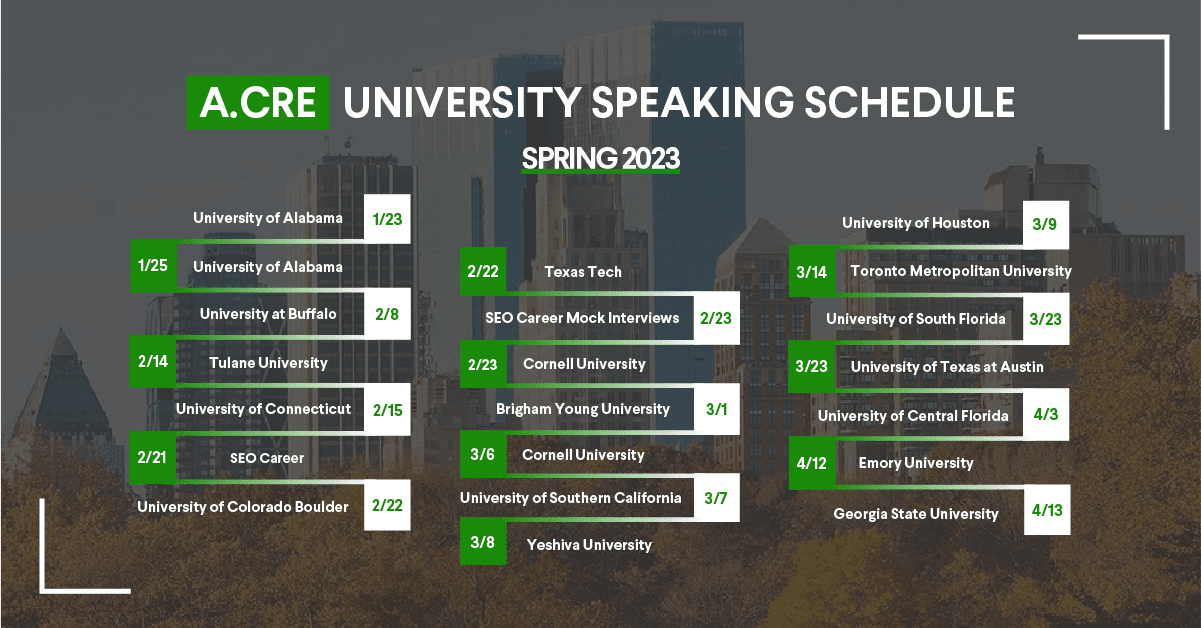 How Did We Get Here?
As many of you know, A.CRE emerged as two bright-eyed graduate students continued their adventure into commercial real estate at Cornell's Baker Program in Real Estate. Spencer and Michael decided to share the answers to their own curiosity and create a website through which they could solidify their own skills and knowledge and help others that were going through the same process.
Whether it was learning to underwrite complex deal mechanics, recruiting, or even just simple questions related to CRE terms and basic concepts, they have shared their discovery process from the beginning. Their guiding motto has always been to have fun, driven by their passion for all things commercial real estate and a desire to help those with a similar passion break into the industry and succeed.
While known for both developing institutional quality models shared through the site and training professionals at top educational and financial institutions around the world, both Michael and Spencer choose to still work full-time in the industry. This is in addition to their efforts with A.CRE.
Between the two of them, they have worked at some of the largest institutional investment and development firms in the world. They are founding members of Stablewood Properties, and both have pursued and continue to pursue various entrepreneurial and personal CRE investment opportunities.
How Can A.CRE Help Your Program?
Simply put, the guys love commercial real estate and enjoy paying forward the help and experience they've received along the way to those in the same situation they found themselves in while at school. Along those lines, and to date, they have met with dozens of university real estate programs and over 500 students. They have also partnered with numerous universities in offering the Accelerator program to train the next generation of professionals leading the industry.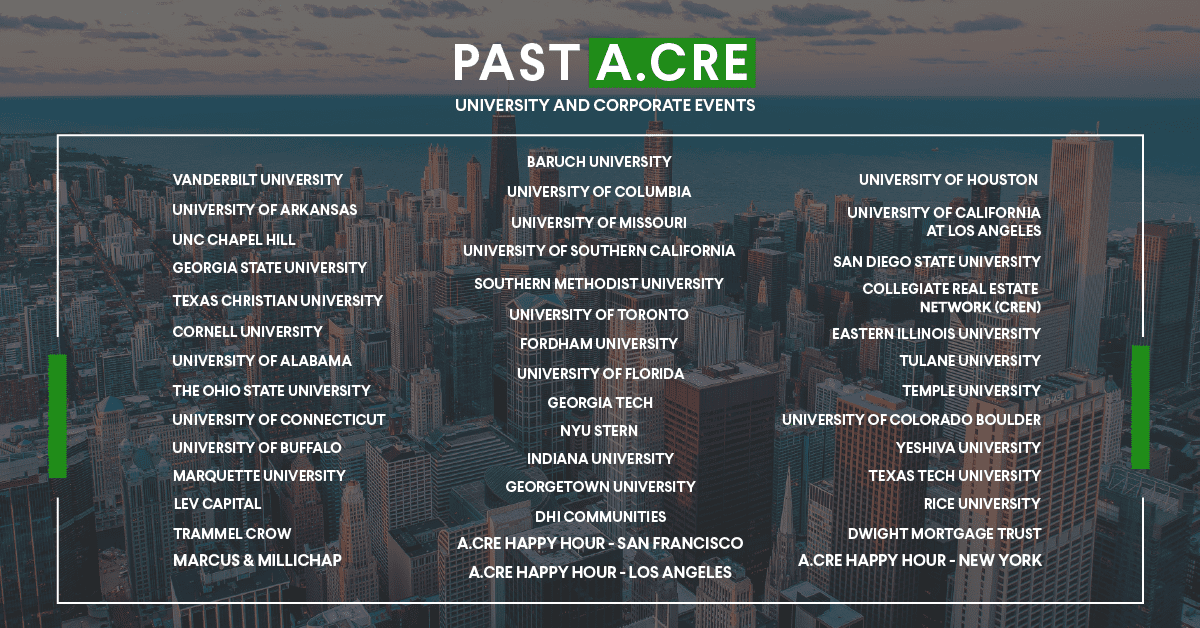 These engagements have catered to whatever these programs found to be most helpful and have included some of the following topics:
Sharing their CRE background and journey
Mock interviews and career advice
Founding a CRE investment firm
Thoughts on why financial modeling skills are important for those entering the industry
Background to the Accelerator
General CRE questions and topics

Let's Connect!
If your program is interested in connecting with Michael and Spencer, we still have spots available on the university speaking schedule for the current and upcoming semesters. Please send us a message or connect with our colleague, Tucker Wells, who manages our university outreach. We look forward to sharing in your adventures in CRE!
https://www.adventuresincre.com/wp-content/uploads/2023/03/ACRE-Schedule-Spring-2023.png
628
1201
Kyle Holmberg
https://www.adventuresincre.com/wp-content/uploads/2022/04/logo-transparent-black-e1649023554691.png
Kyle Holmberg
2023-03-06 08:00:14
2023-03-06 22:09:52
A.CRE on the Road – University Speaking Schedule (Updated Mar 2023)