Cornell University – Undergraduate Real Estate Profile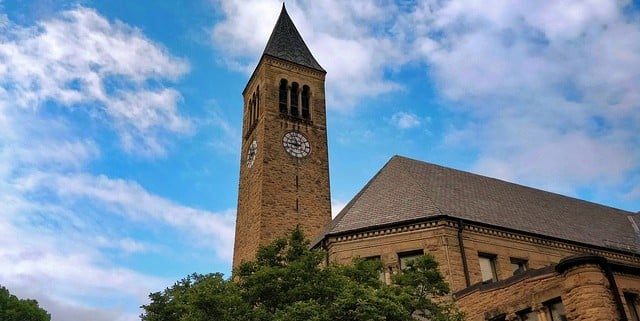 Note from Michael: This profile is part of The A.CRE Undergraduate Real Estate Series highlighting some of the top undergraduate programs with robust opportunities to study and secure work in commercial real estate. Each profile has been written by a current or former student of the program and is written from their unique perspective on the school and its real estate offerings. A huge thanks to Mia Haggerty, Class of 2021, for taking the time to write this profile of Cornell.
Before coming to Cornell University to pursue an undergraduate degree in Hotel Administration, I was somewhat aware of the real estate educational opportunities offered in the Hotel School, but did not expect they would play such a significant role in shaping my studies. Upon my arrival at Cornell, I was anxious to join various clubs on campus. The Cornell Real Estate Club (CREC) piqued my interest, and I began attending the speaker events the club hosted.
With Cornell's extensive alumni network working in real estate, we are fortunate enough as students to have many opportunities like these roundtable events to build actual relationships with working professionals. I am personally extremely thankful for these opportunities because they kick-started my interest in real estate. I was enthralled by the unique challenges professionals in real estate faced, and their genuine passion for the industry.
Although I knew I was interested in further pursuing studies in real estate, Cornell does not allow students to begin real estate courses until they have completed foundational finance and accounting courses. Thus, CREC filled this gap by offering "Real Estate 101" sessions taught by upperclassmen, to younger classmen.
For me, this emphasizes the breadth of knowledge and expertise within the student body, and how eager students are at Cornell, and within the Hotel School, to help fellow students achieve their academic and professional pursuits.
Furthermore, CREC exposes its members to the industry firsthand by venturing out of Ithaca, New York and again leveraging the extensive alumni database and faculty relationships to organize real estate "treks". I was fortunate enough to attend both the NYC trek and the Sydney, Australia trek club members embarked on over spring break. On these treks, we met at the corporate offices of various companies, were led on site tours of their projects, and partook in real-life case studies.
These speaker events, "Real Estate 101" sessions and treks were vital experiences as I began my recruiting process for real estate internships. Career services and The Center for Real Estate and Finance at Cornell organize two real estate career fairs each year to facilitate the connection between students and real estate companies. Various companies also come to campus throughout the year and host their information and networking sessions, which many students take advantage of as a way to learn more about different ways they work in the industry.
Now as a current junior in The School of Hotel Administration, I am able to take the more focussed real estate courses offered at Cornell. With this, I am extremely thankful to learn from the esteemed professors who share their industry experience while teaching. Additionally, the professors are excited to meet one-on-one with students in regard to coursework and/or general real-estate related questions. I have personally met with professors before job interviews to bounce questions off of them and make sure I am prepared.
As I continue to learn more about real estate as a student, it is also exciting to give back to fellow younger classmen as upperclassmen were so helpful to me. CREC has created a mentor-mentee program to further help underclassmen, and it's been fun helping younger members of the club navigate their real estate recruitment process.
Undergraduate Real Estate Minor
While Cornell University does not offer an undergraduate real estate major, Cornell does offer an undergraduate real estate minor housed in The School of Hotel Administration. The completion of this minor varies slightly for students in the School of Hotel Administration, whom all of which are completing a major in Hotel Administration, and students outside of the Hotel School, completing various other majors. Essentially, the only difference is that three classes required for the minor are already built into the Hotel School curriculum, whereas students outside of the Hotel School will have to add these required courses in addition to the courses required for their prospective majors.
Additionally, Hotel School students are required to complete 21 credits for the minor and take fundamental courses as they are offered in the Hotel School, whereas non-Hotel School students are required to complete 18 credits for the minor, and may take fundamental course equivalents offered in other schools. The minor follows a 3 part sequence, as seen below.
Foundations of Financial Management – Accounting and Finance (2 required courses)
Foundations of Real Estate – Real Estate Principles and Real Estate Finance & Investments (two required courses)
Enrichment and Complementary Skills Electives (from an extensive list of courses)
As seen, this sequence begins with fundamental finance courses which are prerequisites for the required real estate-focussed courses to follow. Finally, students are able to complete the minor by selecting elective courses that pertain to their particular interests in real estate. Below, please find the requirements for both Hotel School, and non-Hotel School students pursuing the real estate minor.
---
For students in the School of Hotel Administration, the requirements for the minor are as follows:
A minimum of 21 credit hours:
Four courses (12 credit hours) are specifically required (see below).
HADM 1210: Financial Accounting – 3 credit hours
HADM 2220: Finance – 3 credit hours
HADM 3210 – Principles of Hospitality Real Estate – 3 credit hours
HADM 4230* or HADM 6210 – Hospitality Real Estate Finance – 3 credit hours
Three or more electives complete the minor.

All courses taken for the Real Estate Minor must be taken for a letter grade, unless the course is offered S/U ONLY.
A minimum 3.0 cumulative average at Cornell University is required, both at application and upon completion of the Minor.
A minimum 3.2 cumulative GPA in the 21 credit hours taken toward the minor is required at graduation for the Minor to be awarded.
---
For students outside the Hotel School, the requirements for the minor are as follows:
A minimum of 18 credit hours:
Four courses (12 credit hours) are specifically required (see below).
AEM 2210: Financial Accounting – 3 credit hours or HADM 2230: Financial Accounting Principles – 3 credit hours
AEM 2240: Finance – 4 credit hours, HADM 2220: Finance – 3 credit hours, or ECON 4220: Financial Economics
HADM 4200: Principles of Real Estate – 3 credit hours
HADM 4280/628030*: Real Estate Finance & Investments – 3 credit hours
Two or more electives complete the minor.

All courses taken for the Real Estate Minor must be taken for a letter grade, unless the course is offered S/U ONLY.
A minimum 3.0 cumulative average at Cornell University is required, both at application and upon completion of the Minor.
A minimum 3.2 cumulative GPA in the 18 credit hours taken toward the minor is required at graduation for the Minor to be awarded.
---
School of Hotel Administration FARE Concentration
In replacement of, or in addition to the minor in real estate, Hotel School students have the opportunity to pursue a concentration in Finance, Accounting and Real Estate (FARE). Whereas the real estate minor is available to any undergraduate student, the FARE concentration is only available to students within the Hotel School.
Other concentrations offered to Cornell Hotel School students include the Hospitality Leadership Concentration (HOLD) and Service, Marketing and Operations Management (SMOM). Below, please find the various tracks students pursuing the FARE concentration may take, as detailed on the School of Hotel Administration website:
Corporate Finance/Financial Consulting
This track of the concentration is designed for students seeking a career as a financial consultant in a hospitality consulting firm or as a corporate finance analyst in a hospitality company.
General Financial Management
This track of the concentration is designed for students who wish to have flexibility in their career paths and/or want to prepare for a more generalized, financially-oriented career in either operations or consulting.
Hospitality Controllership
This track of the concentration is designed for students seeking careers as financial controllers or as managerial accountants in hospitality operations.
Securities Analysis/Investment Banking
This track of the concentration is designed for students wishing to pursue careers on Wall Street as security or investment banking analysts.
Design
This track of the concentration deals with the planning and design of a variety of hospitality facilities. Careers include hotel interiors and food service design, corporate technical assistance, and renovation management.
Development
This track of the concentration focuses on the creation of new hotels and restaurants. Topics include project feasibility, financing, planning, design, and construction. Careers include real estate development, both as an entrepreneur and in a corporate environment.
Cornell Real Estate Club (CREC)
Education
Because Cornell does not permit students to take real estate classes until they have completed fundamental finance classes, the undergraduate chapter of the Cornell Real Estate Club (CREC) functions primarily as a way to educate and expose lowerclassmen to the industry who know they have an interest in real estate, but are not yet able to take real estate focused classes.
To meet this need, the Executive Board members of CREC, as well as upperclassmen a part of the club, conduct "Real Estate 101" sessions to teach fundamental real estate topics, as well as hold resume critiques to help tailor their resumes to real estate internship recruiting, and have hedged a mentor-mentee program to pair younger classmen with an upperclassmen that they can utilize as a direct point of contact for any real estate coursework and recruiting questions, or for general advice.
Industry Professionals
Given Cornell's devotion to studying and teaching about the real estate industry, as well as its extensive amount of alumni who have entered the real estate field, many real estate professionals come to Cornell's campus regularly for various events. Fortunately, CREC is able to leverage this opportunity by arranging for these individuals to speak one-on-one with the club.
These sessions are valuable for both underclassmen and upperclassmen trying to learn more about the industry or network with professionals to explore internship and job opportunities. An additional benefit to the extensive alumni network is that these alumni return to campus on behalf of the companies they now work for and actively recruit Cornell students with a demonstrated passion for real estate. CREC organizes various sessions with representatives of these companies to hold information, networking, and/or case study sessions.
Real Estate "Treks"
A major component of CREC are the "treks" offered each semester to further explore the real estate industry and understand what it would be like to be a working real estate professional. The club recognizes that Ithaca, New York, the location of Cornell University, is somewhat remote in terms of major real estate developments. Thus, these treks are designed to venture off campus and into major real estate-focussed cities to learn firsthand from professionals.
These treks consist of meeting with various real estate companies like Blackstone, JLL, Oz Management, Related, Convene WorkPlace, Walton Street Capital, CBRE, Hyatt, Aulder Capital, Newmark Knight Frank, J.P. Morgan, Macklowe Properties, and Silverstein Properties just to name a few from recent treks. These treks not only visit the corporate offices of these companies, but frequently include site tours of these companies' finished and under-construction properties.
Each fall and spring semester, a trek is organized to New York City. Each fall semester, an additional trek is organized for another U.S. city – for example, Chicago was the fall of 2018 trek. These treks also typically include attendance at industry conferences like Titans of Real Estate (featured during the NYC spring 2019 trek) and the Cornell Real Estate Conference (featured during the NYC fall 2019 trek).
Finally, there is traditionally an international trek that takes place over the university's spring break. The 2018 trek travelled to Tokyo, Japan and the 2019 trek ventured down under to Sydney, Australia. These opportunities are made available through facility's connections to industry professionals and companies, alumnis continued involvement in the development of student's, and university funding.
University Resources
Career Services
The Center for Real Estate and Finance, the Cornell Career Services office, the Real Estate faculty, and the Real Estate Club help students by providing industry networking, facilitating the search for summer internships, and for permanent jobs. Students selecting the Real Estate Minor will have the opportunity to participate in annual Cornell sponsored real estate events.
The School of Hotel Administration also hosts a Real Estate Career Fair each semester that is heavily attended by both companies and students. This offers the opportunity for professionals and students to meet face-to-face as well as conduct on-campus interviews.
All students participating in the real estate minor are also included in a special group within CCNet (on-campus recruiting and job posting system), which allows student access to real estate jobs with School of Hotel Administration employers.
Finally, CREC serves as an excellent resource for real estate job recruiting as the email listserv provides constant updates of new job opportunities and a direct point-of-contact from the company for more information about the position.
Argus Training
Twice per year, The School of Hotel Administration offers an intensive Argus Training session.
Hotel Valuation Seminar
Once a year, The School of Hotel Administration offers a Hotel Valuation Seminar.
Real Estate Case Competition
To practice skills learned in the classroom and engage with other universities with real estate programs, Cornell has continuously sent student representatives to compete in real estate case competitions.
Most recently, Cornell sent a team of nine students to compete in Toronto, Canada. This team placed third in the competition.
Entrepreneurs in Residence
The Hotel School hosts entrepreneurs, who are typically Cornell alumni to facilitate "office hours"-like sessions where students can select a time splot to meet with this entrepreneur, many of which have been from the real estate industry. As a leader in entrepreneurial education, Cornell offers this as an opportunity for students with budding business ideas to get insights from real entrepreneurs.
---
Real Estate Course Offerings at Cornell
Here is a list of the real estate course offerings available to undergraduate students at Cornell University with cooresponding descriptions.
Principles of Hospitality Real Estate. Focuses on ownership of and equity investment in hospitality assets.  The course develops an appreciation of the strategic role of real estate in the hotel and restaurant industries using the quantitative tools of financial economics.
Topics include real property and personal rights, unit-level investment financing decisions, asset and equity valuation; all with a focus on hotels and restaurants. The learning objectives take the course description and restate the course topics as a set of measurable goals.
In HADM 3210 students will:
Develop and appreciation of the strategic role of real estate in the hotel and restaurant industries and the role of unit-level financial analysis in making investment decisions.
Build competence in using the quantitative aspects of financial economics.– be able to make unit-level investment decisions for hotels and restaurants.
Be able to make unit-level financing decisions for hotels and restaurants.– understand how hotel management contracts are structured and negotiated.
Understand how commercial leases contracts (more specifically, restaurant leases) are structured and negotiated.
Hospitality Real Estate Finance. Focuses on real estate financing for hospitality-oriented projects. Lectures address the following topics: methods of measuring rates of return; feasibility and appraisal processes; equity and debt financing vehicles to include joint ventures, limited partnerships, construction mortgages, and participating, convertible, and seller-financed mortgages; forms of operating agreements to include management contracts, leases, and franchises; and trends in international hotel franchising. Presentations by hospitality industry real estate practitioners tie course material to current industry practices.
Real Estate Financial Modeling. This course covers the basic financial models and frameworks used throughout the real estate industry today. In this introductory course, students will focus exclusively on a rigorous cash flow construction and scenario analysis to include the impact of deterministic inputs in ex-ante decision making. The course covers extensively the modeling of simple lease structures (for different property types), conventional and exotic debt instruments and simple equity waterfalls.
Securitization and Structured Financial Products. Deals with the structure and analysis of securitized financial products with an emphasis on residential and commercial mortgage-backed securities (MBS). The course is intended for those who wish to acquire a working knowledge of the analysis of such securities (e.g., collateralized mortgage obligations, commercial MBS, auto loans, and credit card-backed securities) and an understanding of the securitization process.
The course's subject matter necessitates a highly analytic and quantitative approach, and students are required to have a strong background in finance and economics. Students who have questions about preparation or background should see the instructor.
Real Estate Development. This course provides an in-depth analysis of the concepts and paradigms that are most often encountered in real estate development. The course is designed to provide an overview of the real estate development process with an emphasis on analysis, risk management, and decision-making relative to changing economic, environmental, institutional, regulatory, and social contexts.
Topics discussed include, but are not limited to, market analysis, site acquisition, due diligence, zoning entitlements, approvals, site planning, building design, construction, financing, leasing, and ongoing management, and disposition.
Real Estate Finance and Investments. This course promotes sound real estate investment and finance decision making through the use of advanced theory and techniques in financial economics. Real estate investment decisions are made from applications of an extended version of the after-tax discounted cash flow model and other valuation models, including option pricing and regression models. Financing decisions are made using the techniques of modern financial analysis.
A wide array of equity and debt financing options are considered including partnership agreements and commercial mortgages. Securitization of equity and debt claims to real estate also are covered. All types of income-producing residential and nonresidential real estate are analyzed, including hospitality properties.
Restaurant Development. Students are exposed to the process, challenges, and rewards of developing a restaurant concept from the idea to the construction of the first unit. The course includes readings, discussions with industry leaders, and cases. It culminates with students formulating a detailed restaurant concept and development plan.
Project Management for Hospitality Real Estate Development.  This course presents a framework for managing the real estate development process offering project management skills applicable for all development projects including project planning, budgeting, scheduling and impact management as well as leadership, communications, team formulation, procurement and management ethics.
The course also presents a range of case studies addressing the contingencies any project must inevitably endure. In-class exercises, case studies, class discussions are required course activities.
Advanced Project Management for Real Estate Development. This course is an experiential learning based course founded on applying skills and knowledge building on the development concepts from and management skills from prerequisite courses to conceptualize, research, explore, and document a complete hotel development project plan.
Students will work in multi-disciplinary groups to establish a concept, formulate a full team, analyze and choose a site, describe and refine a hotel product, ascertain market feasibility, program the property, explore financing options, detail the design process, document a risk management plan, outline RFP's and procurements, develop and refine budgets and schedules, plan the building and construction phase, and create an operations turnover plan.
Hospitality Asset Management. Hotel asset managers act on behalf of investors to meet the specific objectives of real estate ownership.  Specifically in this course, the focus is on hotel and resort real estate assets. This course provides an overview of the strategies and tactics of real estate asset management and provides insights into the current market and operational challenges.
Students will walk through the components of the asset management strategic plan to understand how different analyses influence the sell/hold, brand and operational decisions.  Other topics include hotel management agreements, the capital investment decision, and the asset manager's interaction with portfolio managers.
Investment in Real Estate Securities and Funds.  This course focuses on equity investment in commercial real estate through indirect vehicles. The course builds on standard investment and corporate finance concepts. The high-level learning objectives are to familiarize students with indirect real estate investment and to introduce the analytical tools required to value the firms in that sector.
Statistical Analysis of Real Estate. This course provides students with education in the use of statistical methods applied to real estate property and market data for the purpose of making informed decisions about allocations of resources to real estate.  Both elementary and advanced statistical methods are covered in the course and students receive training in the statistical functions of Excel, STATA, and @RISK.  Also, students gain exposure to the expanding number of real estate databases offered by vendors.
An important component of the course is the series of required assignments that involve finding answers to specific questions encountered in practice that can be best answered with statistical analysis of relevant data.  Building statistics-based forecasting and valuation models is essential for completing the course assignments.
Urban Theory and Real Market Analysis. This course educates about urban theory from an economic point of view and develops tools for the analysis of real estate markets.  Areas examined include economic aspects of urbanization processes and policies, determinants of urban growth and decline, urban land and real estate markets, urban transportation, and urban public services.
This course applies the latest economic thinking and research to the tasks of analyzing real estate market fundamentals, forecasting supply and demand, and choosing locations. Material in this course builds on the statistical tools covered in  HADM 6230.
Hospitality Facilities Design. This intensive studio course provides the graphic skills necessary for design and experience in applying these skills in hospitality planning and design.  Using hand drafting skills learned in class, students prepare design projects including design of guest rooms, guest room floors and public space and back-of-house functions.
In addition to studio critiques, the course includes in-class discussions of site analysis, target markets, architectural choices and the use of inspirational precedents.
Negotiations in the Hospitality Industry. Negotiation is a critical factor in business success. This course provides hands-on experience in negotiation in the hospitality context. Through the use of role-play exercises, discussions, and writing exercises, students develop into tough negotiators with whom people will want to continue doing business.
Students become more comfortable with negotiations and develop their own personal negotiating style. Students also learn how to adjust their negotiating style to respond appropriately to others' different personalities and negotiation tactics.
Foodservice Facilities Design. This course provides an introduction to the basic concepts of foodservice facilities design and planning with an emphasis on restaurants. All documentation is produced on computer-aided design software, which is taught as part of the weekly studio.
Students also use studio time for planning, designing, and writing specifications for a medium-size restaurant kitchen.
Introduction to Sustainable Hospitality Principles. This course will examine the tactical strategies necessary to operate a sustainable hospitality facility. Fundamental principles that are the building blocks of sustainability's Triple Bottom Line will be examined in detail. Challenges unique to the hospitality industry will be highlighted. However, many topics will be applicable to real estate principles.
Visual Basic for Applications: End-user Programming. This is an introductory programming course for end-users (e.g., business managers and consultants). Students develop fluency in the popular Visual Basic for Applications (VBA) language. Using VBA, students learn how to customize and extend the Microsoft Office Suite, with an emphasis on Excel.
They also develop custom information systems using Microsoft Office applications as programmable building blocks. Secondary objectives of the course are to cover fundamental design and programming principles. The course is entirely lab-based.
Advanced Business Modeling. Focuses on organizational systems, planning, and the decision process and how information is used for decision support in organizations. Students are provided with practical skills in developing spreadsheet computer models using Microsoft Excel.
Topics include business planning and forecasting, numerical methods, advanced formulas and functions, user-interface design, data protection and validation, importing external data, and output presentation.
Real Estate Law. This course provides students with an understanding of the legal issues surrounding the ownership, transfer, and use and development of real estate. Students will learn to recognize and evaluate legal issues in order to inform the decision-making process with respect to real estate, whether as a business executive, an entrepreneur, or in personal life.
Sustainable Development. An advanced, experiential learning course in which students are primarily tasked to work directly with hospitality companies to solve real sustainability-related issues in the marketplace. Projects are related to the greening of current operations (operational), the refurbishment of existing assets and properties (brownfield), and the establishment of new businesses (Greenfield). The goal is to help students develop and refine critical analysis and decision-making skills related to hospitality management and sustainability through hands-on learning experiences. Short weekend practicum trip required.
Cornell Real Estate Case Competition Course. Each year, Cornell organizes in November the Cornell International Real Estate Case Competition (CIRECC). The top 20 undergraduate academic real estate programs in the world enter teams of six real estate students to compete in this exciting and enriching academic event.
Students in this class learn how to effectively pitch a commercial real estate transaction to a panel of senior real estate professionals. A team of six is then sent to the actual competition to represent Cornell. During the competition, teams will be judged not only on their investment recommendations, their approach to the problem, and their presentation skills, but also on their ability to answer and response to direct and probing questions posed by the judges.
Students should be advised that the workload will be extensive and will involve working on numerous practice cases as a team and developing individual presentation skills.
Construction Planning and Operations. Prepares students for responsibilities in overseeing the engineering and management of construction; on time-on budget. Emphasis is placed on the management processes for organizing, planning, and controlling the activities of complex development and construction programs.
Students study the contracts for engineering, architecture, and construction; focusing on cost estimation and schedule control, responsibilities and risks, and the relationships among owners, designers, contractors, and suppliers. The potential for project disruption is discussed with special emphasis on dispute resolution methods.
Regional Economic Impact Analysis. This course defines the context of a regional economy, taking a systems approach to sustainable development planning. Students will be introduced to the techniques of input-output analysis and will learn how to use social accounting models to evaluate social and environmental impacts.
We use international datasets and will also learn IMPLAN, a software and database designed to quantify the impact of exogenous forces on U.S. regions. Examples of exogenous forces include out-migration of population, natural disasters, financial flows, or the introduction of new activities. The course methods enable practicing professionals to integrate environmental and social dimensions of planning into the framework of economic impact analysis.
Affordable Housing Policy and Programs. Overview of federal, state, and local policies and programs to deliver affordable housing to low-income people; public housing, vouchers, inclusionary zoning, rent control, and much more. Lectures, debates, short papers, and term paper.
Green Cities. Cities are centers of innovation, economic growth, social mobility, and they provide economies of scale in the provision of infrastructure and social services. However, cities are also sites of growing socio-economic inequalities and environmental problems.
Do cities provide the opportunity to address environmental problems, or are they rather the source of pollution and environmental degradation?
Are cities the appropriate scale at which to address environmental problems?
Are these really urban issues or do cities just cluster resource use and problems so they are more visible?
What role does the built or physical environment have in impacting our behavior and decision making?
This course examines social, economic, cultural, political and environmental dimensions of sustainability and sustainable development in urban areas.
Urban Economics. This course introduces the concepts and methods used by economists to study not only cities, regions and their relationships with each other, but, more generally, the spatial aspects and outcomes of decision-making by households and firms.
Areas examined include determinants of urban growth and decline, land and housing markets, transportation issues, segregation and poverty, and the allocation and distribution of urban public services.
Special Topics in Planning. This course addresses pertinent issues relative to the subject of planning. Topics vary each semester.
Introduction to Geographic Information Systems. Geographic Information Systems (GIS) have revolutionized the way we manage, analyze, and present spatial information. This course focuses on GIS in the social sciences.
Many of the exercises and examples are based on planning issues, but the concepts can be applied to many other disciplines such as government, economics, natural resources, and sociology. Some of the issues covered include fundamentals of spatial analysis; overview of GIS technology and applications; designing a GIS project; gathering and analyzing data; and creating thematic maps.
Legal Aspects of Land Use Planning. Survey of leading cases and legal concepts in land-use planning, with particular attention to zoning, subdivision control, condemnation, and growth-control issues.
Urban Theory and Spatial Development. This course explores the rich legacy of urban physical planning and design, examining both the reification of human values in the built environment and the shaping of society and culture by the places we have envisioned, planned and built. A spectrum of forces and agents—economic, political, religious, technological—will be analyzed to understand their impact on the spatial form of cities and regions.
Themes include the origins of urban settlements; humanism, utopianism and the quest for the "ideal city"; the dialectics of modernity and tradition; power and the grassroots; the role of transportation technology; the spatial dynamics of race and class; and the urban crisis, "white flight" and suburbanization. The course concludes with an analysis of contemporary urbanism and an assessment of the renewal of city life in an age of unprecedented global urbanization, peak oil and light speed flows of ideas and information.
Real Estate Development Process. Examination of various forms of development as well as the role of major participants in the processes. Reviews issues in residential, retail, industrial, office, and low-income housing projects. This course is a pre-requisite for CRP 5321, Real Estate Development Process II
Real Estate Marketing and Management. Focuses on the tenant or user as the basic source of the value of real estate. Students explore the characteristics and needs of tenants, and how the ownership and management of buildings respond to these needs. Multifamily residential and office buildings are the principal focus of the course.
Topics include marketing research, examination of tenant types, locations, building services and operations, negotiation of lease agreements, marketing campaigns, and governmental regulations. Guest speakers and case studies included.
Concepts and Methods of Land Use Planning. This course provides an overview of land use planning concepts, frameworks, institutions, movements, and methods. Students gain an understanding of land use planning at multiple scales, from statewide frameworks to local and regional plans to small area plans.
The course covers comprehensive planning methods and urban systems. It is intended to provide familiarity and proficiency with a wide range of concepts and hands-on experience in applying geographic information systems (GIS) and decision support tools to land use planning processes.
Creating the Built Environment. Real estate professionals and city and regional planners play a vital role in creating the built environment. Understanding the physical form of real estate, and the rules that govern that form, is critically important if one is to meaningfully engage in the practice of real estate development.
In this course, we examine in detail the physical form of the built environment, and students gain an understanding of the principles and organizing strategies that underlie it. We examine the following building types in depth: residential, retail, hotel and mixed use. Students exit this course with a deeper understanding of why the built environment takes the shape it does and the opportunities for innovations
Real Estate Transactions and Deal Structuring. Real estate transactions and deal structuring examines real estate deals through a practitioner perspective within a case study and transactional approach. The course looks at the transactional components and structuring of real estate deals and related parties at each step in creating value from real estate, including acquisition and assemblage; due diligence; sourcing and financing; structuring the venture/parties; operation; disposition; and tax consequences.
Additional issues within deal structuring that may be included are negotiation, managing risk including litigation and environmental issues, analysis of financing techniques, and consequences when deals go bad, including work out and bankruptcy. The case study format will address deals from the perspectives of investment fund manager, banker/lender, developer, REIT, joint venture partner/investor, and owner.
Residential and Commercial Development. Explores the residential and commercial-development process from site acquisition through delivery of the finished product.
Topics include market feasibility, land planning and acquisition, product selection and design, project financing and feasibility, schedule and budgetary controls, contracting and construction, marketing, and sales activities. Composition of the development project team is discussed. Classes are supplemented by visiting professionals. The course includes a semester-long project based on an actual property and market opportunity.
Special Topics: Urban Development Planning. This course addresses pertinent issues relative to urban development planning. Topics vary each semester.
Special Topics: Introduction to Green Real Estate. This course addresses pertinent issues relative to green real estate. Topics vary each semester.
Planning and Managing the Workplace. Examine how the physical design and management of workplaces impacts both the health and performance of knowledge workers and also an organization's overall business outcomes. Learn about the latest trends in various workplace settings. Analyze the components of work and provide relevant and applicable design solutions. Learn the fundamentals of ethnographic methods for collecting user information to inform decision making about planning and managing workplaces to maximize health, efficiency, safety, productivity, and profitability.
Financial Modeling. Financial modeling is the art and science of constructing spreadsheet models of firms' future financial statements. This class draws on and integrates students' knowledge of concepts learned in prior accounting classes by modeling the effect on the income statement, balance sheet, and statement of cash flows of financial transactions such as leveraged buyouts, mergers and acquisitions, and corporate reorganizations. The class meets in the state-of-the-art Parker Center computer lab, and active student participation is emphasized.
Monte Carlo Methods in Financial Engineering. An overview of Monte Carlo methods as they apply in financial engineering. Generating sample paths. Variance reduction (including quasi random number), discretization, and sensitivities. Applications to derivative pricing and risk management.
Neighborhoods, Housing and Urban Policy. This course considers the dynamics of housing markets and neighborhoods in American metropolitan areas and the public policies designed to regulate them.  In the first part of the course, we examine the social and economic forces at work in metropolitan neighborhoods, focusing on trends in spatial inequality, segregation, and neighborhood effects.
In the second part of the course, we examine the historical evolution of federal and local policies related to subsidized housing, homeownership, and land regulation and analyze empirical debates surrounding the effectiveness of such policies.
---
About Mia Haggerty: Mia Haggerty '21 is studying Hotel Administration with a minor in real estate. With hopes of entering the real estate industry, Mia joined the Cornell Real Estate Club, where she is now an executive board member. At Cornell, she is the New Member educator of Pi Sigma Epsilon, a professional fraternity with an emphasis in sales and marketing. She is also an Ambassador for the School of Hotel Administration. Mia is also the incoming VP of Finance of her social sorority, Delta Gamma. This past summer, Mia completed a rotational internship through People & Culture, F&B and Finance at the Four Seasons Resort in Dubai, UAE. This upcoming summer, Mia looks forward to working as a real estate asset management intern for Bill and Melinda Gates Investments in Kirkland, WA. Outside of academic and professional settings, Mia enjoys trying new restaurants with her family and friends, attempting to cook, practicing yoga, walking her Portuguese water dogs, and exploring different cultures and cuisine while traveling.
https://www.adventuresincre.com/wp-content/uploads/2020/01/A.CRE-Undergrad-Feature-Cornell.jpg
480
640
A.CRE
https://www.adventuresincre.com/wp-content/uploads/2022/04/logo-transparent-black-e1649023554691.png
A.CRE
2020-01-09 09:51:59
2020-10-13 10:10:37
Cornell University – Undergraduate Real Estate Profile