Ohio State University – Undergraduate Real Estate Profile

Note from Michael: This profile is part of The A.CRE Undergraduate Real Estate Series highlighting some of the top undergraduate programs with robust opportunities to study and secure work in commercial real estate. Each profile has been written by a current or former student of the program and is written from their unique perspective on the school and its real estate offerings. A huge thanks to Jack Lucier, Miles Waytes, Grace Donaldson, and Jacob Kavesteen for taking the time to write this profile of Ohio State University.
Ohio State University Student Interview Deep Dive
In this video, Spencer Burton interviews current students of Ohio State, Grace Donaldson and Jacob Kavesteen, about their undergraduate real estate program. These vice presidents of the Fisher Real Estate Society for 2022-2023 agreed to do this interview as an update to this Ohio State University real estate program deep dive.
Ohio State University Real Estate
Miles – "Coming out of high school I knew that I wanted to study finance and that I wanted to go to a big school that would expose me to a diverse set of people, companies, and career paths. As I started to look at my options, I paid close attention to the variety of programs a school offered, as well as the strength of those programs. What I loved about Ohio State is that it offered strong variety and also was not defined by a specific business discipline. I knew that I could change my mind or major, and still be confident in a business degree from Fisher. I had not yet discovered my passion for Real Estate, but my quest for exposure and decision to attend Ohio State would later award me the opportunity to take a deep dive into the field. When I found the Real Estate community at Ohio State, I was amazed by the level of intimacy and support, as well as the number of resources available to help students explore the field".
Jack – "Prior to attending Ohio State I knew I wanted to study business, but was unsure on the area of focus. After taking a tour with my parents, I fell in love with The Fisher College of Business. They showed how much they truly care about their students' success and providing them with every resource possible. I started off as Finance early on in Fisher and in my early years attended a fisher real estate society meeting. Soon after I sat down with the Center for Real Estate Director and quickly became interested in adding a real estate major. Like many other students at Ohio State, they played a huge role in integrating me into the real estate community".
Real Estate at OSU
The Real Estate Program at Ohio State is three-pronged, this includes the academic curriculum, The Center for Real Estate, and two student organizations dedicated to exposing students to the industry.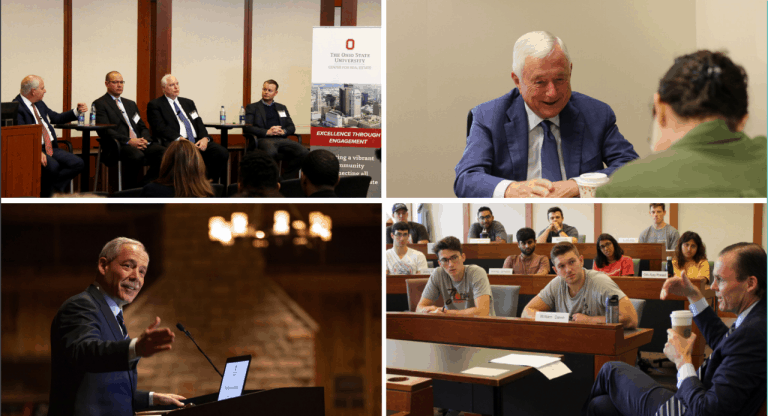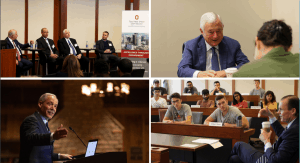 The Center for Real Estate
The Center for Real Estate is a physical office located within the Fisher College of Business that facilitates the academic, extracurricular, and experiential learning surrounding real assets on campus. The Center supports student-run real estate clubs, sponsors academic research, provides scholarships to students, and introduces students to alumni and professionals through various speaker series and networking events.
"The goal of the Ohio State Center for Real Estate is to positively impact the livability of our communities through educating the next generation of real estate leaders. We do this by attracting civically-minded students and developing their knowledge and passion for real estate by combining top-level education, collaboration with industry and public leaders, and supporting cutting-edge research."
The Center is led by Donald Sheets and he serves as the heartbeat of the real estate community.
Advisory Board – The Ohio State Center for Real Estate relies on its Advisory Board members for financial support to grow and sustain its education, research, and outreach activities. It includes the top executives in all disciplines of real estate from Ohio and beyond. Members offer the Center input on programming, internships and mentorships for students, and their time on various subcommittees. The Center is grateful for the ongoing commitment of its Advisory Board members and everything they do to advance and elevate real estate at Ohio State. In 2019, the Advisory Board was comprised of 74 members.
Mentorship Program – This program is designed to give students access to an experienced individual to turn to for guidance, advice and direction, and to help students broaden their professional networks, enhance their classroom experience, and prepare for and acquire insights into the job search process. While the official program concludes at the end of the academic year, the goal of the program is to provide the foundation for an on-going professional relationship.
Breakfast Series Events – The Real Estate Breakfast Series of the Ohio State Center for Real Estate was launched in September 2016. It is designed to strengthen linkages between real estate industry professionals and the university. The series features guest speakers and panels who discuss topics of interest and immediate concern to the real estate community. The roundtables are open to the public and provide an excellent opportunity for students to interact with alumni and professionals in the area.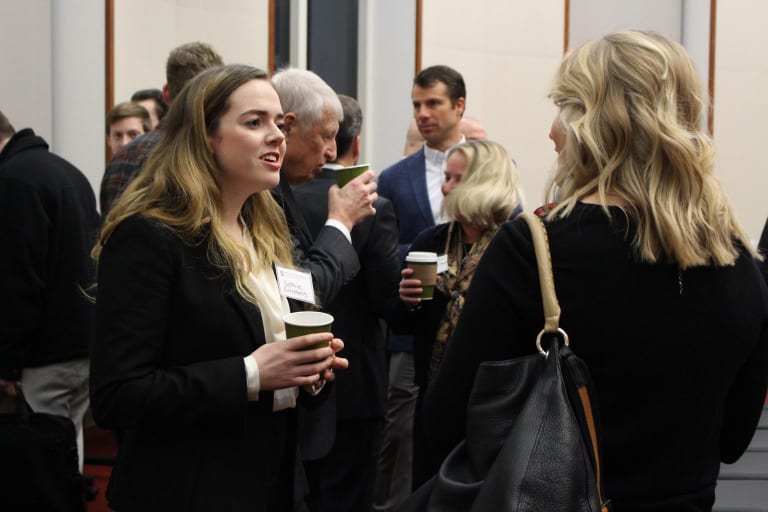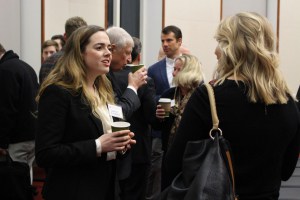 Brown Bag Luncheon – The Center hosts a number of commercial real estate professionals and leaders for a question-and-answer lunch session with some of our top students. These sessions are designed to connect students with professionals in a casual and discussion-based environment. Through these events, students have expanded their professional network, gained meaningful insights, and received advice from some of the Center's most knowledgeable contacts. Past guest speakers include David Adelman CEO of Campus Apartments, Spencer Levy Chairman of Americas Research and Senior Economic Advisor for CBRE, Arun Singh CFO at MDH Partners.
Scholarships & Travel Grants – The Ohio State Center for Real Estate offers scholarships and travel grants every year to select undergraduate and graduate students. The Center continued to support student attendance at industry events around the country. Our small travel grants ($150 to $350) help defray students' cost of travel to these events and provide valuable networking opportunities with industry professionals outside of the central Ohio region.
Case Competitions
ULI Hines Competition: For the past ten years, the Ohio State Center for Real Estate has collaborated with the Knowlton School of Architecture and the Columbus chapter of the Urban Land Institute (ULI) to organize and support graduate student teams from Ohio State in the national ULI Hines Competition.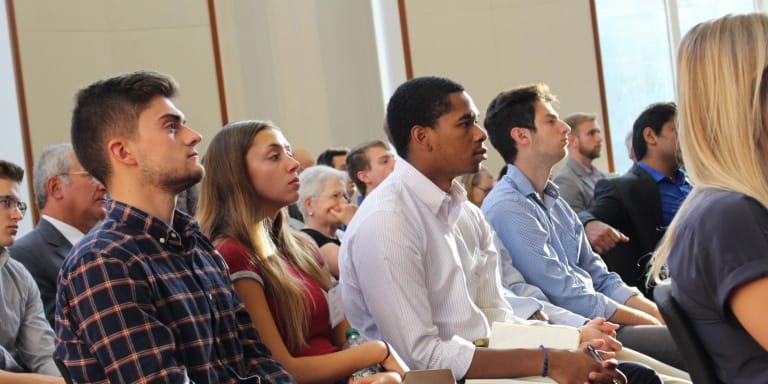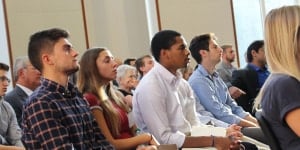 ICSC & Cornell International Real Estate Case Competition: Four students from the Fisher College of Business are selected to travel to Las Vegas, Nevada to compete in the ICSC & Cornell International Retail Real Estate Case Competition. A dozen teams from universities in the United States, Canada, and Australia are tasked with putting together proposals to bring a retail real estate property to life. This competition allows our students to put the knowledge and skills they've learned in the classroom to practice.
Student Organizations
There are two undergraduate real estate clubs at Ohio State, The Fisher Real Estate Society and Black Students in Real Estate. Both clubs organize weekly general body meetings consisting of guest speakers, technical workshops, and site visits to provide educational and professional development opportunities to members. For many students, these club meetings serve as an introduction to the industry and to the broader Ohio State Real Estate community. They seek to equip students with fundamental knowledge, technical skills, and a strong understanding of market trends. Some of the shared goals include:
Leverage Columbus's Real Estate network through local corporate engagement and community outreach.
Integrate informational and action-based learning into organization activities to educate members in advance of scheduled real estate coursework.
Facilitate group discussions to promote the interconnectedness of its members.
Coordinate efforts with the Center for Real Estate and Fisher College of Business to effectively grow Ohio State's Real Estate network.
Instill in members new to the industry the ability to talk knowledgeably and confidently about the industry.
The Fisher Real Estate Society hosts a variety of events, including guest speakers, site tours, networking events, social events, modeling classes, and many more. This club is unique because it provides a very well-rounded view at every industry within the real estate realm and touches on everyone's interests. We diversify our speakers depending on what they specialize in within commercial real estate and change up the topic weekly. Something that is very special about FRES is our strong alumni base and their willingness to invest in our members to prepare them to start a career in commercial real estate post-graduation. Many of our weekly speakers are returning alumni who want to stay connected with the organization.
Miles – "As a freshman on campus, my knowledge of real estate was limited to my family's single-family rentals. When I started attending FRES meetings I was introduced to a whole new world and discovered the different kinds of income-producing real assets. I met like-minded peers & upperclassmen who shared their own experiences and encouraged me to get more involved. During my Sophomore year I began real estate coursework and met the center for real estate's director, I started attending events hosted by the Center for Real Estate where I was introduced to professionals across the industry. By my Junior Year, I had participated in two case competitions and was looking forward to a part-time fall internship in Retail Leasing"
Course Offerings
Introduction to Real Estate (BUSFIN 3400)
Professor: Sharon Shaffer, Stephen Stuckwisch, William (Billy) Patterson
The purpose of this course is to give students a foundational understanding of income-producing real estate. The ownership, development and management of real estate assets have been a major economic driver and means of wealth creation for centuries. Increasingly since the 1970s, it has grown in importance as an asset class for institutional investors. The unique characteristics of real estate have made it an important component of well-diversified portfolio. The class will discuss the major asset types – Multifamily, Retail, Office, Industrial, and Hotel. In addition, the class will learn the basics of development, asset management, property management, brokerage, and real estate law as well as the capital sources for real
estate including mortgage lending, bank construction loans, private equity, and institutional equity.
The real estate industry provides a wide array of career opportunities that will be touched upon in this class. The class will host an array of real estate practitioners to discuss real-life experiences within the real estate industry.
Property Management (BUSFIN 4411)
Professor: Paul Krimm
Basic topics related to property management such as acquisition, construction, and supporting business functions.
Real Estate Law (BUSFIN 4412)
Professor: James Maniace
The course explores basic legal aspects of real property contracts, transactions, land development, leases, public/private partnerships, foreclosures, title to real property, home building, housing discrimination, and environmental law.
Real Estate Finance (BUSFIN 4410)
Professor: Stephen Stuckwisch
This course will continue the examination of real estate as an asset class started in BusFin 3400-Intro to Real Estate and reinforce the position that real estate continues to be an important component of a well-diversified portfolio. The course's goal is to provide students with a solid foundation in basic real estate finance. The course will start with a review the major real estate sectors – Multifamily, Retail, Office, Industrial plus Hotel. It will move on with an overview of the Capital Asset Pricing Model (CAPM) and discuss the real estate finance concepts such as Capitalization Rate (Cap Rate), Discounted Cash Flow (DCF) and Mortgage Amortization. The class will review the real estate capital stack and discuss the use of equity and debt in the financing of real estate. The course will touch on the various types of real estate debt from construction to permanent financing along with the current underwriting metrics used by today's practitioners. The course will then move into real estate due diligence, financial modeling and basic real estate valuation. The course will conclude with the underwriting of an industrial acquisition and the completion of Investment Committee memorandum (IC Memo).
Planning & Development (BUSFIN 4413)
Professor: Sharon Shaffer
Planning and Development is an introductory course into the business of real estate development. In the course, students will learn the basic principles and processes of real estate development and planning. We will explore different types of real estate development and the many roles played in the development process. Students will have the opportunity to work collaboratively as a team on several group projects.
Real Estate Valuation (BUSFIN 5402)
Professor: Christopher Ellis
This real estate valuation and financial modeling course will cover existing income-producing property as well as ground-up construction. Topics include market analysis, comparable valuation, income valuation, cost valuation, real estate finance, expense reimbursements, budget development, and pro-forma modeling. The course will utilize Argus Enterprise, the industry-accepted real estate-specific financial modeling software
At a Glance
Location: 2100 Neil Avenue, Columbus, OH 43210
Phone: (614) 292-6446
Dean: Anil Makhija
Class Size: 7,851 (New Freshman)
Browse Other Undergraduate Real Estate Profiles
---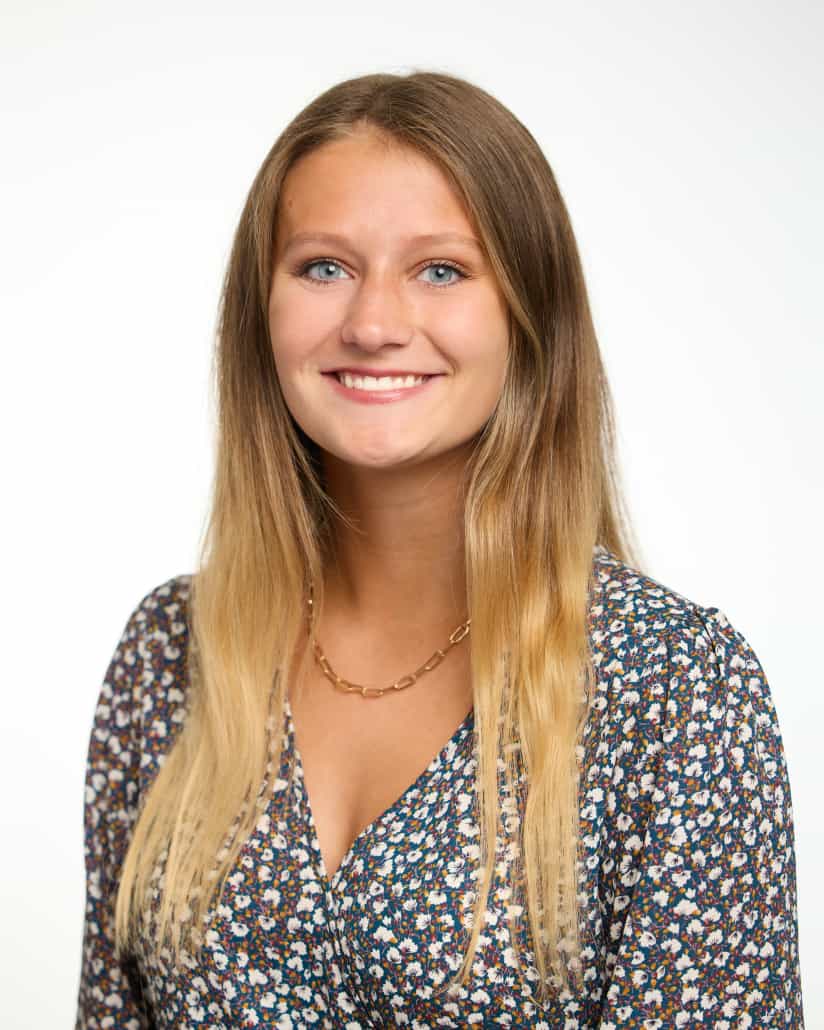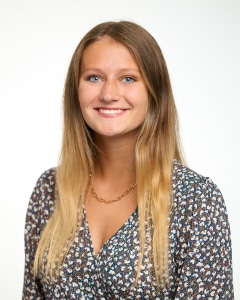 About Grace Donaldson: Grace Donaldson '24 is double majoring in Finance & Real Estate at The Ohio State University's Fisher College of Business and also obtaining a minor in Leadership Studies. As a sophomore, Grace joined Fisher Real Estate Society and now serves as the President. After her freshman year, Grace began interning at Signature Associates Commercial Real Estate on their Sales and Leasing team. Her sophomore year, she joined Colliers as an Office Brokerage Intern and is currently on the Retail Brokerage team. Aside from real estate, Grace is a part of Buckeye Professional Advancement and Development, Pi Beta Phi, and Mount Leadership Society Scholars. In her free time, she enjoys going to concerts and being around friends. Grace will be interning at JLL summer of 2023 on their Capital Markets team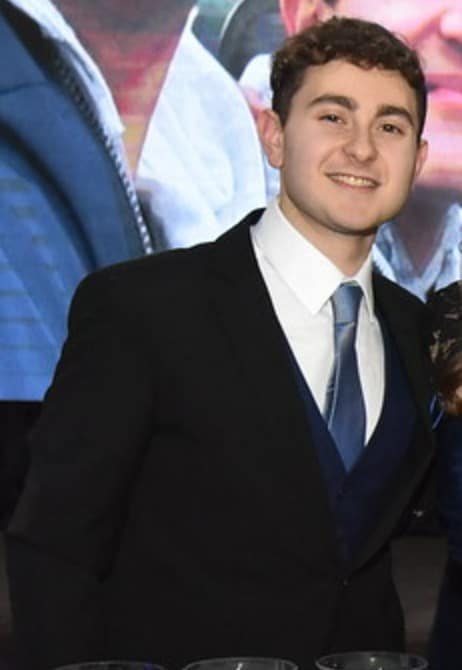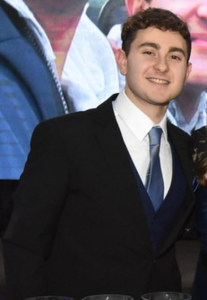 About Jacob Kavesteen: Jacob Kavesteen is a current third year (Graduating in May 2024) student double specializing in Finance and Real Estate within the Fisher College of Business. Jacob is currently on the executive board of the Fisher Real Estate Society, Serving as the Vice President of Membership Development. During the summer between his freshman and sophomore year, he obtained his NYS Real Estate Salespersons License & is now an agent at Laffey Real Estate in NY. Jacob has experience interning for Kingsland Properties, a multi-disciplinary Real Estate Firm, in Queens NY as a development intern. He is interested in development, Asset Management, and Acquisition Roles. Aside from Real Estate, Jacob is involved in the TAMID Group, as well as Phi Alpha Delta Pre-Law Fraternity. In his free time, Jacob enjoys running and Skiing with his friends.
Original 2019 Version: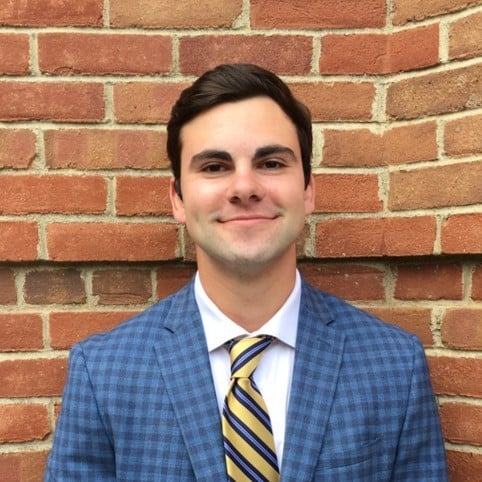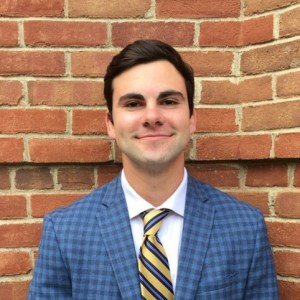 About Jack Lucier: Jack Lucier '21 is double majoring in Finance and Real Estate at The Ohio State University's Fisher College of Business. As a Sophomore, Jack joined Fisher Real Estate Society and later served as Co-President alongside peer Miles Waytes. Outside of real estate, Jack participated in one of the Fisher Global Projects in France working for the Deloitte Digital Factory. In his free time, he loves intramural sports with friends and playing the piano. After graduation, Jack will be joining Great-West Investments in Denver.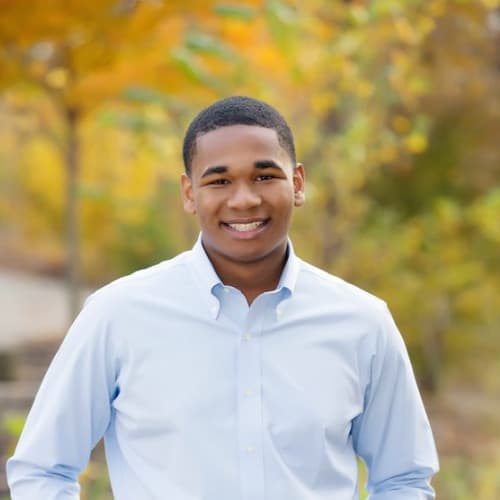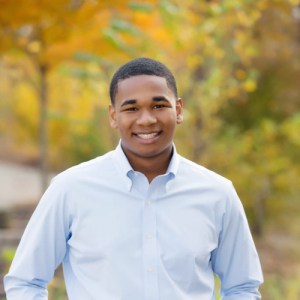 About Miles Waytes: Miles Waytes '21 is double majoring in Finance & Real Estate at The Ohio State University's Fisher College of Business. As a Freshman, Miles Joined Fisher Real Estate Society and later served as Co-President alongside peer Jack Lucier. Additionally, Miles served as a Center for Real Estate Ambassador. Aside from Real Estate, Miles works within the Fisher College as a student ambassador, providing tours and recruitment services to prospective students. In his free time, he likes to travel and try new restaurants with friends. After Graduation Miles will be joining JP Morgan's Middle-Market Financial Sponsors team in Chicago.
https://www.adventuresincre.com/wp-content/uploads/2021/04/Ohio-State-University-Real-Estate-Undergraduate-scaled.jpg
1526
1920
A.CRE
https://www.adventuresincre.com/wp-content/uploads/2022/04/logo-transparent-black-e1649023554691.png
A.CRE
2023-02-14 07:00:38
2023-02-16 15:12:47
Ohio State University – Undergraduate Real Estate Profile