Graduate Real Estate Series: Texas A&M's MRE Program
My story on how I ended up pursuing a career in commercial real estate is far from cookie-cutter and perhaps, even a little unconventional. As opposed to most, I had absolutely zero prior exposure to the real estate industry; neither of my parents works in this field, nor did I take a real estate class during undergrad that sparked my interest in the industry. So exactly how did a Liberal Arts undergrad student find herself pivoting towards a career in commercial real estate? Through a bit of luck, a lot of determination, and one massive leap of faith. Oddly enough, the 1st page of my story was written thousands of miles away from home. During a semester abroad in Spain where I was studying international business and my summer marketing internship in Peru, I discovered my passion for business.
As my last year of undergrad was fast approaching, this quickly prompted me to research all sorts of master programs in the business field. Hundreds of tabs later, I stumbled upon the MRE program. Cheesy, I know, but there is no other way to explain it than love at first sight. The more I learned about the industry and program, the more my desire to pursue it was solidified. Although unexpected and a little spontaneous, my decision to apply to the MRE program is single-handedly the best one I have made to date. My advice is regardless of your background, and it is never too late to pursue a career in commercial real estate. Better yet, the MRE program is the perfect place to start your journey.
Note from Michael: This profile is part of The A.CRE Master's in Real Estate Series highlighting some of the top graduate programs with robust opportunities to study and secure work in commercial real estate. Each profile has been written by a current or former student of the program and is written from their unique perspective on the school and its real estate offerings. A huge thanks to Holly Wilson for taking the time to write this profile of Texas A&M.
Texas A&M Student Interview Deep Dive
Why Choose the MRE Program?
Let's face it; the reality is there are numerous graduate programs out there to choose from that can jumpstart your career in commercial real estate. The key to choosing the right program for you is remembering they are not all created equally. Do not base your decision on the prestigiousness of the university that offers the program. Instead, consider the program itself, in its entirety, from all perspectives. Not merely in terms of what you can gain, but what you can contribute, your experience, the culture it fosters, and the relationships you will build.
Lucky for you, the MRE program here at Texas A&M University excels in every single aspect. It's a unique place where you can simultaneously feel at home and push your boundaries, a place that inspires not only professional development but personal growth. The secret ingredient is the core values of loyalty, integrity, excellence, leadership, selfless service, and respect that Texas A&M instills in its students and that our professors embody. The graduate program you choose should be more than just a degree. It is an investment into your future and lays the foundation for your career. So, if you are looking for a well-rounded real estate program, the MRE program should be at the top of your list…there is a reason it is recognized as the #2 real estate program in the U.S. and #3 globally!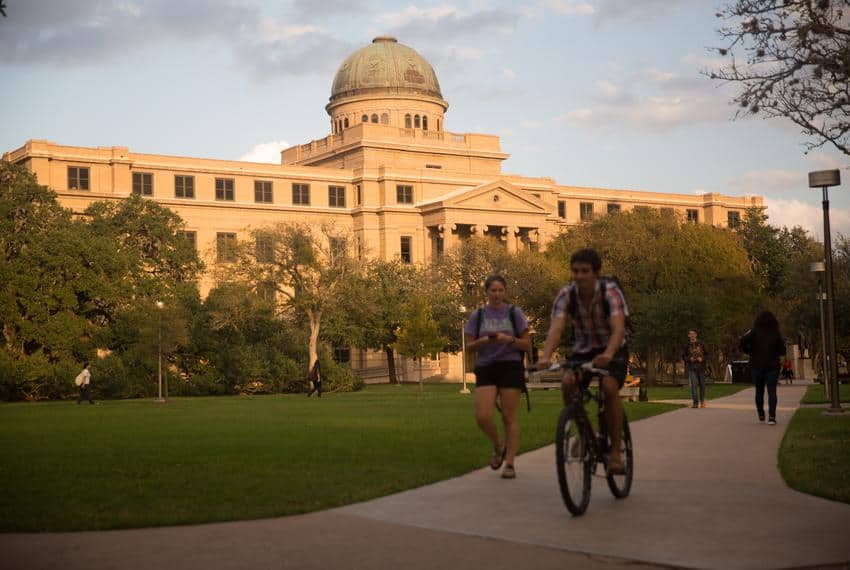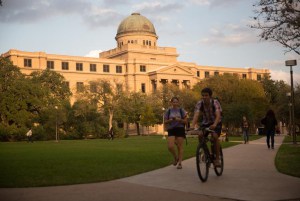 What Makes the MRE Program Unique?
Simply put – it's the people. You are much more than just another student. The connections you build at Texas A&M will go deeper than surface level and provide a continual source of support, encouragement, and inspiration. The time and effort our program director, coordinator, board members, and professors invest in the students extends beyond what is required of them. Their dedication to both our future and the program is evident in all that they do. In addition to challenging us academically, sharing their wisdom and advice, and providing us with incredible opportunities, they genuinely care about our wellbeing and getting to know us individually. Their door is always open, and they are more than willing to help us.
There is truly an incredible sense of belonging that our program fosters. The other students in the program will not just be classmates you hardly know. They will be people you work closely with, talk to regularly, and grow within the industry. Better yet, with all the fun social events both within and outside the program, you will quickly become a close-knit group. Whether it is through attending football games, studying together, happy hours, and everything in between, you are bound to create meaningful relationships. More importantly, these are relationships that will provide you with a valuable network throughout your career.
---
Description
The Master of Real Estate program is a master's program offered by the finance department in the Mays Business School at Texas A&M University. Its main goal? Preparing students for a successful career in the dynamic industry of commercial real estate. The knowledge you will gain extends beyond the fundamentals. You will develop both the hard and soft skills necessary to navigate your career wherever your ambition takes you. With a focus on finance, development, valuation, and innovation, you will be exposed to the many facets of real estate. Earning a well-rounded education will allow you the freedom to pursue any avenue within commercial real estate that sparks your interest. Your possibilities will be endless, and your return on investment unmatchable!
Students learn so much in a relatively short period before they are off in the real world, officially starting their careers. This means less time before you are living your dream! The program is structured as a 16 month, 36-hour non-thesis master's program. Students will take three full semesters of course work and complete a mandatory summer internship (either after the 1st or 2nd semester, depending on which semester you begin the program). During your time in the program, you will also complete a semester-long capstone project that challenges your creativity and puts your skills to the test. Additionally, the classes offered are vastly intended specifically for MRE students. This means that there will never be a ton of random students from outside of the program in your classes. 
College: Texas A&M University
Degree Offered: Masters of Real Estate (MRE) and Master of Land & Property Development MLPD)
Location: Texas A&M University, classes and administration are held in two different colleges.
Mays Business School (MRE) – 4218 TAMU College Station, TX 77843
College of Architecture (MLPD) – Building 3137, College Station, TX 77840
Langford Buildings A and C
Scoates Hall
Francis Hall
Year Established:
The MRE program was founded in 1972 and was formerly known as the Masters of Land Economics and Real Estate (LERE). The MLPD established in 1984 and was formerly known as the Masters of Science in Land Development (MSLD).
Dual-Degree Offered? Yes
Dual Masters degrees

MRE + MLPD
MLPD + M. Arch (Masters of Architecture)
MLPD + MSCM (Master of Science in Construction Management)
MLPD + MUP (Master of Urban Planning)

Accelerated Programs (Undergraduate + Graduate)

MRE + BBA Finance (4+1)
MRE + BS in Agricultural Economics, Finance and Real Estate (4+1)
MLPD + BS Urban and Regional Planning (3+2)
MLPD + B. Landscape Architecture (3+2)
Program Length: 16 Month programs.
Masters in Real Estate – 36 credits, 3 semester + a summer for internship. Admissions for both Spring and Fall semesters.
Master of Land and Property Development – 36 credits, 3 semester + a summer for internship. Admissions for both Spring and Fall semesters.
Rankings
The Master of Real Estate Program is ranked as the #2 Real Estate Program in the U.S and Globally according to Best Masters 2019.
Additionally, the Masters in Real Estate Program has a 100% Job Placement Record
Program Websites:
MRE – https://mays.tamu.edu/master-of-real-estate/
MLPD – https://laup.arch.tamu.edu/academics/graduate/mlpd/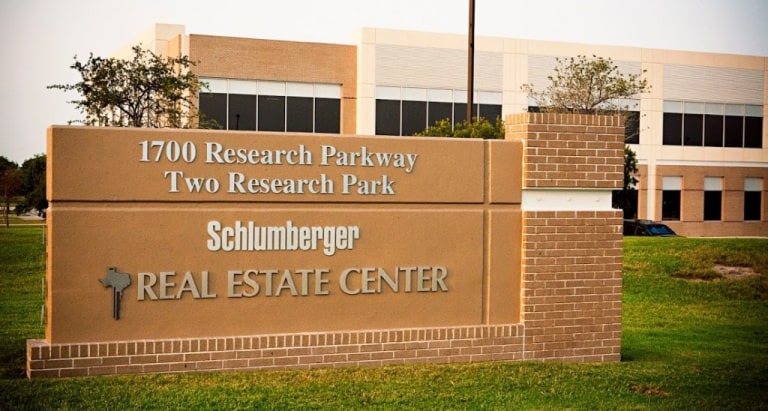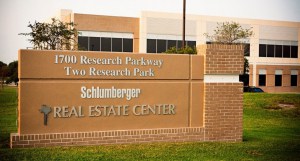 ---
Cost and Financial Aid
Tuition: Varies based on status (resident, non-resident). Tuition Calculator: https://tuition.tamu.edu/
MRE: estimated total $33,000 (tuition + fees) for Texas residents and $53,000 for non-residents

Includes MRE Fee of $3,000 and Mays Master Program Fee of $2,200 per semesters

MLPD: estimated total $24,000 (tuition + fees) for Texas residents and $44,000 for non-residents

Includes Architecture Graduate Program Fee of $1,100 per semester
Financial Aid? Yes
Merit and need-based scholarships: Various scholarships are available through applying via the Texas A&M University UWide Application, which automatically filters out potential scholarships that are applicable (at the university-wide level). There are also scholarships/grants at the individual college and department level as well as graduate student financial aid.
Automatic review with admission: All admitted students automatically receive consideration for scholarship support (MRE – no additional information is required).
Merit-based scholarship awards based on the performance while a full-time student in the program. Top factors can include academic achievements, leadership potential, and potential for success.
Need-based: To be considered, students must have a current FAFSA/TASFA filed with the University.
Scholarships available for specific activities: Students also may receive scholarships to support their participation in competitions or attend select conferences. Sourced from professional affiliations such as ULI, NAIOP, ISCS, ACRP.
TEXAS AGGIE GRADUATE GRANT
The Texas Aggie Graduate Grants are need-based awards for Texas residents. Each student may receive up to $1,500 per semester in the fall and spring and $750 per semester in the summer with a maximum of $3000 annually. Applications are provided during the summer to students who meet the eligibility requirements.
ACADEMIC COMMON MARKET
Southern Regional Education Board's Academic Common Market enables students to pursue out-of-state college degrees at in-state tuition rates, through agreements among the states and colleges and universities. See if your state participates.
---
A Versatile Curriculum
Exploring a wide array of topics, fundamental and new, the curriculum is intricately designed to give you a strong foundation of industry knowledge that can build upon any career in commercial real estate. Whether it is the lingo, financial concepts, market trends, or modeling skills, you will leave the program well prepared for wherever your journey takes you next. 
How much "previous experience" are you expected to have? None at all. The only thing required is a desire to learn about the commercial real estate industry. With a curriculum crafted to build you from the ground up, every student is positioned to succeed. Earn an education that will be a wealth of knowledge and one that transcends years. 
Program 
FINC 676 – Commercial Real Estate Law
Commercial real estate law including legal ownership interests in oil and gas law, real estate sales contract, financing, instruments and closings, commercial leases, and real estate regulations and taxation.
Professor: Niles Holmes
Bio: http://www.nilesholmeslaw.com/index_nwh.html
FINC 670 – Real Property Analysis
Provides the economic and financial tools used to analyze real estate investments, new property developments, and the redevelopment of existing properties.
Professor: Jonathan Halket (Fall Semester) / J. Russell Peterson (Spring Semester)
FINC 673 Real Property Valuation I
Procedures used to estimate the market value of real property; market analysis and valuation techniques most appropriate for appraising income-producing properties; demonstration appraisal report.
Professor: Jonathan Halket
FINC 671 – Opportunities in Real Estate
Directed study with weekly real estate speakers from the Commercial Real Estate industry.
Professor: Nicole Amos
Bio: https://mays.tamu.edu/directory/namos/
FINC 678 – Real Estate Analytics
A directed study of selected problems using ARGUS and Excel Financial modeling. January winter-semester.
Professors: Bucky Banks & J. Russell Peterson
FINC 689 – Real Estate Analytics II
Real Estate Analytics II is a practical course that teaches students to build detailed financial models in both Microsoft Excel and ARGUS Enterprise for the analysis of commercial real estate investment. Acquisition, development, and equity fund structures will be explored. This course builds on skills developed in FINC 678, Real Estate Analytics I.
Professor: Bucky Banks
Bio: https://mays.tamu.edu/directory/bbanks/
AGEC 603 – Land Economics
Application of economic, financial, legal, and related concepts and tools for decision making in land management, real estate development and appraisal of land and attendant resources; public and private property rights and current land and resource management issues emphasized; real estate valuation methods and use of electronic information systems studied.
Professor: James Mjelde
Bio: https://agecon.tamu.edu/faculty-staff/faculty/mjelde-james/
FINC 675 – Analysis of Real Estate Decisions
Exploration of the real estate capital markets and issues affecting the financing of institutional real estate. Topics covered include the impact of securitization, public versus private capital sources, cost of capital, asset allocation, the impact of technology, fiduciary responsibilities, product analysis, and business strategies.
Professor: Steve Ramseur
Bio: https://www.us.jll.com/en/people/steve-ramseur
FINC 672 – Real Property Finance
Primary and secondary mortgage markets; mortgage markets' institutional organization, alternative mortgage instruments, creative financing techniques, loan underwriting factors, and risk hedging strategies.
Professor: Nicole Amos
Bio: https://mays.tamu.edu/directory/namos/
FINC 684 – Professional Internship
A directed internship in an organization to provide students with on-the-job training with professionals in organizational settings appropriate to the student's professional objectives.
FINC 677 – Real Estate Development Analysis
Financial aspects of real estate development; project investment characteristics and merits.
Professor: Bucky Banks
Bio: https://mays.tamu.edu/directory/bbanks/
LDEV 664 – Market Analysis for Development
Techniques and data sources for market analysis for development; analysis for housing development; trade area analysis and market analysis for retail development; analysis for office, industrial parks and for specialized development.
Professor: J. Russell Peterson
Bio: https://mays.tamu.edu/directory/jrpeterson/
FINC 689 – Innovation and Technology in Commercial Real Estate
This course will prepare future leaders to thrive during an unprecedented amount of change in the commercial real estate industry. Students first learn the fundamentals of innovation and how these traditional theories relate to a variety of real estate fields and asset classes. Through current case studies, we will investigate the effect of shifts in consumer behavior, the future of work, and technology on how we live, work and play within the built environment. We will explore PropTech and how this trend is re-shaping the horizon for the world's largest asset class. The students will interact with industry leaders to learn how they have created a culture of innovation and learned from failure to transform their industry. Finally, we will challenge presuppositions that technological change is always good and interact with sage thinkers from the past and present to develop a paradigm through which students can analyze change with wisdom. These principles will help Master of Real Estate Students differentiate and lead in a highly competitive job market.
Professor: Steve Ramseur
Bio: https://www.us.jll.com/en/people/steve-ramseur
---
Culture
Class Profile
Whether your parents are in the industry, and you grew up living and breathing real estate or a newfound interest, the MRE program is the place for you. The only thing that matters is your desire to start a career in commercial real estate. It is intricately designed for students from all backgrounds. Even if you lack prior extensive finance/real estate knowledge, do not let that discourage you. Speaking from experience, you might have a bit of a learning curve initially, but you will soon be up to speed with your cohorts. Don't have previous experience in the industry? No problem. Most of the students in the program are recently graduated from undergrad. However, if you are older and desire to pivot careers, the MRE can also be a perfect place to start that transition. Part of the beauty of the program is that it brings together people from various backgrounds. Here, you don't need to be a cookie-cutter to be a part of the community.
Life at A&M
All I can say is come and experience the spirit of Aggieland…guaranteed zero regrets and the best years of your life. Texas A&M has the magic to make anyone proud to be an Aggie. It is a school characterized by an unparalleled sense of community, home to many incredible traditions, and the perfect blend of academics and extracurricular that provide a one-of-a-kind education. Think you have experienced school spirit? Wait until you experience a Texas A&M football game at Kyle Field. Your mind will be blown! On the weekends, visit the fan-favorite, Northgate. It is the nightlife scene where there are numerous bars, restaurants, and clubs, all conveniently located. It does not disappoint. Here the Texas A&M University campus is always buzzing with activity, and there are plenty of ways to get involved in clubs, professional organizations, and volunteer work. Better yet, the people here are insanely friendly, so you are sure to make long-lasting friendships. Not to mention, you can even join the club and get your Aggie ring. This ring holds serious powers. It is an immediate conversation starter and opens doors to so many opportunities. Oh, and in case you are wondering, Cowboy boots are not required, just recommended!
Dynamic Social Life
Equally as crucial to the curriculum is life outside of the classroom. Don't just be a student, be a part of something greater than yourself by getting involved in your community. Fortunately, the program makes this incredibly easy to do so.
Are you looking for an active social life? The Real Estate Association is a social organization designed explicitly for Master of Real Estate students. Attend the famous tailgates, play intramural sports, grab a Marg at happy hour, and most importantly, build meaningful relationships within the program. However, just as valuable are the many informal hangouts. With the close-knit community that the program fosters, you are sure to make lifelong friends.
Do you have a desire to participate in a professional organization? Join Graduate Real Estate Women (GREW). This organization serves to advance your talents, support your career goals, and provide relevant insight. Expand your network and your knowledge. Take advantage of the opportunity to attend luncheons and mentoring events on campus with current Commercial Real Estate Women (CREW).
---
Careers
Area of Focus: This program is catered to careers in real estate. The MRE program is out of the business school and will be more finance-based and oriented towards careers in brokerage, valuation, private equity, lending, and capital markets among others. However, that does not mean students cannot obtain positions in the other program's disciplines. There is absolutely crossover and both programs have diversified their career trajectory significantly in the past couple of years.
Geographic Focus: Both programs are largely Texas-based and will have their greatest strength within the state. Most students tend to elect to remain in Texas following graduation.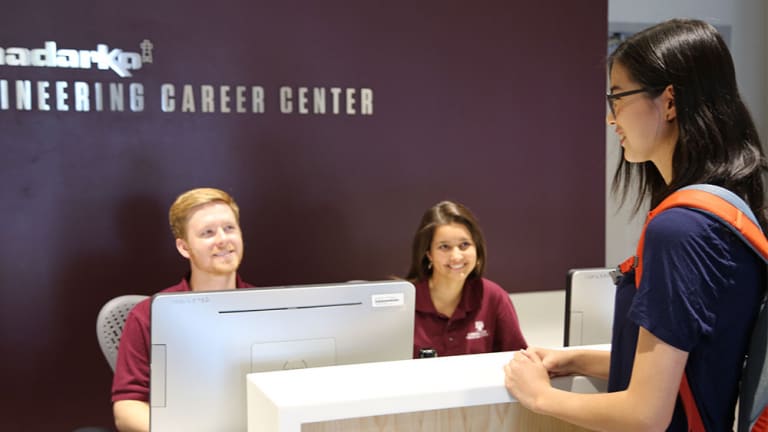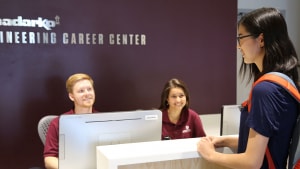 Career Services
Tailored to meet student needs in addition to the advising available through Career Management Center, program advisors have real-world experience enabling them to provide insights into the demands of a variety of real estate careers.
The program benefits from the Career Center at Texas A&M University, which offers services for both current students and alumni. Services include:
Career and Professional Development
Mock Interviewing
Resume/Cover Letter Building
Workshops & Programs
Networking, Networking, & More Networking Opportunities
As a very small industry, networking is invaluable to your career. But don't worry, the MRE program has no shortage of networking opportunities. Let me tell you from first-hand experience; the MRE program instantly yields benefits from the get-go. Its reputation is known, the quality education recognized, and graduates of the program are highly sought after. This is why many industry leaders from various sectors continuously get involved with the MRE program, donating both their time and talents to program students.
One of my personal favorites is the unique opportunity to attend lunch with our guest speakers. Because what's better than networking and a free lunch? Each week, a small group of students will meet the guest speaker for lunch and get to know them on a more personal level. It's the perfect chance to learn more about their career, pick their brain, and build a relationship. Another rewarding way to make your connections is through the Aggie Real Estate Network (AREN). Who said networking had to be boring? AREN organizes fun social events that are great for expanding your professional network. Oh, and it is all Aggies in the commercial real estate industry…so it's a guaranteed good time.
Lastly, Texas A&M is home to one of the largest alumni networks, and Aggies always support other Aggies. It's more than just small talk, the Aggie connection carries weight. It turns out the Aggie ring isn't just for aesthetics; everything it represents opens doors. The reputation of Texas A&M extends beyond just former students. Many companies come to the university specifically to recruit students. One of the biggest events you will gain access to are the career fairs. They are the perfect opportunity to practice your elevator pitch, circulate your resume, and meet potential employers.
Professional Enrichment 
Advance your real estate knowledge and gain exposure first-hand by learning from today's professionals at the MRE weekly speaker series and MRE career days. Be immersed in what's currently happening. Discuss the future of real estate. Catch a glimpse of the various roles in the industry. Get real advice and learn from their experience. You will develop a better understanding of your career possibilities, a clearer perspective on what sparks your interest, and learn about the ins and outs of commercial real estate.
Don't just earn a master's degree to boost your career; develop valuable hard skills along the way. During the program, you will be introduced to Argus software and receive training during a winter-semester course. Additionally, you will be exposed to financial modeling in excel that's specific to real estate. Then throughout the semester-long modeling class, you will learn how to build out various models from start to finish. The MRE program is a dual investment, both in your education and your skillset. Upon graduation, you will be well-positioned to start a successful career in commercial real estate.
Who doesn't love a little competition? Put your knowledge to the test – participate in regional and national case study competitions. Take what you have learned in class and design an innovative solution with real-world implications. Case study competitions serve as an incredible opportunity for invaluable experience; collaborate with a team, think critically, and be creative. Develop leadership skills throughout the process and grow as a young professional.
---
Admissions
Deadlines for applications will vary by term. For the MRE+MLPD option, students would have to apply and be admitted to both programs under the different application processes for each respective program. For the other dual-master degrees, you apply for the dual-degree option initially, and they are all in-house within the College of Architecture. For current undergraduate students looking to apply for the graduate programs, students usually apply during the sophomore-junior year given that it must be before they hit a select number of hours. International students will typically have much earlier deadlines and additional requirements
Pre-Requisites:
An undergraduate degree
MRE – leveling courses for those that do not have a relevant finance/business background. These include Introductory Accounting – (ACCT 640, ACCT 229/209), Finance – (FINC 635, FINC 341/409), Micro-Economics – (ECON 202 or equivalent), Statistics – (STAT 651, SCMT/STAT 303 or other three hours of undergraduate statistics).
For International Students – completing a professional credential evaluation report through  wes.org. TOEFL AND IELTS scores required that are within 2 years of exam date.

IELTS minimum score of 6.0
TOEFL minimum scores of  600 for paper, 250 for computer, or 100 for Internet-based. TOEFL can be waived by meeting the following:

score of = 400 on the GRE verbal section (previous scoring model)
score of = 146 on the GRE verbal section (current scoring model)
score of = 22 on the GMAT verbal section
having completed a baccalaureate degree with all four years of attendance at a U.S. college/university.
Application Requirements:
Online Application
Application Fee
Official Transcript
(3) Letters of Recommendation
(3) Essays no longer than (2) pages each
Resume
GRE/GMAT Scores (MRE only, MLPD not requiring during the events of COIVD-19).
IELTS and TOEFL (International students only)
Visa Documentation
Personal Interview (MRE only)
Statement of Purpose (MLPD only)
For Admission Questions
Jo Ellen Linder
Program Coordinator
Phone  979-845-4858
[email protected]
Browse Other Master In Real Estate Profiles
---
Read Other Profiles
Columbia MSRED | Cornell MPSRE | MIT MSRED | NYU MSRED & MSRE | Johns Hopkins MSREI | USC MRED | Harvard REBE | Texas A&M's MRE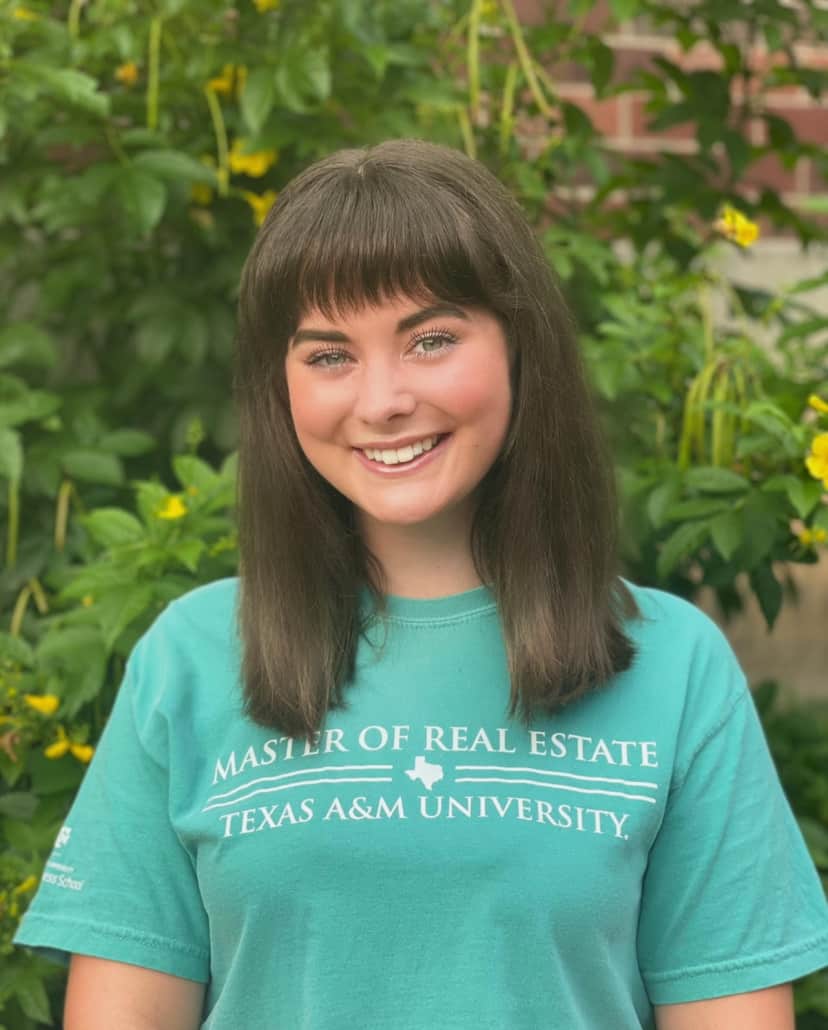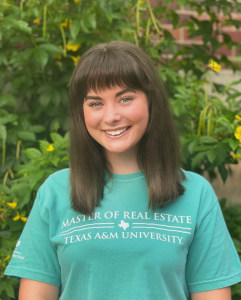 About the Author: Holly Wilson was born in Hawaii where she and her two older brothers spent their childhood growing up island style. Whether it was boogie boarding, swimming with turtles, fishing, or eating a PB&J on the beach, they were always up to something. Then at the age of 8, her family moved to San Antonio, Texas. Here, she quickly became a Spurs fan, lover of Tex-Mex, and after 12 years finally gave in and bought her first pair of cowgirl boots… officially embracing Texas. The best thing to come out of Texas for Holly was becoming an Aggie. While at A&M she was a Fish Camp counselor twice, was a member of a freshmen leadership organization, and worked at the A&M Student Rec Center all throughout college. She also embarked on two study abroad in Europe and completed a 10-week internship in Peru. After obtaining her B.A. in International Studies she decided she wasn't done with A&M just yet. She is now currently pursuing her Master's in Real Estate. This past summer she completed an asset management internship with Bank OZK in Dallas, Texas. She will return this fall to College Station for one last semester and will graduate in December 2021. Holly enjoys learning about all aspects of commercial real estate and is passionate about the industry. She hopes one day her love for traveling and real estate will intersect, leading her to a career working for an international real estate firm.
https://www.adventuresincre.com/wp-content/uploads/2021/08/Texas-AM.jpg
570
850
A.CRE
https://www.adventuresincre.com/wp-content/uploads/2022/04/logo-transparent-black-e1649023554691.png
A.CRE
2021-09-22 07:00:42
2023-04-14 17:31:00
Graduate Real Estate Series: Texas A&M's MRE Program