Columbia Business School – Columbia University – MBA Real Estate Profile

Note from Michael: This profile is part of The A.CRE MBA Real Estate Series highlighting some of the world's top MBA programs with concentrations in real estate. Each profile has been written by a current or former student of the program and is written from their unique perspective on the school and its real estate offerings. A huge thanks to John Pollock, Class of 2017, for taking the time to write this profile of Columbia. And an additional thank you to Sam Fenwick and Jonathan Cohen, Class of 2018, for the support. John Pollock's bio is provided at the end of the post.
When I started the MBA program at Columbia Business School in 2015, I was a prospective career-switcher. My work experience was in institutional investment consulting and private equity, but I wanted to change gears and pursue a career in real estate. For me, Columbia's real estate program was exactly what I was looking for: a combination of strong academics and real world, hands-on experiences in a collegial environment, as well as access to a strong, active alumni network.
Students in Columbia's MBA program are not required to pick a "concentration," although many do to focus their academics and recruiting efforts. In the case of real estate, some students consider themselves in the "real estate program" although, technically, this is just a way of saying that they are pursuing real estate as a career and focusing their academics and extracurricular activities accordingly. The real estate program within the business school is supported by The Paul Milstein Center for Real Estate (PMC), which helps develop the academic experience, holds industry conferences, connects students with alumni, and supports the students' initiatives within the Real Estate Association.
The CBS Real Estate Association
The Real Estate Association (REA) is Columbia's student-led real estate club. The REA organizes alumni networking, social, and educational events in addition to disseminating career opportunities throughout the school year. This is a very active club and student participation is extremely high at all events, even for students who are not actively pursuing real estate as a career. The board of the REA is elected by students, and there are opportunities for both first and second year students to be involved. The REA greatly contributed to my education and social network and ultimately played a major role in helping me get my internship and full-time position.
Location and Network – On Site and Beyond the Classroom
In my perspective, the three most valuable aspects of the program include the school's location within New York City, the prestigious (and generous) alumni, and the students.  While the academics are also very important, even the most scholarly professors would agree that real estate is an industry best learned "in the field." This is where the school's location and alumni network come in. The PMC and the students, as part of the REA, regularly invite experienced practitioners for breakfasts, lunches, happy hours, and class speeches. In many cases, it's just a taxi ride away for the speakers to get to campus. Some examples of speakers that I was lucky enough to hear speak include Jon Gray, Sam Zell, Dean Adler, Nicholas Bienstock, Paul Pariser, Andrea Olshan, David von Spreckelsen, Wendy Silverstein, Jeffrey Barclay, John Vickers and many more. Even Jonathan Mechanic, one of the most well-recognized real estate attorneys, served as a guest lecturer in two of our Real Estate Transactions classes.
In addition to attending speaking and networking events, students regularly visit development sites and company's offices. After all, some of the most exciting real estate developments in the country are currently underway in New York City. From major developments such as Hudson Yards and Essex Crossing to super-tall skyscrapers on 57th street and the massive development of Long Island City, there's plenty to see and explore. In my final class at business school, NYC Immersion Seminar: Real Estate Development with Professor Lynne Sagalyn, our class spent nearly 4 hours with Related Companies at Hudson Yards hearing from the leaders of each of their construction, design, and engineering teams before touring the development. A single class such as this teaches students a semester's worth of knowledge.
Another major advantage of our location within New York City was our ability to network with alumni and other real estate professionals. All of the students spend a significant amount of time meeting one-on-one with professionals around the city both to network and learn from their experience. In many cases, these coffee chats / drinks / meals were as valuable as spending an hour in a classroom, and with countless alumni in New York working in real estate, there's no shortage of contacts in the city.
MBA Real Estate Student Connectivity
Finally, my classmates rounded out my experience in the Columbia real estate program. Within the program, there was a mix of students who were career-switchers like me and students who had some level of real estate experience but wanted to switch functions or accelerate their careers. I found the students within the program to be collegial, intelligent, intellectually curious, and social. Early on in my time at Columbia, I was told the real estate students were a tight-knit group, and I found this to be very true. Many of us became close friends during our first-year spring break trip when we attended a real estate-focused Chazen Global Study Tour of China, Singapore, and Hong Kong.
In fact, many of my closest friends in my graduating class were students in the real estate program. I believe this network will be critical to all of our careers. I now have close friends who will be working in development, acquisitions, lending, and asset management across many different property types and across the country (and world).
During my first year, the students in the class above us served as mentors, and we did the same during our second year for the new students. The collegiality among our classmates occurred both inside and outside the classroom. We took many of our classes together, worked together on group projects, and helped one another along the way. Outside the classroom, we regularly shared career opportunities, helped one another prepare for interviews, and shared contacts. I cannot emphasize enough how much my classmates contributed to my experience.
Columbia Business School Real Estate Extracurriculars

Early in the spring semester of every year first year students are paired with a distinguished alumni involved in the real estate industry. This programs helps to forge meaningful relationships between mentors and mentees and also provides an invaluable resource to students navigating the recruiting process.
The network of Columbia Business School real estate graduates is exceptionally strong and growing. Each year, hundreds of alumni reconnect with former classmates and meet new friends and business colleagues at the Annual Real Estate Alumni Reception, the largest real estate alumni activity at the School.
The Columbia Business School Real Estate Association and the Paul Milstein Center for Real Estate co-host an Annual Real Estate Career Forum during the spring semester. This event provides a great forum to network and to learn about internship and full-time employment opportunities with major real estate development, investment, and finance firms. Past employer participants have included Atlas Real Estate Partners, CIM Group, DDG, Extell Development Company, SL Green Realty Corp., Toll Brothers, Vornado Realty Trust, Eastdil Secured, L&L Holding Company, Silverstein Properties, Tramell Crow, PGIM Real Estate, Hines, Tishman Speyer, UDR, Related Companies, and Ares Management, amongst others.
The Paul Milstein Center for Real Estate hosts a Panel Series highlighting different careers in real estate. The career panels are led by prominent industry leaders giving students the unique opportunity to learn about the diverse career paths of panelists.
Twice a semester the REA travels to a major US city to learn more about new developments and the state of the market. Past destinations have included Los Angeles, Chicago, Philadelphia, Boston, and San Francisco, amonst others.
Each year, the Real Estate Association plans an international study trip to learn more about diverse and emerging real estate markets. The trip lasts approximately 10 days and includes site tours and company visits with the top real estate development and investments firms in the nation. Past destinations have included South Africa, China, Colombia, Brazil, England, and Germany, amongst others.
Leading young real estate alumni meet with small groups of MBA students to share insights on their MBA experience, tips for recruiting and building a career, the current job market, and the state of the industry. The Paul Milstein Center for Real Estate hosts several career breakfasts each academic year in conjunction with the Real Estate Association.
Every year, Columbia Business School, in conjunction with Goodwin Proctor LLP, hosts the annual Real Estate Capital Markets Conference. Over the last ten years, the half-day program has become a 'go-to' event among industry leaders in the real estate capital markets space and draws a sophisticated audience of real estate fund managers, REIT executives, real estate investors, and investment bankers. The keynote speaker for the 2017 conference featured Jonathan Gray, Global Head of Real Estate and a member of the board of directors and the management committee for Blackstone.
The Paul Milstein Center for Real Estate hosts several Real Estate Speaker Lunches each academic year, providing opportunities for students to hear from distinguished real estate professionals. Students learn about the speaker's career and gain valuable insight on the state of the real estate market. The discussions are often led or moderated by a member of the real estate faculty.
Several times a semester the REA tours a local development site to gain insight into how operators plan for and execute upon their projects. Past tours have included, but are not limited to 50 West Street, South Street Seaport, Flushing Commons, WeWork, and the World Trade Center.
---
Course Offerings
Real estate accounts for one-third of the world's capital assets. This course provides students with a comprehensive understanding of real estate valuation, cycles, markets, investments, and decision-making. The bulk of the course covers income-producing (commercial) property, although we will discuss residential housing. This course provides a unified finance-based framework to answer real estate investment decision-making problems encountered in the real world. Doing so requires a good understanding of the institutional features that differentiate real estate from other asset classes and markets as well as modern finance and economics tools.
Professors: Tomas Piskorski, Brian Lancaster
Real estate is a transaction business, and a thorough understanding of legal structure and transaction documentation is essential to successfully execution of all types of business strategies in real estate: Ask any seasoned investor! Decisions about the most effective format for owning real estate, layering debt, and structuring equity investments all involve legal considerations that shape the risk and return profile of real estate investments as well as control and decision making.
Professors: Jennifer Morgan, Richard Wolfe
Commercial real estate ("CRE") attracts capital from a broad range of domestic and foreign sources and the capital flows change in response to evolving market conditions. The flow of capital and overall market liquidity can often have a greater impact on property values than the trends in the underlying property market fundamentals. Given the interdependence of the global debt and equity capital markets, an understanding of the interrelationships across markets and among asset sectors is necessary to evaluate emerging trends in CRE capital flows.
Professor:  Brian Lancaster
The Real Estate Project Class provides students who intend on pursuing careers in real estate the opportunity to learn how to design and execute projects of professional scope and quality under the guidance of an experienced professor and practitioner, as well as a specific company sponsor. The course will include instruction in project design, scoping, strategy, research, and execution. Presentation skills, both oral and written, are integral to the course and project. Two (occasionally, one) student groups, each group consisting of three or four students, will work with an outside project sponsor to create a project presentation based on a real-world sponsor project.
Professor: Andrew Jacobs
Social Impact Real Estate Investing and Development
This course will explore what comprises, and how to develop and invest in "social impact" real estate projects. How do we define what constitutes "social impact" with respect to real estate projects? What are the financial building blocks and sources of capital available for developers and investors to utilize when putting together deals? Using examples of real deals, and focusing largely on U.S. urban markets, students will work through the challenges and opportunities of financing various types of projects, including: affordable and mixed-income housing, mixed-use, neighborhood retail, community facilities. Students will be exposed to a variety of financial tools (LIHTCs, tax-exempt bonds, NMTCs, etc.) and public sector programs that are necessary to make social impact projects feasible while also being asked to gauge whether the risk-adjusted returns warrant "doing the deal".
In addition, the course will explore the following questions: who are the players in the "social impact" real estate space? Who are the capital providers in both the public and private sectors? Who are the developers? Can you make money being a socially responsible developer? What role do non-profits play? Speakers will include: for-profit and non-profit developers, fund managers, government officials and financial institutions.
Professor: Rachel Diller
Real Estate Portfolio Management
This six-week course (offered A term in the spring) provides students with an introduction to the challenges and decisions faced by real estate portfolio managers. The focus is "macro" aspects of portfolio management, such as strategy and diversification, rather than buy or hold/sell decisions and business plans for individual assets. Examples include: key decision that affect performance; assessing alpha opportunities; evaluating risk-return tradeoffs. After completing this course students will be familiar with issues that arise in constructing and managing a real estate portfolio, including elements of portfolio strategy, managing diversification and liquidity and measuring performance and risk.
Professor: Michael Giliberto
Cross border investment, once considered exotic, has become increasingly common, despite economic cycles. However, it requires another dimension of risk analysis and execution skill. This half-term course will introduce students to the fundamentals of global real estate investment from an institutional perspective through an exploration of risk analysis and specific strategies for structuring global real estate investments and portfolios. It will provide students with an analytical framework and the tools to analyze and value cross-border real estate investments in developed and emerging markets. It will also provide a perspective on the effects of globalization on property and capital markets.
Professor: Camille Douglas
NYC Immersion Seminar: Real Estate Development
This immersion course is designed to introduce students to the business of real estate development. Through a "tour" of different types of ground-up projects (rental housing, mixed-use development, and public-private development) in different locations (Long Island City, Brooklyn, Manhattan) under different business arrangements (family business, young entrepreneur, corporate, and joint-venture partnership), the course will deliver a broad-based overview of the development business. Given the block of time in each session, we will be able to delve into many of the granular aspects of development that make this field of endeavor so demanding and so dynamic. At every level—physical site, program and design, financial feasibility, construction, tenant marketability, project management—real estate development is a detailed business. It is also singular in its impact on the built environment. Two of the projects we will visit are designed to shape a new district, a "place" in the argot of planning and urban design. From this perspective, the aspirations of developers extend beyond the monetary, especially when it comes to large-scale development, and therein lies the excitement—and also the creative drive and boldness to take on the significant risks of big complex projects.
Professor: Lynne Sagalyn
Real Estate Mergers and Acquisitions Workshop
High‐stakes real estate M&A transactions require consummate deal‐making skills and a thorough understanding of the underlying business, legal, financial and strategic frameworks. This Workshop will explore the relevant skill‐sets and underlying frameworks through a combination of class discussions and hands‐on exercises. The REIT and commercial real estate sectors have emerged from the financial crisis, poised for a new phase of consolidation and M&A. In addition, on a technical note, the last decade saw significant legislative improvement in the tax scheme that governs REITS, which has provided REITs with greater operating and transaction flexibility, and recent legislative changes improve upon the ability of foreign persons investing in publicly traded REITs. We have seen a number of going private transactions in the REIT industry over the past year and more are expected in the near term given that the trading value of public REITs is generally below NAV and there are significant amounts of private capital, including from foreign investors, interested in investing in U.S. real estate. These waves of transactional activity provide an ideal case study approach for learning the strategy and tactics involved in sophisticated real estate deal making, as well as the underlying legal and business building blocks. The class will take a multi‐disciplinary approach, based on the premise that an effective transactional lawyer must understand the business and financial goals and implications of the deal and, similarly, that an effective business or finance executive must have a solid grasp of the legal, tax, and structural underpinnings for the transaction.
Professors: John Haggerty, Gil Menna
This case-based course addresses and, where possible, simulates complex problem solving applied to real estate. The emphasis is on strategic decision making and the types of issues that principals and investors face in acquiring, financing, owning, managing, developing, and restructuring real estate. Using cutting-edge case materials developed for the Columbia MBA Real Estate Program, the course focuses on analyzing complex problems and developing a recommended course of action based on in-depth analysis, both quantitative and qualitative. The course aims to develop your understanding of and appreciation for the multiple dimensions – economic, financial, and institutional – that shape the decision-making environment for real estate investment. Drawing upon the participation of case principals in the classroom, the course also addresses the issues and tactics of how the various industry actors – public companies, private equity funds, and individuals – execute their strategies, including dynamics that constrain actors and organizations in the real estate business. The course is designed to challenge students with complex situations so that they can not only hone their analytical skills, but also develop effective means of communicating their analytical insights and conclusions to different audiences: investors, lenders, clients, and joint-venture partners.
Professors: Michelle Felman, Russell Plat
While the real estate industry has grown, institutionalized and globalized, it remains fundamentally a marketplace where talented entrepreneurs can build great businesses and fortunes. What is the difference between success and failure? What resources and strategies improve the odds of success for the entrepreneur in the world of real estate? This half-term course will introduce students who have a passion for creating their own business to the challenges and opportunities they will face, and the tools they will need to be successful. Through a combination of case analysis, lectures and guest speakers who have started and/or (re)built real estate companies, students will be exposed to the personal skills, organizational challenges, financial structures and market factors that determine the success or failure of a real estate business.
Professor: Christopher Mayer
This course presents the core principles of real estate development, financing, and planning. Key trends will also be discussed and analyzed. The course will review the basic real estate uses: residential, office, as well as retail/cultural facilities. While the course carefully reviews the fundamental real estate principles and analytics, e.g. supply/demand/feasibility, it will also cover real-world developments in the U.S. and abroad. A Case Study from a large-scale mixed-use project will be used through much of the class. Guest lecturers will be invited to join in selected presentations around actual projects and be available for intense interactive discussions. Relevant reading materials will be made available
EMBA: Real Estate as Asset and a Business
This block week course is designed to provide you with an intensive dive into the fundamentals of commercial real estate finance, investment, and development. It will cover several broad topics – (1) Scope of character of the commercial real estate industry; (2) Real Estate Finance and Investment; (3) Real Estate Transactions; and (4) Real Estate Development.
At a Glance
Primary Location: New York, NY
Class Size: 776 (Class of 2018)
Alumni Count: 44,000+
---
Browse Other MBA In Real Estate Profiles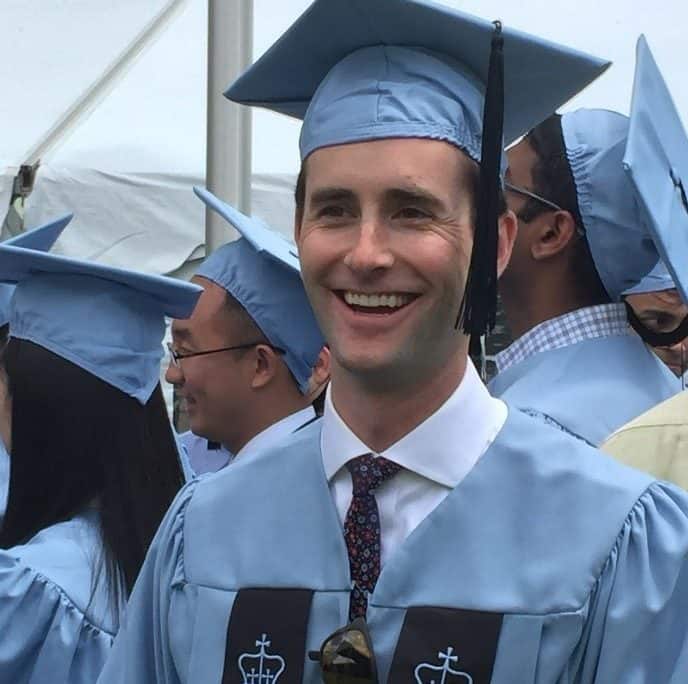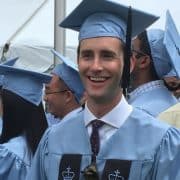 About John Pollock: John will begin a full-time position as Senior Associate of Investment and Development at Trammell Crow Company this summer. During the summer between his first and second year of school, he interned at Spear Street Capital, an office-focused real estate private equity firm. Prior to school, John worked at HarbourVest Partners, a global private equity firm headquartered in Boston. Before this, John spent four years at Cambridge Associates consulting for institutional clients' investment portfolios. He graduated from Boston College with a BS in Finance and Accounting. John is a CFA Charterholder.
https://www.adventuresincre.com/wp-content/uploads/2017/07/CBS-Building1.jpg
1080
1468
A.CRE
https://www.adventuresincre.com/wp-content/uploads/2022/04/logo-transparent-black-e1649023554691.png
A.CRE
2017-07-30 19:32:12
2023-01-20 09:37:06
Columbia Business School – Columbia University – MBA Real Estate Profile