Adventuring into the World of CRE – S1E1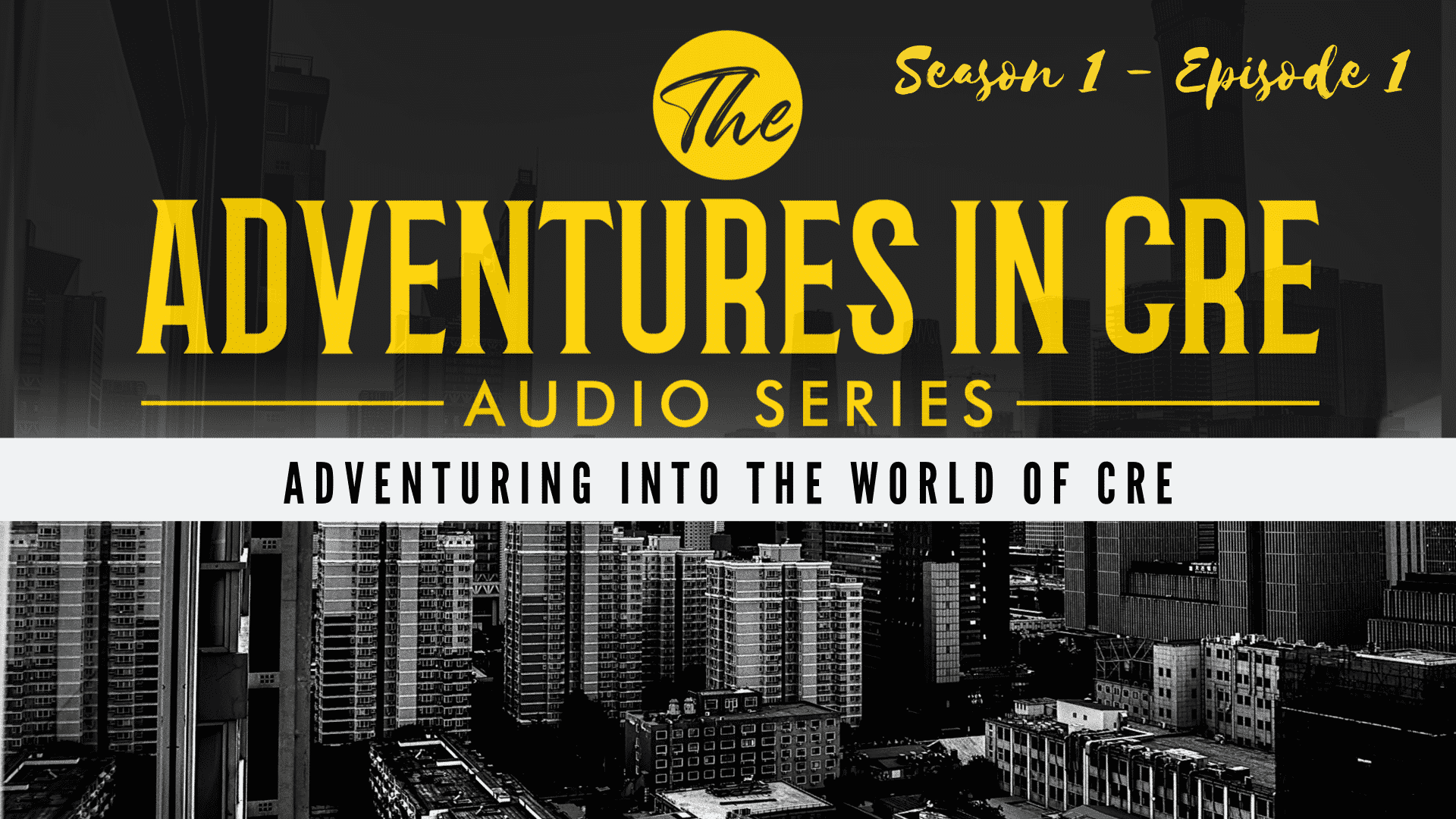 ---
Welcome to the Adventures in CRE Audio Series! In the first episode of the series, we talk with the creators of the Adventures in CRE website, Spencer Burton and Michael Belasco. We discuss the site's inception, evolution, and growing and evolving community. We also discuss the audio series and preview how it provides insights and answers to many of the questions Spencer and Michael field regularly from their readers on topics such as real estate financial modeling, careers, education, and the commercial real estate industry in general.
Interested in being a guest on our Audio Series? Click here to contact us with your idea.
About this Episode – Adventuring into the World of CRE
Michael and Spencer tell the story of their initial ambitions with the site, which was primarily meant to fill a lack of online resources related to real estate financial modeling. The goal was to also help the both of them expand their knowledge and skill sets in areas that were of critical importance to their careers and share that work and what they learned with others.
Over the years, the site has grown to cover other topics its readers have asked about. A.CRE focuses on sharing quality content around three main areas our readers care about most:
Learning and using advanced concepts in real estate financial modeling.
Gaining the education needed to be successful in commercial real estate.
Preparing for and advancing a career in commercial real estate.
Show Notes – S1E1: Adventuring into the World of CRE
[05:20] The Importance of Financial Modeling
Spencer and Michael discuss late nights in the library trying to figure out real estate finance and financial modeling.
They have a mutual passion for financial modeling – which is absolutely essential in commercial real estate.
[06:55] The Adventures in CRE Website
In 2014, their first blog post went live.
In general, if you want to know something you Google it. As they began to research real estate terms like waterfall modeling and terms in commercial real estate – there wasn't a lot of readily available information. They could only find expensive courses online.
There was not a lot of convention around many financial modeling terms. When you googled a term online, you would receive contradictory information.
The website was a way to share their knowledge with others. It grew so fast because there was a need. Eventually, it grew on its own – they learn just as much from feedback and questions that are asked.
[13:00] Where content and idea come from
[16:40] The Evolution of the Adventures in CRE Website
They started with a basic WordPress blog theme.
The quality of the blog posts themselves was not formatted well to be easy to digest. The audio quality of the early videos was pretty bad.
However, the underlying content itself hasn't changed, but the quality of how it is delivered has vastly improved.
[20:10] Events Calendar
The younger professionals don't know what opportunities are available to them, organizations are they should be part of.
Michael and Spencer are working on compiling all the events in one space for people to track.
Content comes organically based on what they hear and their own personal interests. So the event calendar came up naturally.
[23:45] Becoming Fully Efficient in Real Estate Financial Modeling
To become fully efficient in real estate financial modeling, go the Adventures in CRE website, read their posts, and download the models.
Use LoopNet for case studies and practicing financial modeling.
People will go to a weekend boot camp to understand financial modeling and feel more lost than ever.
Spencer and Michael understand what it's like to know nothing; they know how to explain it to someone starting from the ground up.
If you want a proven program to learn financial modelling in less time, visit adventuresincre.com/accelerator
[30:40] What to Expect from the Audio Series
The goal is to answer questions they get from listeners and readers of the site.
Many of the questions they get from listeners are the same, so having the audio will help make the information readily available to everyone.
Because commercial real estate is a huge business, it will be the goal of the audio series to bring on industry experts to share career and other insights into the industry.
and much more!
Resources from this Episode
https://www.adventuresincre.com/wp-content/uploads/2014/10/2-1.png
1080
1080
A.CRE
https://www.adventuresincre.com/wp-content/uploads/2022/04/logo-transparent-black-e1649023554691.png
A.CRE
2019-10-15 00:10:51
2023-01-19 08:52:16
Adventuring into the World of CRE – S1E1