Choosing Your CRE Career Path – S1E2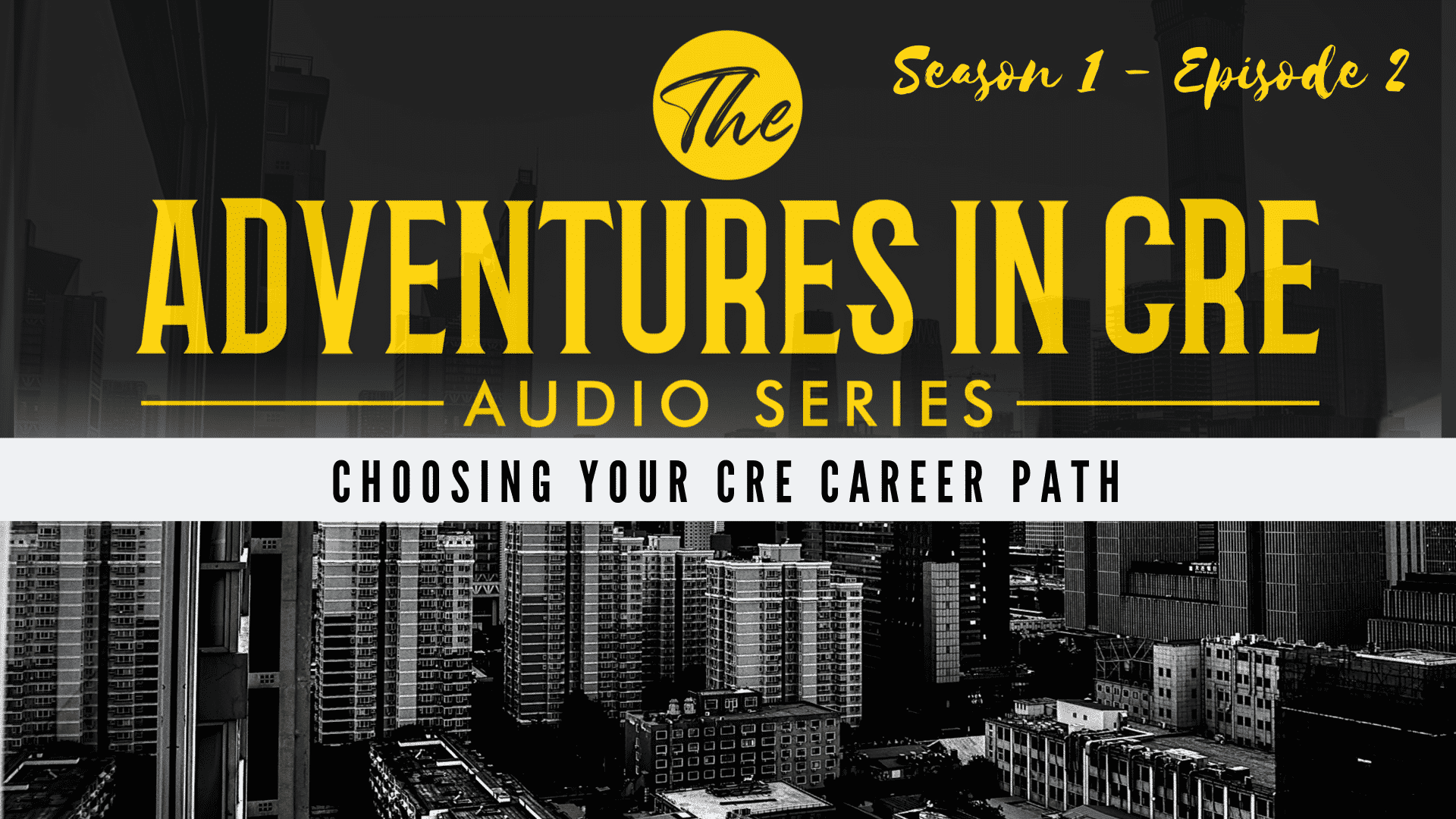 ---
---
Welcome to Episode 2 of the A.CRE Audio Series. In this episode, we chat once again with the creators Adventures in CRE, Spencer Burton and Michael Belasco, on the topics of how to launch your career in commercial real estate as well as how one can pivot from a current role to another within the industry.
About this Episode – Choosing Your CRE Career Path
During this episode, we discuss how to demonstrate value through deal seasoning and your network and what steps you can take if you do not have either of these yet. One of the first things anyone should do at this juncture if you haven't done so yet, is take the time to understand where you want to end up at the end of your process, in terms of job function, asset class(es), and geography; so that you are not wasting time preparing for a position that you end up realizing is not for you.
As you begin to discover and then embark on the path towards your professional transition, it can be tough. Reaching out to professionals in the industry to request informational interviews, taking on internships, externships, and even freelance opportunities are some of the best ways to start exploring your options and interests.
Learn more about the specifics of the industry, how to best set yourself up for success, what options exist and how to go about gaining the skills and knowledge needed to be successful during this episode of the A.CRE Audio Series.
Show Notes – S1E2: Choosing Your CRE Career Path
[1:17] Typical questions Spencer and Michael field from their readers
What are the steps to get a job at a large real estate firm?
What should be my first priority as a student getting ready to graduate?
[4:45] What kind of options might someone in school be considering?
Development or acquisitions are common paths.
There are dozens of paths and variations of paths.
When thinking about what path you want to take, understand the different options.
Consider property type you will specialize in.
Long term in your career you will specialize in one or a handful of property types.
[6:03] Deciding factors for determining property types
You discover through talking to professionals who are out there.
Hotels are the riskiest type.
Multi-family or single tenant lease are typically the least risky.
Deciding on what property types you are interested may relate to personality or family connections.
[11:15] Getting as much experience as you can
As a student, utilize time to get experience.
[17:30] Do you want to be on the GP or LP side?
On the GP side you're hyper focus and in the weeds. You're generally specialists in an area of geography.
On the LP side you're a capital allocator and represent pool of capital. The analysis is more 10,000 foot view, and you're more of a generalist in terms of geography .
Regional specialization vs local specialization.
[19:12] Thinking about the type of firm you want to work for
Are you interested in going the institutional route?
Do you prefer the boutique route?
[26:22] Advice for the career 'pivoter'
Identify where you are pivoting to.
Real estate is a who you know type of industry when it comes to the job search.
Most jobs are not posted on job boards.
Job opportunities are on an as needed basis.
Start networking and talking to the people at firms you want to end up at.
Resources from this Episode
https://www.adventuresincre.com/wp-content/uploads/2014/10/3-1.png
1080
1080
A.CRE
https://www.adventuresincre.com/wp-content/uploads/2022/04/logo-transparent-black-e1649023554691.png
A.CRE
2019-10-15 00:09:43
2023-01-19 08:52:21
Choosing Your CRE Career Path – S1E2