Anatomy of a Real Estate Model – S1E3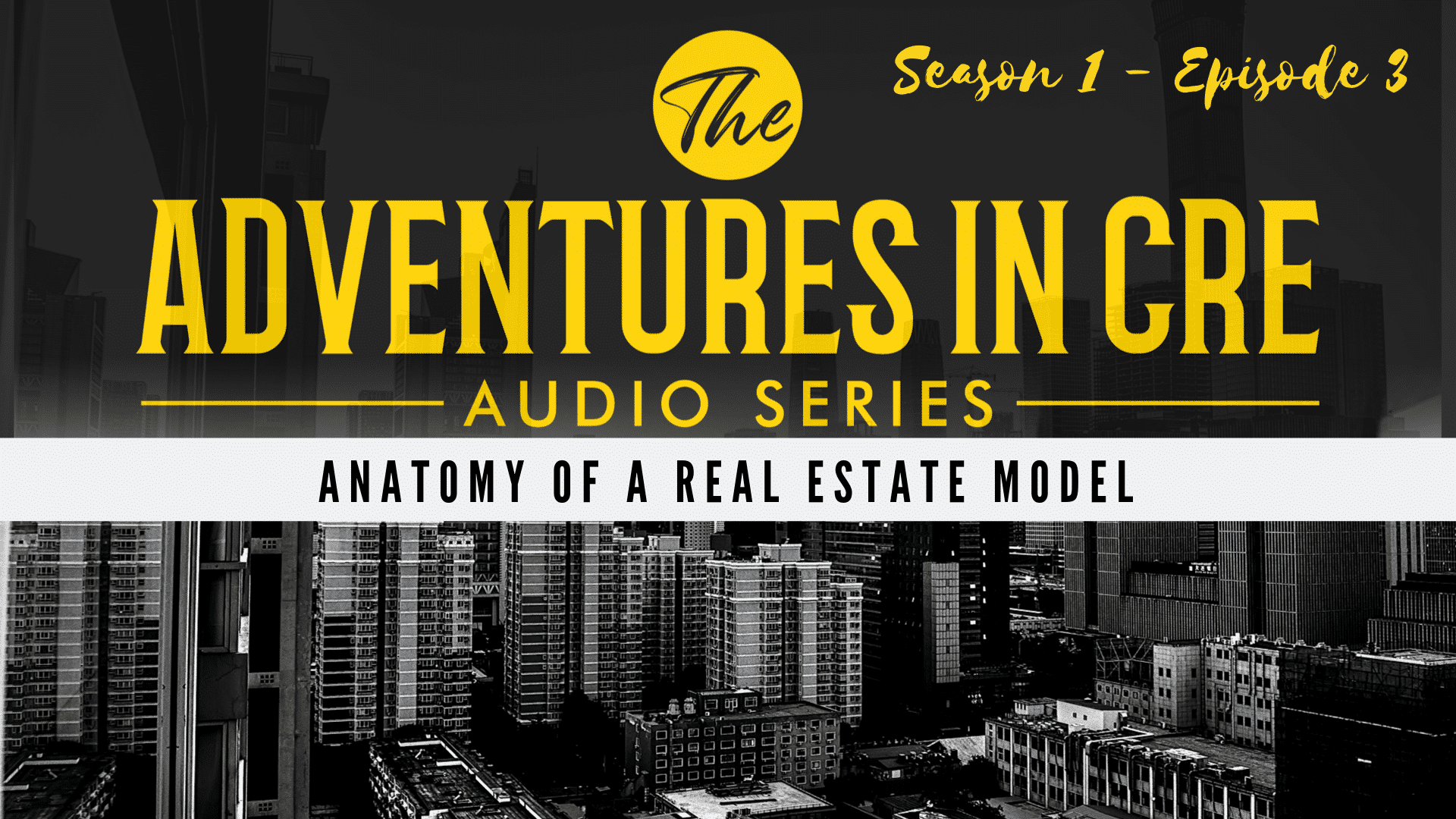 ---
---
Welcome to Episode 3 of the A.CRE Audio Series! In this episode, we speak once again with the creators of the Adventures in CRE website, Spencer Burton and Michael Belasco. Today we are going through the thought process and fundamentals of creating a real estate financial model.
About this Episode – Anatomy of a Real Estate Model
There are endless ways to start creating your own real estate financial models.  Every model is going to be a little different because no real estate development or acquisition is quite the same. This is even more true between people because our brains work differently and as a result the end product can vary substantially. During our conversation we learn more about how Spencer and Michael think about creating their workbooks and also discuss the essential components and the mechanics behind real estate financial models.
You can expect to conceptually understand the entire process by the end of this episode. We start from the very beginning discussing what happens at the onset with a blank excel workbook and navigate our way through the process of creating a model. We'll stop along the way to discuss potential obstacles and knowing when you're finished.
Learn more about the specific process of creating a successful model, how to go about doing so and the ins and outs of creating models during this episode of the A.CRE Audio Series.
Show Notes – S1E3: Anatomy of a Real Estate Model
 [2:35] Starting from a blank excel workbook
Everyone starts differently.
First understand the problem you are trying to solve.
Think about what are the outputs you are modeling for.
Have section headings in place.
A model is a combinations of assumptions and calculation modules.
Outputs are what you are solving for.
 [16:01] Why don't people want to be in excel?
Some people just don't like it.
There's tons of work to do.
 [18:41] The best place to get started is to actually get started
Momentum will prepare you from the next step.
Once you get started, the process will start flowing.
 [19:21] What are the iterations you go through until coming to finished product?
There are typically tons of iterations.
It starts with a simpler model and then expands over time.
Continue to update models consistently.
The more you practice, the better you become.
 [24:54] If you're doing your own models, how do you know when you're done?
Templates are very popular in the industry.
Create your own templates to ensure they are free of errors.
Resources from this Episode
https://www.adventuresincre.com/wp-content/uploads/2014/10/4-1.png
1080
1080
A.CRE
https://www.adventuresincre.com/wp-content/uploads/2022/04/logo-transparent-black-e1649023554691.png
A.CRE
2019-10-15 00:08:00
2023-01-19 08:52:25
Anatomy of a Real Estate Model – S1E3