Compensation in Real Estate (United States 2022)
Several years ago, we published a careers in real estate series where we discussed the various job sectors, business fields, and job functions that exist in the real estate industry. Additionally, we broke down compensation in real estate (salary + bonus) by position and level for 2014.
Since then, each year we've followed up that series with a summary look at pay in various roles and working with various property types in real estate. Here's what pay (salary plus bonus) in real estate looked like in 2022.
Master real estate financial modeling and command more pay in the marketplace. Join our Real Estate Financial Modeling Accelerator Program to land the job, get the raise, and learn to model your own deals. Join the Accelerator today.

Source of Compensation Data
Every year, real estate consulting firm CEL & Associates publishes its National Real Estate Compensation & Benefits Survey. The survey is the industry standard for pay statistics across 190 real estate positions in the United States. Nearly 400 companies participate to provide confidential compensation data for their employees working in all major real estate sectors, fields, and functions.
The survey is well-respected. It has been conducted annually for more than 20 years and is done in partnership with the National Association of Office and Industrial Properties (NAIOP) and the National Apartment Association (NAA). Results are available in a couple of formats:
A 400+ page comprehensive paper covering salary trends, policy questions, bonus pay structures, quarterly breakdown, and pay details by company type, location, and size is available for purchase.

A robust summary of the survey results is available to download for free.
Real Estate Compensation in 2022
The comprehensive summary (linked above) has been condensed down to the information and positions that are most relevant to our readers. These are Analyst through Managing Director positions at industrial, office, retail, and multifamily focused real estate firms working in acquisitions, asset management, property management, and development.
The reported total pay has been calculated, or the sum of salary and bonus, as well as the percent change in total compensation from 2013 to 2022 and 2020 to 2022 for each of the positions.
Summary of 2022 Pay (Salary plus Bonus) for Office and Industrial Real Estate Professionals
For real estate professionals working at firms focused on office and industrial properties, there was an average increase in compensation by 7.43%. The pay for these roles grew from 5.5% to 13.47%., which sets a record high spread since we've covered annual salaries.
The bonus as a percent of salary increased to an average of 51.6%, where higher bonus percentages were seen in senior roles versus junior roles. Acquisitions had the highest bonus possible for a senior analyst/associate role being 30%. Asset management followed closely behind this with junior role percentages of 27% and 29%.
Similar to 2021, Asset Management professionals had the greatest change in total compensation for office and industrial roles. Across all asset management positions, there was a 9.45% increase. Following this was Property Management professionals with an average percentile change of 7.94%, then Development with 6.75%, and lastly Acquisitions with 6.02%.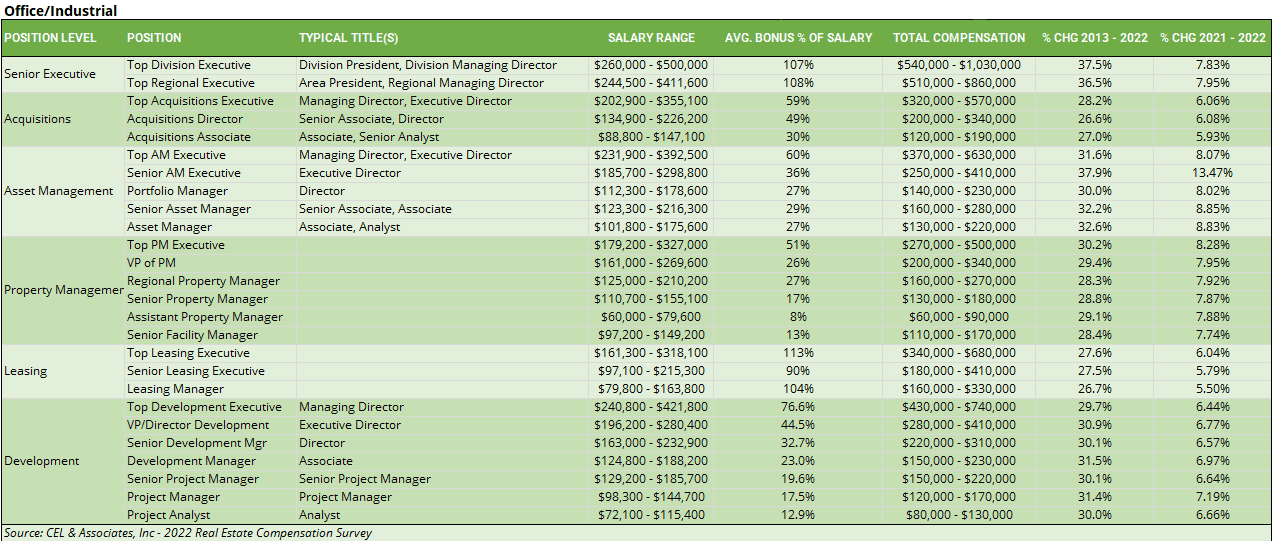 While there were generally more benefits for office and industrial Asset Management in terms of average variable compensation and salary compensation, there was still a slightly higher percentage of variable compensation increases for junior positions in roles for office and industrial Acquisitions.
Summary of 2022 Pay (Salary plus Bonus) for Retail Real Estate Professionals
For Retail Professionals, there were increases in the total compensation between 5.57% – 7.56%. Acquisitions finished with the highest average percentage change in total compensation of 7.24%. Property management roles finished as a runner-up with 7.13% in total compensation change, then Asset Management at 7.01%, and lastly Development at 7.0%.
From the previous year, the percentage change increase in total salary nearly doubled. Observations dating back to 2013 have not seen an increase to this magnitude. This can be likely attested to high inflation towards the middle of 2022.
There were generally no noticeable changes in the bonus percentage of salary compensation, with little to no changes in the percentages between 2021 and 2022. Retail senior positions still hold the title for the highest total compensation compared to office, multifamily, and industrial. As for the junior positions, they were able to keep pace with the growing compensation benefits that their senior coworkers were enjoying.
Newly minted MBA in Real Estate and Masters in Real Estate graduates can expect to earn in retail-focused Associate-level positions on average anywhere from $130,000 – $280,000, with opportunities in Asset Management and Development providing higher compensations than acquisitions and property management.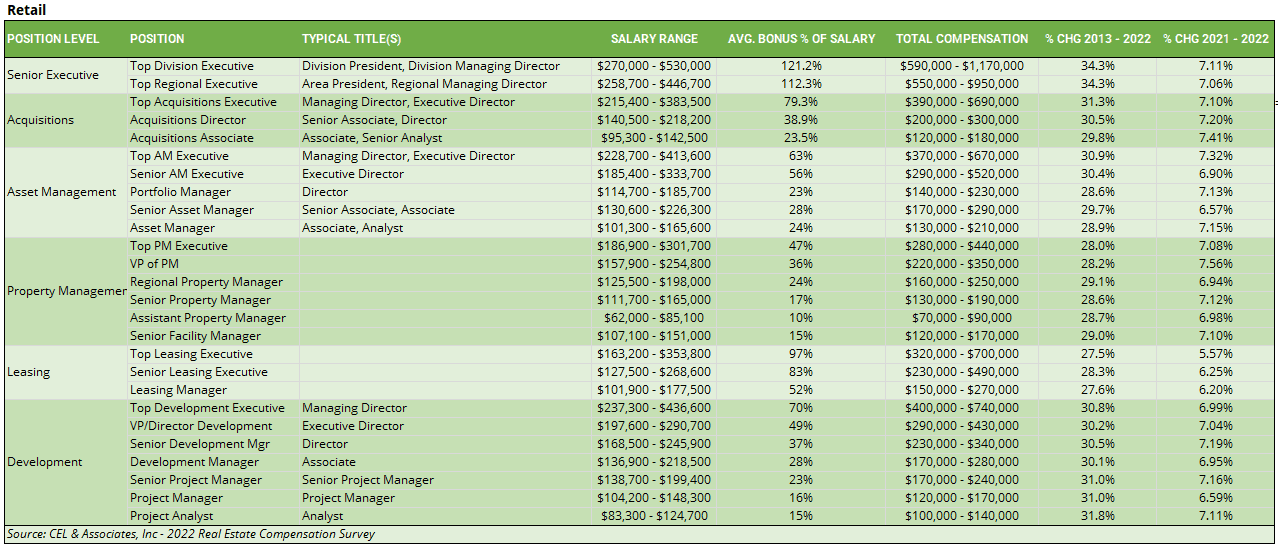 Summary of 2022 Pay (Salary plus Bonus) for Multifamily Real Estate Professionals
The residential (multifamily) bonus as a percent of salary was practically the same as in 2021, with the 23 surveyed positions showing minimal changes. However, averaging up these bonus figures, multifamily provided an average higher bonus percentage than retail and finished behind Office and industrial. The range for multifamily base salary had been the lowest among the four asset types.
Early career professionals in Multifamily acquisitions, asset management, and development with analyst and associate titles can expect a total compensation in the high 5-figure range to the middle 6-figure range. These professionals should expect their bonus percentage to account for around 21% of their total compensation.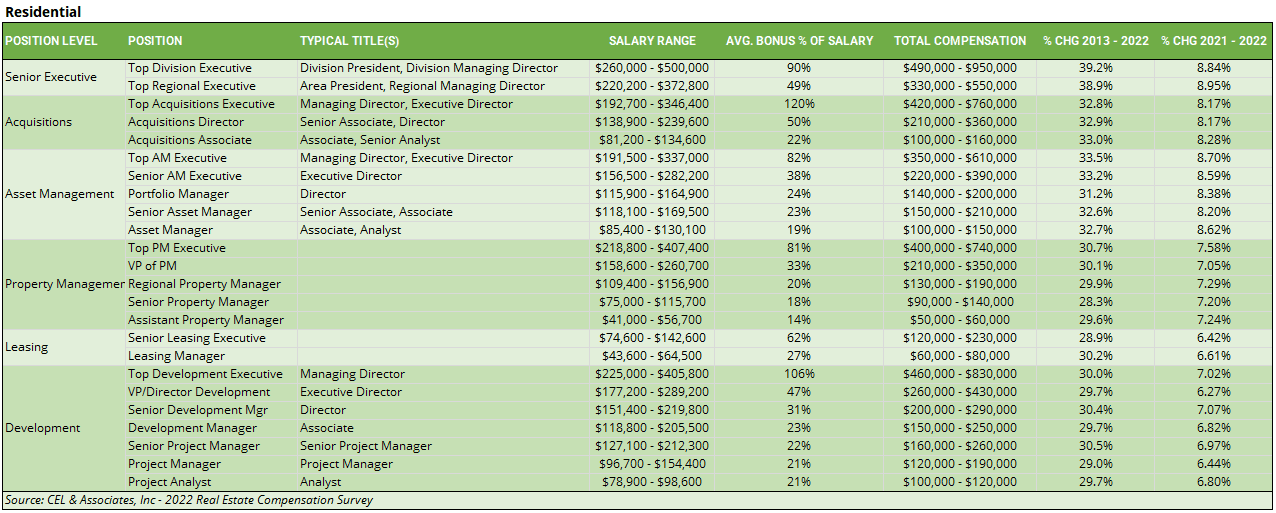 Changes in Real Estate Salary and Bonus – 2022 vs. 2021
In 2021, we saw Real Estate Compensation grow at its fastest pace in five years. 2022 showed an even greater growth rate, with an average total compensation increase of 7.31%. The annual inflation rate was at 6.5% in 2022, with inflation peaking at a high of 9.1% in June. As a result, we see why many base salaries were substantially increased from 2021.
Similar to last year, asset management professionals in office and industrial had the highest average growth in total compensation. Increasing on average by 9.45% from 2021 to 2022. As for the lowest average growth, office and industrial acquisitions saw a growth of 6.01% in average compensation.
Changes in Real Estate Salary and Bonus – 2013 vs. 2022
On Average, the total compensation in real estate has increased by 30.6% from 2013 to 2022. We also created a scaled look at the change among all positions (high-end) from 2016 to 2022. That look is visualized below. Note that we do not have data from 2015, hence why the scaled look only goes back to 2016 while the change in total compensation calculation goes back to 2013.
Conclusion on 2022 Real Estate Pay
2022 was a record year for increases in total compensation. This survey has defined how compensation is still growing at an accelerated rate. The industry itself is welcoming to all people on both sides of the entrepreneurial and employee mindset, where benefits lie in both the base and additional compensation. 
With this in mind, it is also important that current professionals within the commercial real estate roles of acquisitions, development, asset management, leasing, and property management all understand the trends behind these salary figures. Please enjoy this report, and we hope that this data can supplement negotiations for Real Estate salaries!
https://www.adventuresincre.com/wp-content/uploads/2020/12/compensation-in-real-estate.png
915
1280
Spencer Burton
https://www.adventuresincre.com/wp-content/uploads/2022/04/logo-transparent-black-e1649023554691.png
Spencer Burton
2023-02-06 08:05:09
2023-02-07 16:25:07
Compensation in Real Estate (United States 2022)