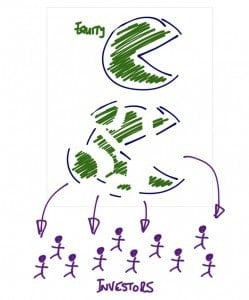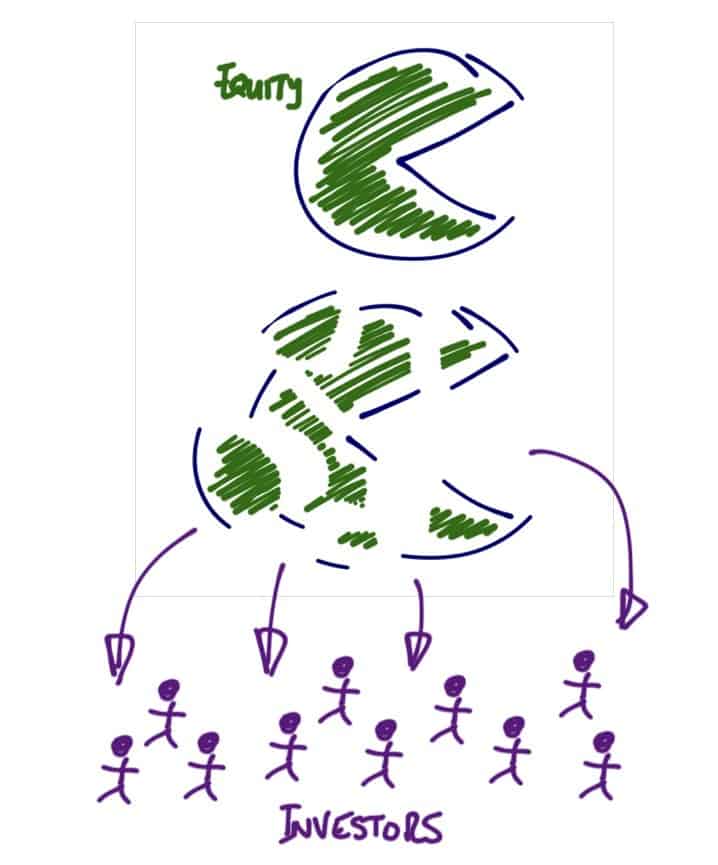 I had some free time this weekend, so I thought I'd build a basic real estate equity waterfall model to share. The model allows for up to four tiers (IRR or equity multiple hurdles), with the first tier paying a preferred return, pari-passu, to the sponsor and LPs after the full return of capital to the partners based on their proportionate share of equity contribution. Tiers two through four model a promote paid to the sponsor at a proportion greater than its relative share of equity contribution.
This equity waterfall model is built for inclusion in other models. As a result, it assumes you have already modeled the total equity required, and have calculated the net cash flow stream before taxes but after debt service (equity cash flow). It is built on an annual basis for up to 15 years of analysis, and assumes only one sponsor (GP). While the model is simple, the foundation is there to easily add additional IRR hurdles, years of analysis, or partners. Also, with a little more effort, the model can be adjusted to use with equity multiple hurdles rather than IRR hurdles.
Download The Model
To make this model accessible to everyone, it is offered on a "Pay What You're Able" basis with no minimum (enter $0 if you'd like) or maximum (your support helps keep the content coming - typical real estate models sell for $100 - $300 each). Just enter a price together with an email address to send the download link to, and then click 'Continue'. If you have any questions about our "Pay What You're Able" program or why we offer our models on this basis, please reach out to either Mike or Spencer.
Note (especially for Gmail users): The model is sent via email and occasionally is blocked by spam filters. If you don't see the email arrive within five minutes, check your spam folder.
Real Estate Equity Waterfall Model
Up to a four tier promote structure
IRR or equity multiple hurdles
Pari-passu return of capital; possible to create senior/junior equity structures
Easy to add to your existing model
By clicking Continue, I agree to the following
Terms & Conditions
.
This Excel file (the "software") is distributed as is, completely without warranty or service support. www.AdventuresinCRE.com and its authors are not liable for the condition or performance of the software.
www.AdventuresinCRE.com owns the copyright and grants users a perpetual, irrevocable, worldwide, non-exclusive, royalty-free license with respect to the software as set forth below.

www.AdventuresinCRE.com and its authors hereby disclaim all implied warranties. www.AdventuresinCRE.com grants the users the right to modify, copy, and redistribute the software and documentation, both within the user's organization and externally, subject to the following restrictions:

1. The users agree not to charge others for use of the software, regardless of whether users have altered and/or improved the software in anyway.
2. In any use of the software, the users agree to acknowledge the www.AdventuresinCRE.com authors that developed the software.
3. The users agree to obey all government restrictions governing redistribution or export of the software.
4. The users agree to reproduce any copyright notice which appears on the software and documentation on any copy or modification of such made available to others.

AdventuresinCRE.com will not sell or distribute your email address to third parties, but you understand AdventuresinCRE.com and/or its direct affiliates may email you from time to time including an initial email containing a link to download the aforementioned Excel file.
---
A few side notes:
I first built this model with IRR hurdles only, and then followed up with a companion waterfall model using equity multiple hurdles. After concluding the models were redundant, I created a combined model with both IRR and equity multiple hurdles included. The combined model is up in the Excel library. You can also quickly download the combined IRR and Equity multiple hurdle model above.
My co-contributor, Michael Belasco, has built his own equity waterfall model with the ability to model catch-up clauses. Check it out here.
If you're needing to forecast partnership returns but your model uses monthly, rather than annual periods, check out my equity waterfall model with monthly periods.
I've added this equity waterfall model to my Real Estate Portfolio Acquisition Model, which can be downloaded via the downloads page.
About the Author: Born and raised in the Northwest United States, Spencer Burton has over 15 years of real estate investment and development experience. In his current position, Spencer assesses new investments for a $40bn real estate fund. He resides in Dallas, TX.
https://www.adventuresincre.com/wp-content/uploads/2015/07/equity-split.jpg
865
718
Spencer Burton
https://www.adventuresincre.com/wp-content/uploads/2018/04/black-logo-with-top-2-e1523391010256.png
Spencer Burton
2015-07-19 15:15:58
2017-05-13 09:58:41
Real Estate Equity Waterfall Model - IRR Hurdles