Learning Real Estate Financial Modeling in Excel
We're often asked by our readers how we learned to be proficient in real estate financial modeling. The question usually arises because the person wants to know how to model real estate in Excel to either land a job in commercial real estate (e.g. private equity, development, acquisition, debt) or to analyze their own deals.
In fact, we've answered the question so many times we decided to develop our own A.CRE Accelerator – a program consisting of 16 case-based real estate financial modeling courses and a private forum that takes the student from unqualified to proficient in under three months.
With that said, not everyone has the time or resources to pay for a robust Accelerator. As such, I thought I'd share what I consider to be the three pillars of knowledge one must possess to be considered proficient in modeling real estate.
I'll then point to some resources, both free and paid, to help you craft your own path to real estate financial modeling proficiency.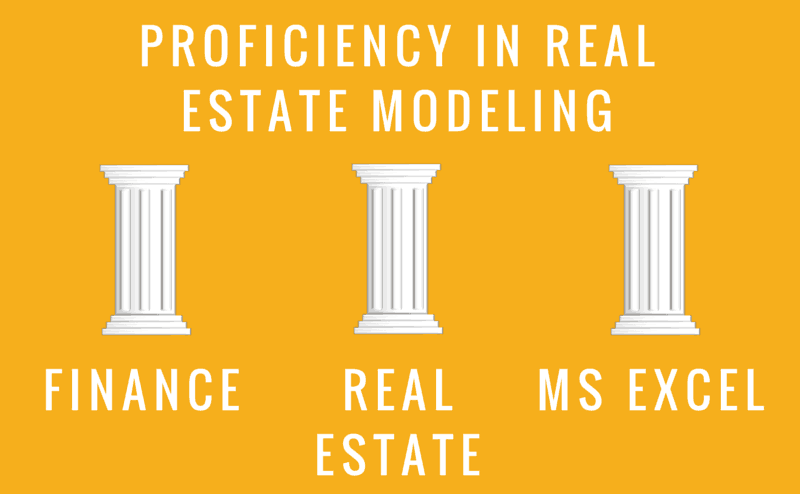 Proficiency in real estate modeling requires mastering the principles of finance, real estate, and Microsoft Excel.
---
I. A Sound Understanding of Finance
Modeling real estate is fundamentally about ascertaining the present value of a future stream of cash flows – cash flows that just so happen come from a real estate asset.
In other words, if you are considering buying an apartment building today, how much do you value the future cash flows that the apartment building is likely to generate? If you project the cash flows to be more volatile (e.g. the apartment building is not yet built), the value of those less-than-certain future cash flows are worth less to you than were the future cash flows more certain (e.g. the apartment building is completed and 97% occupied).
Consequently, mastering real estate modeling requires a sound grasp of basic finance principles. You must understand finance concepts such as the time value of money, risk and return and different methods for calculating risk and return, the various types of rates including interest rate and discount rate, the corporate capital structure, how to calculate a firm's cost of capital, etc.
There are several options, some more obvious than others, to gain the finance knowledge you need to model real estate. Many of us learned finance in either undergraduate or graduate school.
I took more than my fair share of finance courses during my graduate real estate studies at the Baker Program in Real Estate at Cornell University – and most universities offer finance courses.
If taking a university finance course doesn't fit your budget or schedule, another great option is to take a free MOOC course.
There are two finance related MOOC courses you ought to check out. The first is Principles of Valuation from the University of Michigan's Ross School of Business.
The second is Introduction to Corporate Finance from the Wharton School of the University of Pennsylvania.
With these courses, not only will you be taking quality finance courses taught by professors from two of the top business schools in the world, but the courses are open and free too all!

II. A Mastery of Real Estate Principles
The second pillar of modeling real estate in Excel, is mastering the principles of real estate. The models you build are only as good as the assumptions you make. If your assumptions are weak, the results will likewise be weak. Hence the saying in modeling: "garbage in, garbage out."
Many of us learned real estate principles through some combination of education and real world experience. Of course, many real estate modelers who lack a seasoned mastery of real estate principles rely on others to feed them assumptions – this is common with newly hired analysts fresh out of school. Still, even newly hired analysts come into their position knowing the terminology, and understanding how real estate works.
Some of the indispensable real estate specific concepts and vocabulary you have to know include: debt vs equity, types of spreads, risk and return metrics (e.g. IRR, equity multiple, DSCR, mortgage yield, LTV), setting up a pro forma operating statement (PGI –> EGR –> NOI –> CFAF), market leasing assumptions (rent, vacancy, TIs, LCs), the fundamental value equation (value = NOI ÷ cap rate), public real estate vs. private real estate (REITs vs private equity funds), the real estate investment process, different valuation methods (comparable sales, replacement cost, discounted cash flow), real estate taxes, etc, etc etc.
The challenge with mastering real estate is that, as an academic study, real estate is relatively young. Even today, most universities don't teach real estate principles, and consequently, real estate customs and conventions vary from region to region and from company to company. Despite this challenge, there are places to go to learn the principles of real estate.
Here at Adventures in CRE, we have quite a few resources that will help get you up to speed with real estate principles.
III. Advanced Proficiency in Microsoft Excel
Modeling real estate requires an advanced proficiency working with Microsoft Excel. Of course there are other valuation tools used in the industry such as ARGUS, but Excel is used universally and is the most important software program to master.
I learned Excel through a combination of online courses, self-study books, Excel courses during my undergrad and grad years, Excel Q&A forums, YouTube tutorials, and good old fashioned learn by trial and error.
In addition to the free Excel models, tools, and resources found on our blog, I've compiled a list of free Excel training materials online that I've found to be useful in mastering Excel. Given that we are all at different stages of Excel proficiency, I've organized the list by beginner, intermediate, and advanced levels.
Beginner
Intermediate
Advanced
Real Estate + Excel – Accelerator
As I mentioned at the beginning, the A.CRE Accelerator is a great way to cut to the chase in terms of what you need to learn and in what order. While the focus is on real estate financial modeling and assumes you have at least a basic foundation working in Excel, it fuses finance, real estate, and Excel well to help you get proficient as quick as possible.
Conclusion on Real Estate Financial Modeling Proficiency
Becoming a great real estate excel modeler takes time, dedication, and a commitment to mastering the three pillars of real estate financial modeling: finance, real estate principles, and Microsoft Excel.
I've found many of the resources I've just mentioned helpful as I continue to improve my mastery of real estate modeling, and I hope these resources and our blog are likewise beneficial to you.
https://www.adventuresincre.com/wp-content/uploads/2015/07/proficiency-real-estate-modeling.png
494
800
Spencer Burton
https://www.adventuresincre.com/wp-content/uploads/2022/04/logo-transparent-black-e1649023554691.png
Spencer Burton
2018-12-10 19:00:42
2020-12-05 23:33:08
Learning Real Estate Financial Modeling in Excel