Real Estate Salary and Benefits (United States 2018)
Several years ago, we published a careers in real estate series where we discussed the various job sectors, business fields, and job functions that exist in the real estate industry. Additionally, we broke down compensation in real estate (salary + bonus) by position and level for 2014. Since then, each year we've followed up that series with a summary look at pay in various roles and working with various property types in real estate. Here's what pay (salary plus bonus) in real estate looks like for 2018.

SOURCE OF COMPENSATION DATA
Every year, real estate consulting firm CEL & Associates publishes its National Real Estate Compensation & Benefits Survey. The survey is the industry standard for pay statistics across 190 real estate positions in the United States. Nearly 400 companies participate to provide confidential compensation data for their employees working in all major real estate sectors, fields, and functions.
The survey is well-respected. It has been conducted annually for more than 20 years and is done in partnership with the National Association of Office and Industrial Properties (NAIOP) and the National Apartment Association (NAA). Results are available in a couple of formats:
A 400+ page comprehensive paper covering salary trends, policy questions, bonus pay structures, quarterly breakdown, and pay details by company type, location, and size is available for purchase.
A robust summary of the survey results is available to download for free.
CHANGES IN REAL ESTATE SALARY AND BONUS – 2017 VS. 2018
As was the case from 2016 – 2017, from 2017 – 2018 compensation growth in real estate has continued to moderate. Total compensation from 2017 – 2018, across the 76 positions we analyzed, rose on average 2.9%. This matches the average increase between 2016 and 2017 and reflects a slowdown from 2014 – 2016, when pay rose anywhere from 6% – 11%.
The slowdown in compensation growth is most pronounced among senior positions. This makes sense. A lot of value had been created in the middle innings of this cycle, thanks to a robust CRE market, that senior folks had been handsomely rewarded for. Now, as rents flatten, vacancies rise, and valuations temper, compensation (especially bonuses) is likewise flattening.
With that said, total compensation still grew from 2017 to 2018 across all property types, position levels, and role. In the positions we analyzed, total compensation grew anywhere from 1.7% – 3.6%, with most positions seeing a 2.5 – 3.0% increase year-over-year.
CHANGES IN REAL ESTATE SALARY AND BONUS – 2013 VS. 2018
This year, we also analyzed the change in total compensation from 2013 to 2018 to understand how pay has changed through this market cycle. On average, total compensation in real estate has increased 15.7% from 2013 to 2018. The more senior roles saw the largest increases, with Top Division Executives at Office/Industrial firms experiencing the highest average five-year increase of 19.6%. The more junior roles likewise experienced solid, with most positions seeing five-year increases in the 14% – 16% range.
REAL ESTATE COMPENSATION IN 2018
I've taken the comprehensive summary (linked to above) and condensed it down to the information and positions that I believe are most relevant to our readers. These are Analyst through Managing Director positions at industrial, office, retail, and multifamily focused real estate firms working in acquisitions, asset management, property management, and development.
I've calculated and reported total pay, or the sum of salary and bonus, as well as the percent change in total compensation from 2013 to 2018 and 2017 to 2018 for each of the positions.
SUMMARY OF 2018 PAY (SALARY PLUS BONUS) FOR OFFICE AND INDUSTRIAL REAL ESTATE PROFESSIONALS
For real estate professionals working at firms focused on office and industrial properties, pay grew anywhere from 2.6% to 3.6%. As with most roles in real estate, bonus as a percent of total compensation is higher for the more senior roles and lower for the more junior roles. For acquisitions professionals in office and industrial for instance, on average the bonus makes up 28.5% of an Associate-level professional's pay while the bonus makes up 56.6% of the acquisitions executive's pay.
Asset Management professionals working at office and industrial real estate firms earn slightly more than their colleagues in acquisitions, with total compensation weighted more towards variable compensation for acquisitions professionals while asset management professionals earn slightly higher base salaries.
Side note: Check out one of our office and industrial real estate Excel models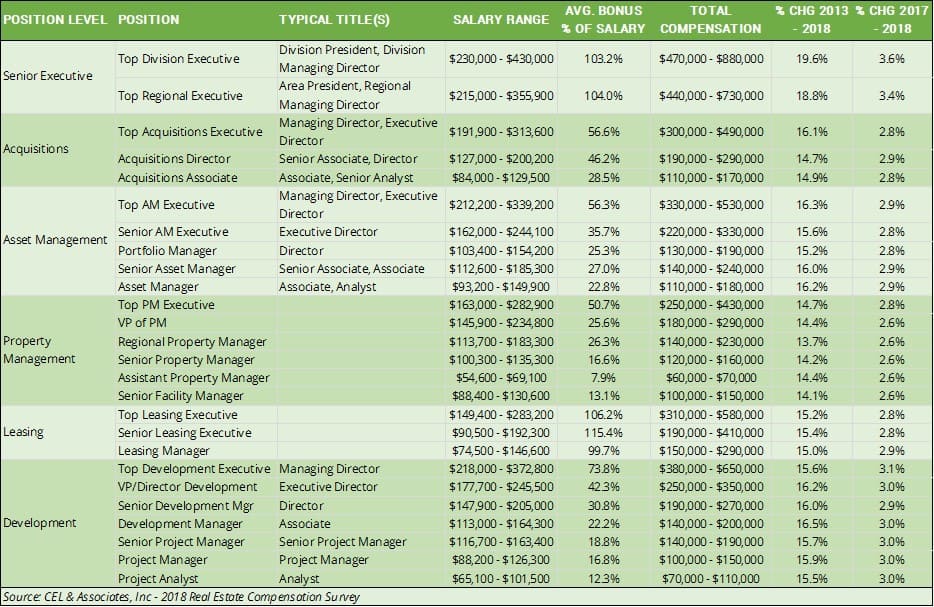 SUMMARY OF 2018 PAY (SALARY PLUS BONUS) FOR RETAIL REAL ESTATE PROFESSIONALS
Generally speaking, Retail real estate professionals enjoy both a slightly higher base salary and average bonus then their office and industrial counterparts. Total compensation grew 2.5% – 3.5% year-over-year for the retail positions we analyzed, with the delta between compensation growth for senior executives compared to other retail real estate professionals continuing to shrink.
Newly-minted MBA in Real Estate and Masters in Real Estate graduates can expect to earn in retail-focused Associate-level positions on average anywhere from $110,000 – $180,000.
Side note: Check out one of our retail real estate Excel models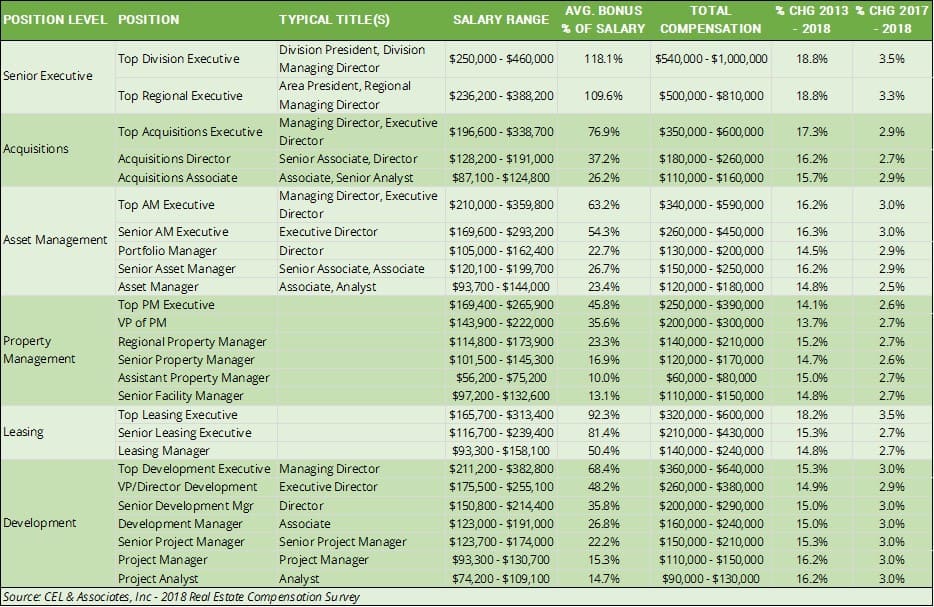 SUMMARY OF 2018 PAY (SALARY PLUS BONUS) FOR MULTIFAMILY RESIDENTIAL REAL ESTATE PROFESSIONALS
There are some interesting differences between pay in residential (multifamily) real estate and the others. First, on average the bonus as a percent of salary is lower for multifamily positions compared to their office, industrial, and retail counterparts. This is likely due to the less volatile nature of multifamily investment. Base salaries compare well with the other property types.
Students coming out of undergrad and moving into an analyst level position in multifamily development can expect, on average, total compensation in the high 5 figures; with approximately 15% – 20% of the total coming from bonus.
Side note: Check out one of our multifamily real estate Excel models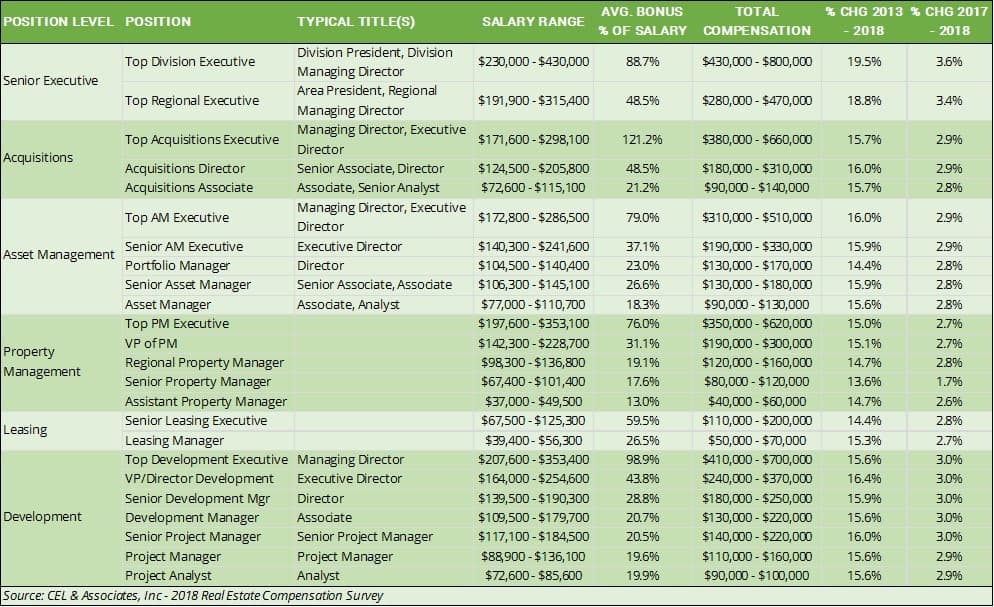 CONCLUSION ON 2018 REAL ESTATE PAY
So what does this mean for you? One big takeaway from the survey is that compensation for commercial real estate professionals continues to grow at a strong clip. This is a lucrative career with significant upside, both for employee-minded and entrepreneurial-minded people. Opportunities abound in a variety of tracks – from asset management to development – for those with the formal real estate education and experience to go after them. So enjoy digging into this report and I hope you use this data to your benefit in your next salary negotiation!
https://www.adventuresincre.com/wp-content/uploads/2016/11/2017-Summary-of-Pay-for-Retail-Real-Estate-Professionals.png
695
1017
Spencer Burton
https://www.adventuresincre.com/wp-content/uploads/2022/04/logo-transparent-black-e1649023554691.png
Spencer Burton
2018-10-25 08:03:12
2023-01-19 09:04:15
Real Estate Salary and Benefits (United States 2018)