Case Study #7 -The Cellon Group – Asset Management Analyst Test (Case + Solution)
This is the seventh in a series of commercial real estate case studies shared by A.CRE. These case studies are meant to help you practice to master real estate financial modeling. The Cellon Group – Real Estate Asset Management Analyst Test puts you in the role of a analyst candidate seeking a real estate asset management job at a multinational private equity, alternative asset management and financial services firm. In this case, you're asked to complete a take-home real estate financial modeling proficiency test.
Practice makes perfect! This is a real scenario and test. Names and locations have been changed for confidentiality reasons, but the process and test are real-to-life.
Each case study shared in this series mirrors real world situations, either in terms of the types of deals you will look at in various roles or the types of modeling tests you'll be required to perform as part of the interview process. You can browse this and other case studies in the A.CRE Library of Real Estate Case Studies.
Are you an Accelerator Advanced member? Download this case study and solution files for free in the Career Advancement Endorsement. Not yet an Accelerator member? Consider enrolling today in the Accelerator, the industry's go-to real estate financial modeling training program used by top companies and elite universities to train the next generation of CRE professionals.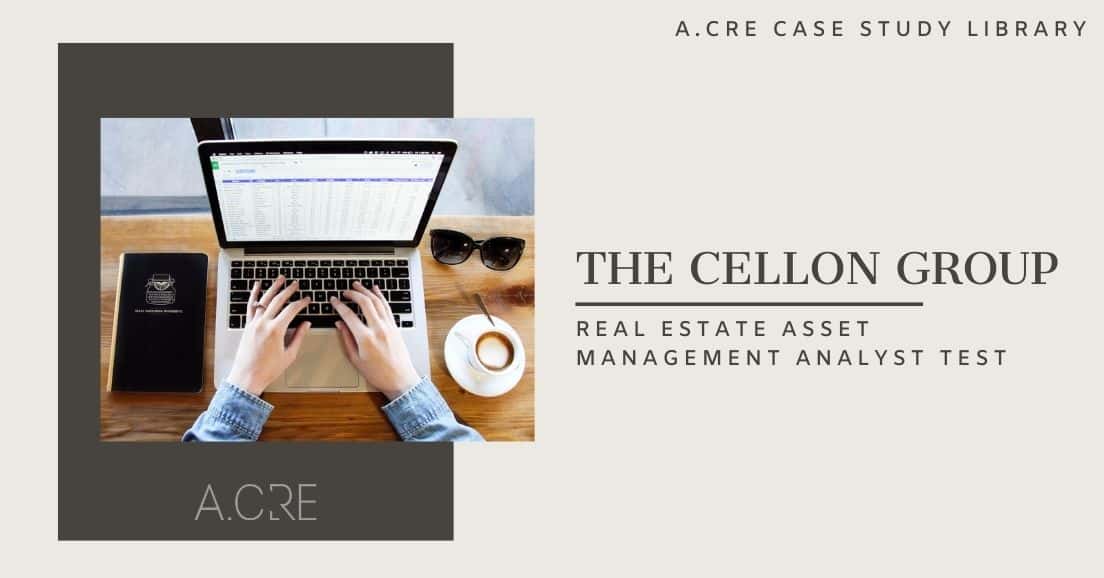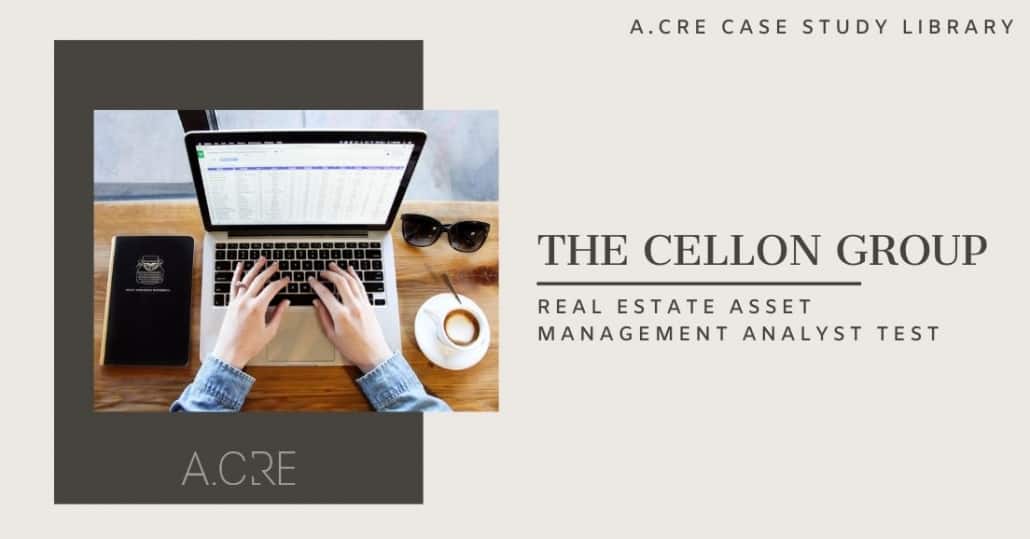 The Cellon Group Campus Visit
Two months ago, real estate recruiters Jennifer Reed and Joseph Hampton of The Cellon Group visited Whanderford University. During their visit, they organized an informational session about the real estate division at The Cellon Group and afterwards hosted a happy hour with real estate students at Whanderford.
During that visit, you connected with Jennifer and impressed her with your charisma, professionalism, knowledge of The Cellon Group, and past experience in real estate asset management. In that discussion, she shared her business card with you and suggested that you reach out to her.
After the Happy Hour, you emailed Jennifer. You thanked her for her time, mentioned a data point she brought up in the informational session, and expressed interest in exploring further a full-time position at The Cellon Group.

About The Cellon Group
The Cellon Group is an American multinational private equity, alternative asset management and financial services firm. It specializes in corporate private equity, real assets, alternative investments, and private credit. In 2020, Cellon was the world's third largest private equity firm by capital raised over the previous five years, according to the FPEI 1000 index, up from the seventh largest in 2010.
Founded in 1967 in New York, NY, by Harriet E. Cellon, John DeAngelo, and Frank Boxer, the company today has more than 1,200 employees in 24 offices on six continents. On February 12, 2007, Cellon completed a $550 million initial public offering and began trading on the Nasdow stock exchange.
Cellon's real estate asset management business has been one of the largest investors in commercial real estate over the past two decades. The real estate division owns and manages over $110 million of apartment, office, industrial, retail, and hospitality assets around the world.
First Round Interview – Phone Screen
Jennifer emailed you back and suggested a follow-up conversation over the phone. A week later, you and she were talking again; this time in a more formal "phone screen" interview format.
The phone screen went well. You had done your research about the company, the real estate asset management team at The Cellon Group, and the typical compensation for 1st year real estate asset management analysts at the company. You had prepared thoughtful questions to ask Jennifer during the interview and conveyed a genuine interest in the company and solid real estate acumen.
You again impressed, such that at the end of the interview Jennifer hinted that she'd like to see you move to a second-round interview. And sure enough, a week later you receive a formal request via email to fly to New York for additional interviews.
Second Round Interview + Technical Proficiency Test
The email stated that you would spend all day with members of The Cellon Group's real estate asset management division. Throughout the day, you would interview with each member of the team individually, go to lunch with several senior members of the division, and sit down with the head of the analyst team to discuss the results of your technical proficiency test.
As you read that last requirement, you think back to the numerous case studies you have completed as part of your A.CRE Accelerator real estate financial modeling training. You've completed dozens of practice real estate case studies to date, and yet your stomach is still in knots; it's for real this time!
The Cellon Group – Real Estate Asset Management Analyst Test
The Cellon Group Real Estate Asset Management Analyst Test is an at-home test. You have one week to complete the test and return it to the Cellon Group. However, instructions are fairly thin. You are provided with an Excel workbook (see download link below) containing the following:
Assumptions tab. The assumptions tab provides the assumptions you will need to complete the assignment. All amounts are shown in ($000) format, meaning $1,000,000 is written as $1,000. You should carry that formatting across to all areas of the test.
Cash Flow tab. Fill in the yellow cells to complete the five-year analysis.
Sensitivities tab. Complete the data table to perform scenario analysis related to 'Leverage vs. Interest Rate' and 'Hold Period vs. Exit Cap Rate'. Note that to handle hold period, you'll need to make the model dynamic to hold period.
---
Download the Case PDF + Excel Test Worksheet + Solution
In addition to the web-based case, we've created a PDF version to download and use offline. Additionally, we've added a solution created by Spencer and Michael. Note that the solution may contain errors – if you spot an error, please let us know and we'll roll out an update.
As with our real estate financial models, this case study and solution are offered on a "Pay What You're Able" basis with no minimum (enter $0 if you'd like) or maximum (your support helps keep the content coming). Just enter a price together with an email address to send the download link to, and then click 'Continue'.
We occasionally update these cases and solutions (see version notes). Paid contributors will receive lifetime access to the case, solution, and all updates.
---
Version Notes
v1.2
Fixed error in CapEx formula
Removed Debt Service in time zero
v1.1
Fixed residual/broken link issue
Corrected 1st Data Table on Sensitivities tab
v1.0
https://www.adventuresincre.com/wp-content/uploads/2021/01/take-home-excel-exam.jpg
1173
1920
A.CRE
https://www.adventuresincre.com/wp-content/uploads/2022/04/logo-transparent-black-e1649023554691.png
A.CRE
2021-01-01 08:26:25
2023-01-18 10:43:05
Case Study #7 -The Cellon Group – Asset Management Analyst Test (Case + Solution)