Important Considerations for International CRE Students
For you job candidates who are international CRE students and want to get a job in the U.S. in the industry, here are my three biggest tips to help you find success:
Michael Godfrey, a graduate of the A.CRE Accelerator, and someone who successfully landed a job in the U.S. as an Australian citizen said, "The process seems more daunting than what it turns out to be. The U.S. seems like an incredibly large country with many diverse places and markets. However, I found that the people I reached out to were incredibly nice and very helpful."
We all have different reasons why we'd like to make the transition to the CRE industry, and potentially in the U.S. Whatever those reasons may be, A.CRE wants to help you find a job that fits you. After talking with Michael, here are a few pointers he shared if you happen to find yourself in a similar position.

As an International CRE Student, You Must Set Specific Goals for Yourself
Australia is 15 hours ahead of the Dallas time zone, which means when Michael set this goal for himself, he understood that if he wanted to accomplish this, he had to wake up between 2 am-5 am local time to reach other Dallas real estate professionals. There was no other option.
Our goal with this post is to help you understand what is needed to break into the US market. If you are thinking about this decision, it's best to go in with a plan, such that you don't lose confidence.
As Michael made his decision, there were a few things he did to set himself up for success in the beginning of this process, which I'd recommend for you as well.
Update your resume. As someone who looks at 100+ CRE resumes per week, there is a standard format you want to follow. If your resume doesn't look like this kind of format, it's one that might get glanced over immediately. Check here for a downloadable template.
Increase your knowledge/skills in real estate financial modeling. Real Estate financial modeling is a skill that was needed for him to break into the principal side of the CRE business. It's a skill that increases the value you add to a company immediately, no matter where you are from, if you have a solid proficiency. Fortunately for Michael, he found himself looking for a CRE job in the middle of COVID-19 where he had time to dedicate to other skill development. Since Australia was on lockdown, Michael used this time to increase his skills in real estate financial modeling. If you want to learn more about the program that Michael referenced, read here.
Focus your job search on a specific city/market. Michael made a commitment to move to Dallas, TX and for that reason, he was able to spend all his time and effort learning this specific market. The real estate business is so localized, and relationship-driven, that when you plan to move to a city it's best to know where you want to end up. If you need help identifying companies in a specific city/market, our team at A.CRE has put together a list of 2,000+ companies to help make this process easier for you.
As an International CRE Student, You Must Network Persistently
Michael shared that he was reaching out to 5-10 people per day on all forms of media – though mostly through LinkedIn and email – for 6 weeks to get some traction and start interviewing with companies! That means Michael reached out to about 150 people before anything started to happen. For you to make this transition the U.S. job market as an international CRE student, you will have to put in this kind of work!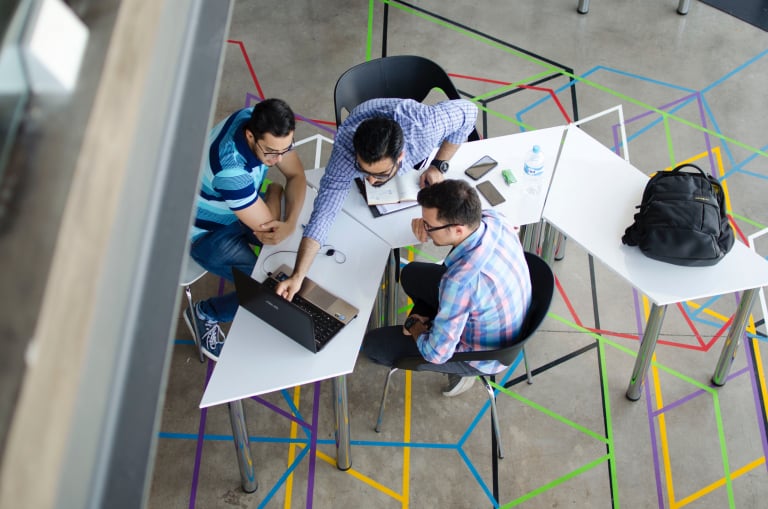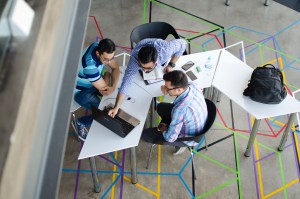 I want to highlight something Michael did, which is reaching out directly to 5-10 people per day. What he didn't say is that he applied to jobs online and hoped a recruiter would reach out to him. I want to emphasize that as an international CRE student, most CRE firms would say your application is at a disadvantage! By reaching out to people through LinkedIn and email, you are personalizing your application and building relationships that will eventually lead to job opportunities.
Join a Real Estate Specific Networking Group
Another tip Michael mentioned that helped make the transition easier for him was joining a real estate networking group. Fortunately for Michael, he was able to join the Texas Real Estate Council for online Zoom sessions. This helped him build relationships with potential employers. Not only did he meet people locally and start to learn more about the Dallas market as an international CRE student, but once he moved to Dallas, he had friends and was a part of a real estate community! He also mentioned doing something like this signals to employers that you are serious.
Don't Lose Confidence
As mentioned at the beginning of this article, Michael shared this process seems more daunting than it actually is. If you follow his advice on the above points, there is a higher probability of successfully making this transition. But that doesn't mean that it won't be hard, because it will be.
A couple mistakes I see a lot of international CRE students making are:
Telling the recruiter, "I'll take any job." This signals that you are desperate and not focused. Every time you get the opportunity to talk with a recruiter or potential employer, make sure your story about why you want to make this transition is perfect! Start practicing! Here are some common interview questions you might get asked.
Not being straightforward that you require sponsorship. You might make it vague on your resume that you don't need sponsorship, and then subsequently, you may reach a 2nd round of interviews and only then tell a potential employer that you need sponsorship. This can create problems. I would have this clearly stated on the top of your resume that sponsorship is needed.
Conclusion
Whatever your reason for wanting to work in commercial real estate, A.CRE wants to help make this process easier for you. We hope you can use some of the above thoughts and resources to do just that!
Are you looking to get a job in Commercial Real Estate? Sign up for Career Connections so we can match you with top companies that are looking to hire.
https://www.adventuresincre.com/wp-content/uploads/2022/05/International-CRE-Student-Job-Search-scaled.jpg
1280
1920
Tucker Wells
https://www.adventuresincre.com/wp-content/uploads/2022/04/logo-transparent-black-e1649023554691.png
Tucker Wells
2022-06-08 07:00:30
2023-01-16 12:33:33
Important Considerations for International CRE Students