Real Estate Development Tracker (UPDATED MAY 2022)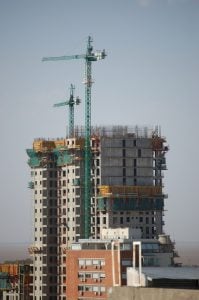 One of the many challenges of both analyzing real estate development deals and managing development projects is understanding and tracking the numerous differing but intertwining work streams. The more a development team takes the time to understand and map out the processes, the better chance there is of the project being successful.
It is with that in mind that I have created this real estate development tracker, or what I jokingly refer to as the poor man's MS Project. This tracker is a simple, easy to use excel model that allows anyone to create a clear and streamlined visual graphic to help map out and evaluate the development process for a project. It is a great tool to use both internally and to present to potential investors.
You can download the model and follow along with the short video at the bottom of this post.
Real Estate Development Tracker Overview
This model is built to handle all the basic functionality you may need when trying to understand the path towards a successful development project. It gives you the ability to link tasks together; clearly identify independent tasks, dependent tasks, and milestones; insert or delete rows as needed; and evaluate a timeline of up to 60 months.
How To Use This Tracker
Start by simply entering the first task into cell C11 and follow the headers in row 8. Upon filling in the last input in cell H11 you will see the start and finish dates show up to the right and the corresponding cells turn color in the tracker field (columns O to BV). A more detailed explanation of how to use this tracker and interpret the tracker field is in the video. There are also a few fail safes built in to the model that are explained in the video as well. Please watch it to get a full understanding.
Also, you will find a second sheet entitled 'Print' that has been preformatted for the user to simply print the results so that the sheet is clean and legible for the end user. The only thing you may want to do is select pages to print in the print options if you are not using the entire tracker.
A Couple Notes on How This Was Built
This tracker functions with a combination of using variations of two formulas – If and Index/Match, conditional formatting, and macros. I would encourage you to open the hidden columns between columns H and N to see the formulas and then look at the conditional formatting of any cell in the tracker field for a better understanding. Everything is open in the model for you to analyze.
Hope you enjoy and find it useful!
Download the Real Estate Development Tracker Tool
To make the Real Estate Development Tracker tool accessible to everyone, it is offered on a "Pay What You're Able" basis with no minimum (Pay $0 if you need) or maximum (your support helps keep the content coming – similar real estate tools sell for $25 – $100+ per license). Just enter a price together with an email address to send the download link to, and then click 'Continue'. If you have any questions about our "Pay What You're Able" program or why we offer our models on this basis, please reach out to either Mike or Spencer.
We regularly update this tool (see version notes). Paid contributors to the Real Estate Development Tracker receive a new download link via email each time the tool is updated.
---
Version Notes
Version 1.0
Video Tutorial
https://www.adventuresincre.com/wp-content/uploads/2016/11/construction-1573966-1279x1923-e1483029613135.jpg
1080
1076
Michael Belasco
https://www.adventuresincre.com/wp-content/uploads/2022/04/logo-transparent-black-e1649023554691.png
Michael Belasco
2022-05-18 07:00:14
2023-01-16 12:34:18
Real Estate Development Tracker (UPDATED MAY 2022)