This walkthrough, our sixth in the series, takes you through the entire process of underwriting an apartment acquisition opportunity using the All-in-One Model's new multifamily module. I've created hypothetical assumptions for this exercise written out in PDF format (download link below) and then use those assumptions to assess an appropriate purchase price for this opportunity.
In an effort to provide greater instruction on how to use our All-in-One Underwriting Tool for Real Estate Development and Acquisition, we're developing a series of walkthrough videos and posts on the methodology behind the various components of the model. Our hope is that if you are empowered with the how, you'll be more willing/able to provide feedback to improve the model.
If you haven't already, you can download the model here. This walkthrough uses beta version 0.4.1 of the All-in-One Model.

Video Walkthrough – Underwriting an Apartment Acquisition
---
Assumptions – Hypothetical Apartment Acquisition
You can download these assumptions in PDF format here.
Investment Summary
Investment name: Saddle Ranch Estates
Parking: 319 spaces
Year built: 2005
Analysis Start: Jan 1, 2018
Construction length: 0 months
Analysis Period: 10 years
Apartment Units: 248
Valuation
Forecast growth in cap rate: 5 bps per year
Exit cap rate: 5.25%
Target unlevered IRR: 7.00%
Selling costs @ reversion: 2.0%
Permanent Debt Assumptions
Senior Debt
Amount: 65% of acquisition cost
Loan Fees: 0.5% of loan amount
Interest rate: 4.25%
Amortization: 30 years
Interest-only: None
Junior Debt
Partnership Assumptions
Operating History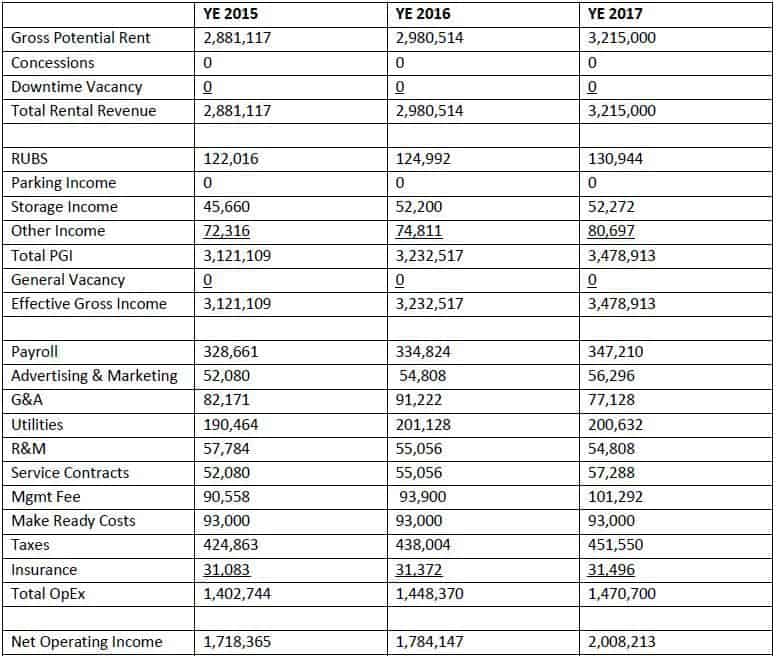 Operating Assumptions
Unit Mix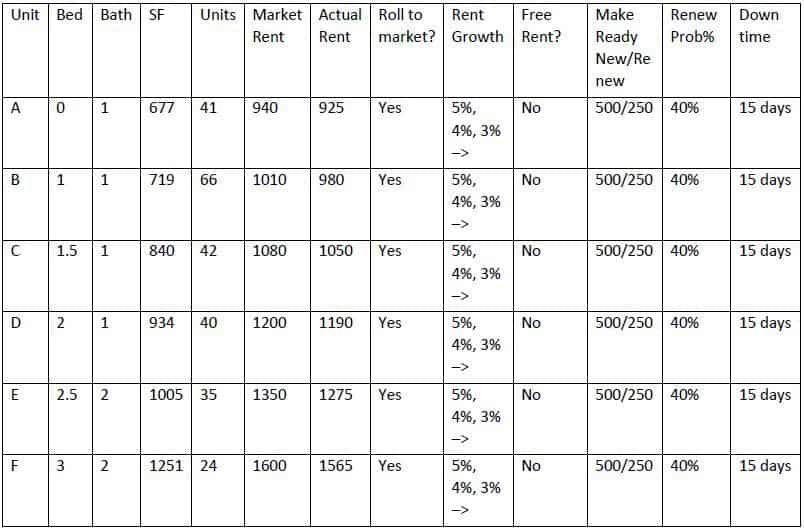 Other Income
General Vacancy
Operating Expenses
2017 actuals grown by 2%
Mgmt fee @ 3%
% Fixed – All at 100%
Expenses grown at 2%
Capital Expenditures
Other CapEx: Capital Improvement Plan – $800,000 in year one, $800,000 in year two
Capital Reserve: $250 per unit
About the Author: Born and raised in the Northwest United States, Spencer Burton has nearly 20 years of residential and commercial real estate experience. Over his career, Spencer has helped close $4.5 billion and underwrite $30 billion of commercial real estate at some of the largest institutional real estate firms in the world. He is currently the Head of Real Estate Investments and member of the founding team at Stablewood Properties.
https://www.adventuresincre.com/wp-content/uploads/2017/02/clean-desktop.jpeg
1080
1920
Spencer Burton
https://www.adventuresincre.com/wp-content/uploads/2018/04/black-logo-with-top-2-e1523391010256.png
Spencer Burton
2017-05-25 12:11:43
2017-08-12 13:08:47
All-in-One (Ai1) Walkthrough #6 – Underwriting a Hypothetical Multifamily Acquisition