The University of Texas at Austin – Undergraduate Real Estate Profile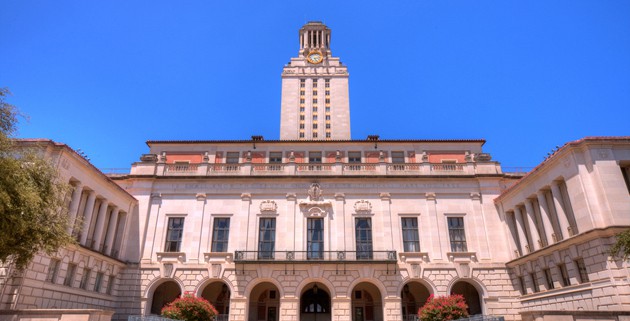 ©2009 w.b.ledbetter,jr. / imageclectic.com
Note from Michael: This profile is part of The A.CRE Undergraduate Real Estate Series highlighting some of the top undergraduate programs with robust opportunities to study and secure work in commercial real estate. Each profile has been written by a current or former student of the program and is written from their unique perspective on the school and its real estate offerings. A huge thanks to Nicholas Franklin for taking the time to write this profile of the University of Texas at Austin.
As a senior in high school awaiting acceptance offers from schools, I understood that finding my career passion was just as important as the school I attend. I was confident that the University of Texas at Austin would provide a path for me to reach my academic and career aspirations, and UT Austin continues to exceed my expectations in professional development. The McCombs School of Business stood out from the rest of the undergraduate business schools because of the extensive alumni network, exceptional faculty, and a motivated and engaging student body. Any full-time student can enroll in the Real Estate Minor or finance students can pursue a real estate concentration in the McCombs School of Business and participate in extensive student real estate events.
Vast amounts of people and resources have been available to help advance my career in real estate. I have taken classes such as Real Estate and Urban Land Development, Real Estate Law, Investment Management, and the McComb's Real Estate Investment Fund. Connecting with alumni who work at local or national companies is never a challenge because UT Austin's professional network is far-reaching. Furthermore, alumni often speak at networking events and make themselves available to students for career guidance. Regularly meeting with industry professionals has allowed me to broaden my exposure to real estate roles and has improved the trajectory of my career, which can largely be credited to the Real Estate Center frequently hosting events that connect undergraduate students with industry professionals.
I have learned from exceptional faculty who have strong experience and published research in the field. Learning from professors who share examples of their work in real estate has enhanced students' abilities to apply concepts taught in the classroom to the real world. While the education and career opportunities are major benefits of the McCombs Real Estate Finance track, the program has created enduring relationships over my three years at UT Austin allowing a large school to feel like a smaller community.
Student Involvement in Real Estate
McCombs Real Estate Investment Fund
Undergraduate student analysts from McCombs handle the operations of a multi-million dollar public and private real estate fund as a part of their coursework. The fund is a two-part course. The first semester covers public real estate securities and the second semester covers real estate private equity. Students participate in all aspects of running the fund including underwriting and closing, disposition of funds, asset management, and day-to-day operations. Students use current industry practices to evaluate and close on investments while tracking the fund's performance relative to a benchmark.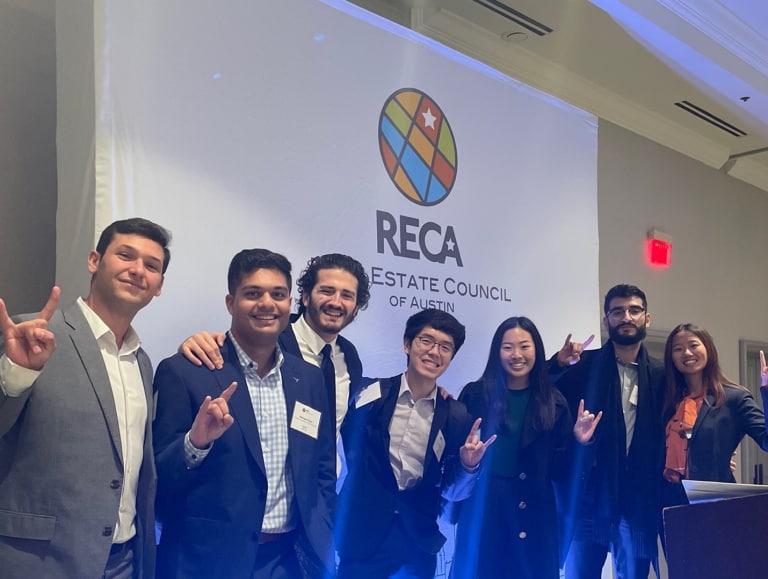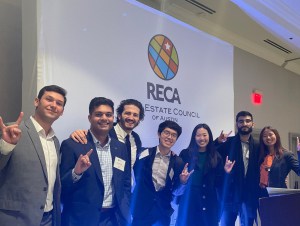 Real Estate Center
The Texas Real Estate Center brings together exceptional faculty and top industry professionals to facilitate cutting-edge research and curricula in finance, real estate, law, design, and planning – all designed to place graduates with the nation's leading real estate firms.
The Real Estate Center's benefits include specialized real estate career assistance, exclusive project and company visits, software training, case competitions, industry conferences, and more. Students get discounted software training and certifications for Argus Enterprise, A.CRE Accelerator, and Breaking Into Wallstreet.
Undergraduate Real Estate Society (URES)
URES connects undergraduate students who are interested in the diverse industry of commercial real estate. Whether students have no previous real estate experience or are a senior looking for a full-time opportunity after graduation, URES provides educational, social, and career opportunities for students. The club helps students land roles in real estate and create relationships among students through mentorship, social events, and knowledge of real estate concepts. The real estate analyst program is an admission-based program taught by upperclassmen with industry experience aimed to enhance student's financial, networking, and interviewing skills.
Case Competitions
Undergraduates can test their skills in real-world real estate case competitions. The opportunities are not restricted to Business students only and it can be an important aspect of expanding students' experiences. Past case competitions that undergraduate students have competed in include the UT Undergraduate Real Estate Case Competition, Kellogg Real Estate Conference & Venture Competition, ICSC & Cornell International Real Estate Case Competition, The Corcoran Center Case Competition, and the University of Guelph Undergraduate Case Competition.
Networking & Alumni Events
Students have the opportunity to attend networking events with local and well-known national firms that recruit students from the real estate program. Networking events and informational sessions are attended by top firms in the industry including Eastdil Secured, JP Morgan, Link Logistics, Greystar Development, Crow Holdings Capital, and other development, lending, private equity, and brokerage firms.
Dedicated Real Estate Student Job Board
Texas real estate students have access to an extensive job board that is dedicated to real estate students. Summer internships, part-time, and full-time jobs are regularly posted by employers and used for campus recruiting.
Real Estate Treks
Many students take advantage of company visits and site tours for an immersive way to meet with employers. Past treks locations include Dallas, Austin, and San Francisco.
Course Options
To see the whole catalog of real estate courses visit their website here: https://catalog.utexas.edu/general-information/coursesatoz/r-e/
R E 358 Introduction to Real Estate and Urban Land Development
An examination of the principles of real estate and urban land economics. Subjects include investment, valuation, financing, and public policy in real estate and mortgage markets.
R E 364 Real Estate Development
Provides an interdisciplinary experience with the entire development process including finance, branding, architecture, planning, entitlements, engineering, among others; and an opportunity to work with a multi-disciplinary team on real-world commercial real estate projects. Includes various guest speakers from the development industry that represent different aspects and phases of the development process. Culminates in a presentation of each group's work, including branding, business plan and pro-forma along with site diagrams.
R E 376G Real Estate Investment
Study of the setting and measurement of property values in real estate markets and an analysis of real estate assets as investments.
R E 378K Real Estate Finance and Syndication
An examination of debt and equity financing of residential and commercial properties; mortgage markets and instruments; lender and investor decisions in real estate financing.
R E 360.1 Taxation of Real Estate Investments
Taxation of Real Estate Investments covers the federal tax effects on those who invest in real estate. It includes an overview of how real estate is treated for tax purposes differently from other types of businesses. The course covers the principal investment vehicles (including syndicated partnerships and LLCs used by investors to acquire, hold and dispose of real estate. Next, it covers some of the more complex types of real estate transactions, including like-kind exchanges, real estate investment trusts (REITs), real estate mortgage investment conduits (REMICs), and syndicated tenancies-in-common (TICs). Finally, the course discusses real estate investments by non-US persons.
FIN 371M Money and Capital Markets
Development of modern financial markets, with emphasis on the factors that determine interest rates; institutional characteristics and pricing mechanisms of various interest-sensitive securities.
LEB 323 Real Estate Law
An examination of law pertaining to estates and interests in land, conveyances and mortgages, brokers, easements, contracts, default and foreclosure.
McCombs Real Estate Investment Fund
Texas McCombs is currently the only business school in the country where students have the opportunity to manage a real estate investment fund with both public and private real estate investments. Students and fund managers are given the responsibility of operating a multi-million-dollar fund with real accountability. Select MBA students serve as equity managers, with undergraduates as analysts handling the fund's day-to-day operations. Students participate in all aspects of the investment process, including underwriting and closing, asset management, and reporting, through the disposition of funds.
ARE 323K Project Management and Economics
Solving economic problems related to construction and engineering; construction project management techniques; characteristics of construction organizations, equipment, and methods.
ARE 358 Cost Estimating in Building Construction
Building construction estimating from plans and specifications, unit prices, lump sum estimates, job sites, overhead, general overhead, and bidding procedures. Estimating methods throughout the design process.
ARE 376 Building Information Modeling for Capital Projects
Focuses on the skills and information needed to effectively use an existing Building Information Model for a building construction project. In this project-based course, students gain knowledge on the implementation of BIM concepts throughout the life cycle of a building from planning and design to construction and operations.
ECO 334K Urban Economics
Economic analysis of urban areas, emphasizing current problems, such as spatial concentration of poverty, lack of access to jobs and financial services, and transportation systems. Examines the role of policy in addressing these problems.
FIN 377 Advanced Investment Analysis
A second course in investments, with emphasis on quantitative applications and the underlying theory in the analysis and management of securities and portfolios.
Real Estate Minor
Students must have upper-division standing (60 credit hours) and credit for ACC 310F, 311 or 311H to be accepted into the Real Estate Minor program.
For Non-Business Majors: Once admitted to the Minor program a waiver for FIN 357 Corporate Finance will be issued on your behalf.
Financial Accounting ACC 310F/311, Corporate Finance FIN 357, Real Estate and Urban Land Development RE 358, and Real Estate Investment RE 376G are the required four courses for all students in the Minor program and must be taken in order over four semesters.
Two elective real estate courses are required. Some of the courses include R E 364 Real Estate Development, and R E 378K Real Estate Finance & Syndication, RE 360.1 Taxation of Real Estate Investments, ARE 323K Project Management and Economics, ARC 327R Design of New Communities, ARE 358 Cost Estimating in Construction, ECO 333K Development Economics, LEB 363 Real Estate Law, and many more courses are offered. The curriculum changes often, so please check the course catalog for specific requirements based on your circumstances.
Browse Other Undergraduate Real Estate Profiles
---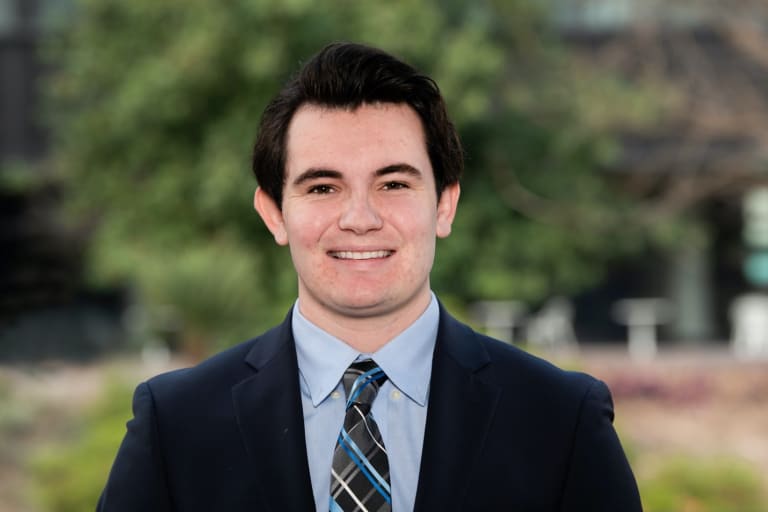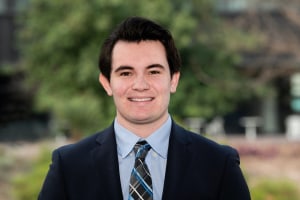 About Nicholas Franklin: Nicholas Franklin is a Junior Finance major concentrating in Real Estate at the McCombs School of Business. Nicholas serves as a Vice President of the Undergraduate Real Estate Society and spearheaded the creation and implementation of the real estate analyst program at UT Austin. Currently, he is an undergraduate analyst for the McCombs Real Estate Investment Fund and works part-time in the spring semester as an asset management intern for ECI Group, an Atlanta-based developer, owner, and operator of multifamily real estate. Nicholas interned at Matthews Real Estate Investment Services summer of 2021 and looks forward to working as a summer analyst for Amherst Holdings summer of 2022. He is on track to graduate in May of 2023.
https://www.adventuresincre.com/wp-content/uploads/2022/05/The-Tower-at-UT-Austin.jpg
350
630
A.CRE
https://www.adventuresincre.com/wp-content/uploads/2022/04/logo-transparent-black-e1649023554691.png
A.CRE
2022-05-17 00:00:25
2023-01-16 12:34:24
The University of Texas at Austin – Undergraduate Real Estate Profile